Speaking to reporters in Washington on Tuesday, Yiannis Bournous, the head of international affairs for Greece's ruling Syriza party, heartily endorsed defense cuts as a way to meet the fiscal targets of Greece's international creditors.
"We already proposed a 200 million euro cut in the defense budget," Bournous said at an event hosted by the Center for Economic Policy and Research and the Rosa Luxemburg Foundation, referring to cuts in Syriza's most recent proposal to its creditors. "We are willing to make it even bigger -- it is a pleasure for us."
A German newspaper reported on Saturday that the International Monetary Fund (IMF) had vetoed a compromise plan put forward by the European Commission that would have allowed Greece to substitute 400 million euros in pension cuts for equivalent military spending cuts.
Bournous, who works on behalf of the party and is not a cabinet minister in the current government, had not heard of the alleged compromise proposal.
The party leader also called for an "immediate ending" to talk of a "Grexit," or Greek exit from the Eurozone, which he said has "not been fruitful" for either Greece or its creditors.
Syriza does "not want a national currency, but a redistribution of wealth from top to bottom," Bournous said.
But Bournous' assurances came against a backdrop of mounting international concern over the impasse in negotiations between Greece and its troika of creditors -- the International Monetary Fund, the European Central Bank and the European Commission.
Greece and the troika are at odds over the conditions for the release of a final 7.2 billion in bailout funds owed to Greece. Without the final bailout installment, Greece will be unable to afford a 1.6 billion euro payment it owes the IMF at the end of June. A Grexit would occur if Greece defaulted on its debts, and then either decided to leave the currency voluntarily or had its line of credit cut off by the European Central Bank.
Talks between Greece and the troika broke down again this past weekend. The troika rejected Greece's latest proposal in the course of a meeting that lasted less than an hour.
In a fiery speech to Greece's parliament on Tuesday, Greek Prime Minister Alexis Tsipras said the IMF had "criminal responsibility" for Greece's economic hardship. Finance Minister Yanis Varoufakis said that he did not plan to bring a new counter-proposal to a meeting of Eurozone finance ministers on Thursday.
Amid fears of a Grexit, European stocks and bonds experienced their greatest volatility since January. By the end of trading Tuesday, Greek stocks and bonds had declined in value, while European stocks ended up increasing after an initial slide.
Bournous argued that Greece had already moved far enough toward the creditors' demands.
"The Greek government has proposed some measures that have been very painful according to our own set of values and our own political program," Bournous said. The left-wing Syriza party was elected in January on a platform of renegotiating the terms of Greece's international bailout in order to provide relief to the struggling Greek economy and restore funding for social programs.
"We are not willing to go back to agreements that change nothing compared to the governments that preceded us," Bournous said.
In the proposal that was rejected over the weekend, Greece had caved to the troika's budget surplus targets after weeks of holding out. The country's creditors are pushing the indebted nation to cut pension benefits and increase its value-added tax in order to have a 1 percent budget surplus in 2015 and a 2 percent surplus in 2016. Greece offered alternatives to meet the same goal, including a one-time 12 percent tax on corporate profits above 1 million euros, an increase in the corporate income tax rate from 26 percent to 29 percent and a 200 million euro cut in military spending.
Bournous said that the proposed additional pension cuts were "absurd" in light of the high poverty rates among Greece's pensioners.
Greek pensions have been cut as much as 48 percent in previous budget agreements, The New York Times reported. Official government estimates show that 45 percent of pensioners are at or near the poverty line, according to the Times. And 60 percent of Greek pensioners receive 700 euros per month or less.
The International Monetary Fund continued to defend the pension cuts on Tuesday. When asked for a response to Bournous' comments, the IMF referred The Huffington Post to a Sunday blog post by the IMF's chief economist, Olivier Blanchard.
"We believe a reduction of pension expenditures of 1% of GDP (out of 16%) is needed, and that it can be done while protecting the poorest pensioners," Blanchard said in the post. "We are open to alternative ways for designing both the VAT and the pension reforms, but these alternatives have to add up and deliver the required fiscal adjustment."
Bournous warned that if Greece's creditors refused to honor Syriza's election mandate, it could undermine the very idea of the European Union as a political entity -- let alone the monetary union.
"Europe must immediately stop shooting its own legs," Bournous said, referring to European nations struggling under austerity. "If we continue like this -- if we continue in the next days and months with provocations like the one today when Erika Steinbach, a member of parliament from the German Christian Democrats, tweeted that Greece is a cancer for the EU if it remains in the Euro -- then Europe does not have a future."
Bournous said that Eurozone member nations need to show support for one another in times of economic hardship. "Europe will either change course to a pro-social model based on solidarity or will move very dangerously to its further disintegration -- and I mean the whole idea [of European integration.]"
Before You Go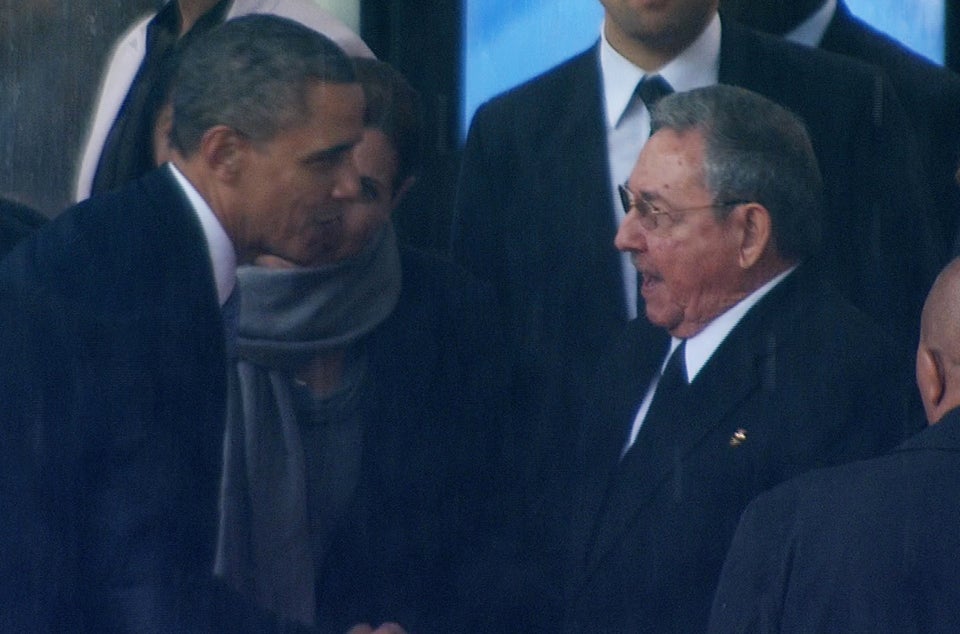 Obama's Handshakes Around The World
Popular in the Community