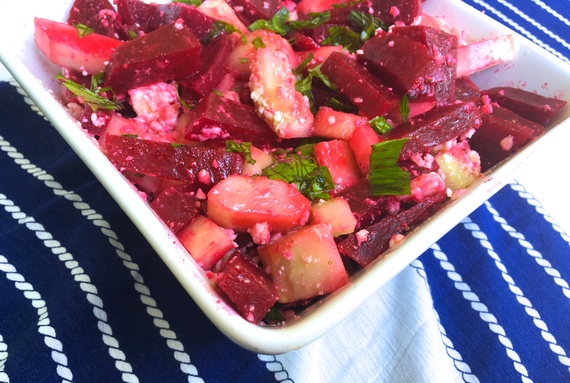 If you are familiar with my blog, you know that I'm a big fan of Beets. I feel confident that I'm doing something good for my body when I eat any deep-colored vegetable. I don't mind the flavor, but I do admit it can be a bit earthy. And I know some people may not prefer it. Therefore, I enjoy thinking of recipe ideas that add flavor and excitement to this super healthy, cancer-fighting food.
My latest pregnancy craving is all things Greek. I had some beets, cucumbers and feta cheese in the fridge that I wanted to use. One small note about that...any time you mix beets with a pale-colored food, there will be pink staining. This might seem odd to some people. But as it turns out, pink food can be delicious! Ha!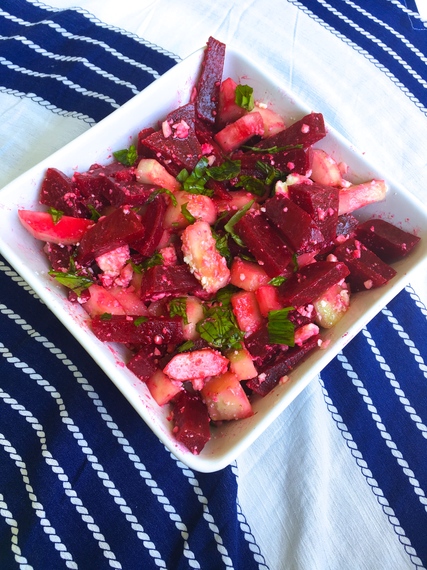 Recipe:
2 large Beets (boiled until soft and chopped)
1 large Cucumber (peeled, seeded and chopped)
1 handful fresh Basil (chopped)
1 container Feta Cheese
1/4 cup Olive Oil
1/2 Tbsp Red Wine Vinegar
1 clove minced Garlic
salt and pepper to taste
Instructions:
1. Peel and then boil the beets until soft and tender.
2. Once the beets have been cooled and chopped into bite-size pieces, mix with the cucumber (also chopped), basil and feta cheese.
3. In a measuring cup, blend the oils, vinegar, garlic, salt and pepper and pour over the salad.
4. Toss all ingredients together and serve immediately, or after refrigerating.