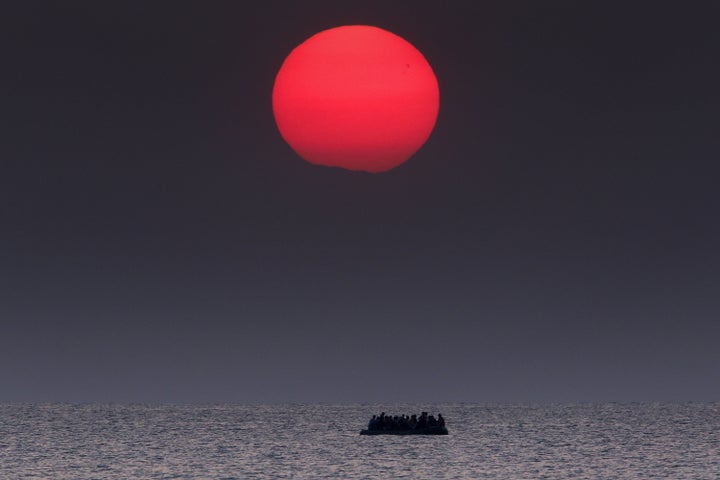 A Syrian refugee has a Greek vacationer to thank for saving his life after he nearly drowned at sea.
Sandra Tsiligeridu and her family were boating towards the island of Kos on Aug. 27, miles from shore, when they spotted someone in the water. At first they thought he was a diver, but then they realized he was in distress and was desperately trying to flag them down.
"I looked at him and he needed help," Tsiligeridu told The Pappas Post, an English-language Greek news website. "I immediately screamed to my friend who was driving our boat to turn around."
The group carefully motored closer and hauled the weak man from the sea. They then flagged down Greek authorities and informed them they'd just rescued a Syrian refugee.
 The man, identified as Mohammed Besmar, 28, was "so weak that he couldn't even stand or walk," Tsiligeridu told CNN. They wrapped the exhausted, hypothermic man in towels and dried him off, comforting him as he quickly fell asleep on the ride to Kos.
"I was sobbing [the whole time], because from the moment I saw the person in the water my soul became so deeply saddened that it felt like I was in his position," Tsiligeridu said. "I didn't think at any point if what we're doing was dangerous, if it was allowed or illegal -- a human soul was in danger and trying to save this person was for me the most natural thing in the world."
Members of Besmar's family and others traveling with them recounted the story of his disappearance to the Greek Coast Guard. Tsiligeridu shared the story publicly on Facebook (above).
Besmar and a group of 39 other Syrian refugees had climbed into a small boat off the coast of Turkey earlier that morning. Greece was their destination. During the voyage they lost an oar and Besmar dove into the sea to retrieve it, knowing the lives of the others depended on it.
Strong currents and big waves stopped Besmar from getting back into the boat. All his traveling companions could do was throw the helpless man a lifejacket, as they watched him slowly recede in the distance.
He clung to that lifejacket for the next 13 hours, until Tsiligeridu and the others came along and saved him from certain death.
Besmar's family, who reached Kos on the boat at noon, told the Greek Coast Guard that he had jumped overboard. The authorities believed he had drowned after an unsuccessful five-hour search and rescue mission. 
"He grabbed my hand and said 'thank you.'" Tsiligeridu told Mega. "That 'thank you' is something I will personally never forget."
"It should be an everyday gesture," Tsiligeridu said. "Before I met Mohamed I was angry and sad at the scenes I saw on television. I asked myself: 'Why do they come here?' Now I think something else."
PHOTO GALLERY
Crisis In Kos
Calling all HuffPost superfans!
Sign up for membership to become a founding member and help shape HuffPost's next chapter