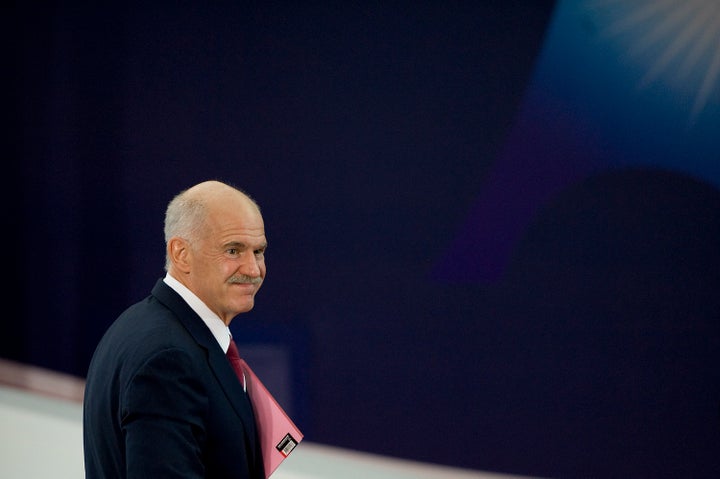 The Greek government teetered on the brink of collapse on Thursday over plans for a referendum on a euro zone bailout, with defections from the ruling party casting grave doubt on whether Prime Minister George Papandreou can survive a confidence vote.
"I don't think the government will last until tonight," said Costas Panagopoulos, Managing Director of pollsters ALCO.
Finance Minister Evangelos Venizelos broke ranks with Papandreou, coming out against holding the referendum after a bruising meeting with the German and French leaders, who made clear that Greece would not receive a cent more in aid until it votes to meet its commitments to the euro zone.
"The referendum is dead," Greek ruling party lawmaker Nikos Salayannis said on state radio.
An emergency cabinet session was scheduled for midday followed by a likely meeting of lawmakers from Papandreou's socialist party PASOK amid speculation that they will call on him to resign.
Another PASOK lawmaker said she would not support the government in a parliamentary vote of confidence on Friday, cutting its majority for the vote to just one. Snap elections would probably follow if Papandreou's majority vanished.
PASOK was in turmoil on Thursday, with one senior lawmaker calling for a government of national unity following Papandreou's shock call for the plebiscite, and another saying he should resign.
If the government fell and snap elections were called, the referendum would be canceled. The bailout would have to be approved by the next parliament that emerges from elections.
Some lawmakers are calling for a government of national unity which would have the job of getting the bailout through parliament before calling early elections. But the main opposition New Democracy has repeatedly refused cooperation.
Venizelos, one of the most powerful men in the PASOK government, originally supported Papandreou's plan. His change of mind came after he and Papandreou attended an emergency summit in Cannes on Wednesday with German Chancellor Angela Merkel and French President Nicolas Sarkozy.
A finance ministry source told Reuters on condition of anonymity that Venizelos believed the vote on the bailout, which was agreed by euro zone leaders only last week, should not be held while immediate funding to keep Greece afloat still had to be secured.
"Under these conditions a referendum is exactly what the country does not need. He would not have objections if all our pending issues such as the loan installment and the completion of the bailout plan had been sorted out," the source said after the meeting with Merkel and Sarkozy.
"It was a very difficult meeting," the source added.
Papandreou's bombshell announcement on Monday of the referendum and parliamentary vote of confidence plunged Greece into a political as well as an economic crisis.
Papandreou's once-comfortable majority has dwindled to almost nothing. On Thursday PASOK lawmaker Eva Kaili announced she would stay in the party but refused to support the government in the crucial vote expected late on Friday.
"Herewith I inform you that I am not resigning as an elected representative of my fellow citizens and my generation, but in Friday's vote I will not cast a vote of confidence in your government," she said in a letter to the speaker of parliament, a fellow PASOK member.
Kaili published the letter on her Facebook page.
This left Papandreou with the support of just 151 deputies out of 300 for Friday's vote.
PASOK lawmaker Costas Gitonas also said the referendum should not take place. "No, by no means," he told Mega TV. "It's a madhouse."
The specter of a hard Greek default and euro exit hung over a meeting of G20 leaders beginning in Cannes on Thursday. The French Riviera summit had been meant to focus on reforms of the global monetary system and steps to rein in speculative capital flows, but the shock waves from Greece have upended the talks.
(Additional reporting by Reuters Athens bureau; Writing by David Stamp; Editing by Mark Heinrich)
REAL LIFE. REAL NEWS. REAL VOICES.
Help us tell more of the stories that matter from voices that too often remain unheard.
BEFORE YOU GO