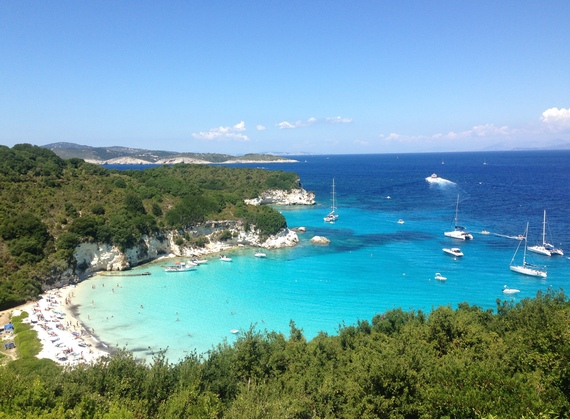 Just back from a week at a villa on the island of Paxos and I can report on the latest crisis in Greece: a small blockage in the filtration system of our private swimming pool. It seems that leaves from the ancient olive trees around the pool had blocked the filter, causing the water level to drop. I'm happy to report that after a quick SMS message, the owner arrived to clear the leaves.
There was a different kind of problem on the harbor front at the nearby village of Gaios where Stavros the boatman was checking the weather forecast. We had planned to rent a small motor boat to cruise around the island, but the wind was picking up. "It's a little too rough, try tomorrow," he said.
Plan B was pretty good. We hopped in our hire car and negotiated the narrow twisting road to the other end of the island (Paxos is tiny, covering only 12 square miles) and set up camp on Monodendri Beach, a pristine bay with a pebble beach, olive and cypress trees and crystal-clear seawater.
At the northern end of Monodendri is arguably the island's most stylish spot, Ben's Bar, which is run by a mother and son and has a cool boho-chic vibe with free sunbeds, hammocks, cushions and a DJ playing JJ Cale and the Rolling Stones. Charming staff serve drinks on the beach and then at lunch time you can climb the steps to the terrace and eat souvlaki, fish soup and zucchini balls as you gaze out across the water to the mountainous Greek mainland.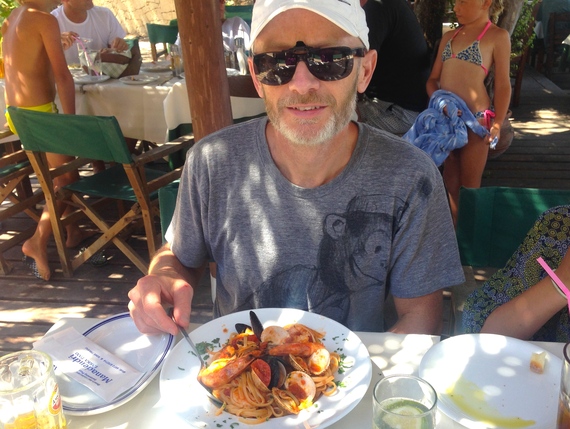 Exploring the island is easy. There are just three villages connected by a single road. As well as the main port of Gaios, there is Lakka, which has a small harbor packed with sailing boats and a lively square packed with restaurants, and sleepy Loggos, which is little more than a handful of waterfront cafes and restaurants.
Paxos is not a place to go for club nights. Perhaps because it has no airport, and the ferry journey from neighboring Corfu takes more than two hours, it retains an authentic and unspoilt atmosphere, even in high season. There are more than 30 pebble beaches but most are inaccessible by road. Many visitors arrive on yachts or rent a boat for the day.
Paxos has very few hotels. Most people who stay on the island go self-catering in villas or apartments (we stayed at beautiful Villa Doria in the hills above Gaios). However, the local restaurants are so good - and reasonably priced - that you might not find yourselves doing a lot of cooking.
Our favorite spot for a cheap meal was O Giros Ton Paxon, a popular restaurant with locals that has tables spilling out onto Gaios town square. Its pork gyros - a doughy pitta bread stuffed with spit-roast meat, tzatziki and salad - cost a risible €2.50 ($2.80).
As part of the austerity measures forced by Greece by the EU, sales tax on the islands has been increased from 13% to 23%, but prices remain reasonable and some places have absorbed the added costs. In most restaurants you're paying about €10 ($11.20) for a main course, rising to about €15 ($17) for fresh fish or seafood.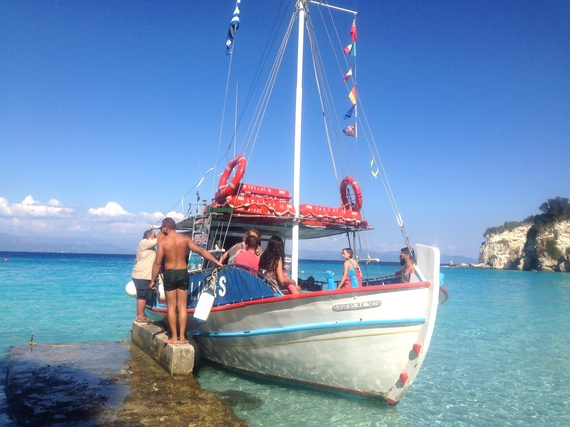 But as for the problems that were widely reported earlier this summer, I saw none. There were no shortages of cash, no queues at ATMs, no refugees and certainly no riots. "We had a few days when we couldn't get money from the bank," one local man told me, "but there was no panic. Those TV pictures you saw were all in Athens."
If there's one must-do for visitors, it's a day trip to Paxos's tiny sister island, Antipaxos. Boats leave Gaios harbor from 10 a.m. for the 20-minute crossing (€10 round trip) and set down at Vrika beach. This is such a pretty spot that most passengers hurriedly disembark, but if you stay on board you can get off at the next bay, Voutoumi, which is even more beautiful and less crowded. Here the turquoise shallows and deep cobalt sea is so clear that you could be in the Maldives.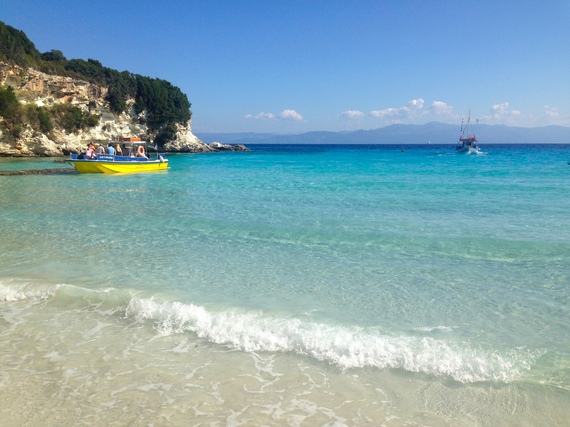 There are sun loungers to rent and a taverna set back from the beach, but if you walk to the far end of the beach and climb the 218 steps through trees to the top of a cliff, you reach Taverna Bellavista which - as its name suggests - boasts the most sensational views across the harbor. The homemade meatballs are also pretty good.
* Mark Hodson is Editor of 101 Holidays. All photographs by the author.