We never like to put words in other people's mouths, but we have a sneaking suspicion that if our excellent and fearless Greek leader Arianna Huffington were to have a Super Bowl party this year, this is the dip that would be on her table (in addition the Greek cookies that seem to follow her everywhere). In any case, this Greek layer dip will certainly be on our game day menu, and we'll call our intense desire to eat the whole bowl an homage to Arianna.
The seven-layer dip is a Super Bowl food tradition, albeit usually with a Mexican slant. The striations of refried beans, cheese, salsa, guacamole, sour cream, cheese, etc. have long satisfied our football snack cravings. Many have tinkered with exact ingredients. You may have seen Buzzfeed Food's intrepid quest for 47 layer dip earlier this week. They are dedicated to the layered dip cause, and also insane, which is why we like them. But for us, this Seven-Layer Crazy Greek Dip from How Sweet It Is will be the crowning jewel of dip innovations for Super Bowl XLVII.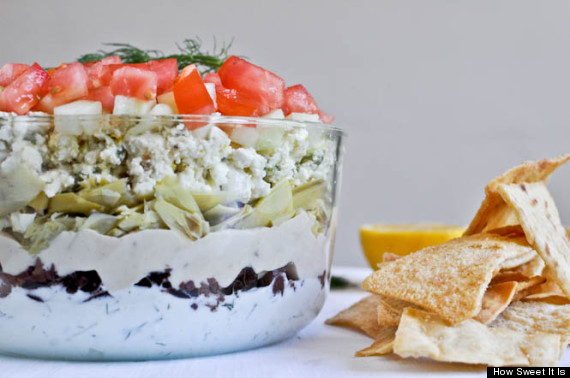 It's making us think of the word "majestic." You too, right? This behemoth includes homemade tzatziki, hummus, kalamata olives, artichoke hearts, jalapeᅢᄆo-spiked feta, cucumbers and tomatoes. Do you want to get crazy and gyro meat? Souvlaki? Keftedes? Guys, do like Arianna would (theoretically) do and follow your fearless hearts. Just be sure to tell us all about it please!