 The Greek salad is one of the most popular and well-known Greek dishes outside and inside Greece. Greeks love the horiatiki, which means village in Greek. In the summer months it is present on most Greek tables at home and at the tavernes.
While there are variations around Greece, it is basically a salad made with tomato, cucumber, olive oil, olives and feta. For example on the islands other white soft cheeses are used instead of feta, and in Crete there is the well -- known dakos; tomato and feta (or other local white cheese) piled on a large barley rusk that has been soaked with a bit of water and olive oil. Before we go on with the recipe, we need to clear up a few misconceptions.
There is no lettuce or any other leafy greens.
The salad is hardly mixed before it is served.<
Feta cheese is not cut in cubes but rather one large piece, or a few smaller pieces are placed
on top of the salad.
The tomato and cucumber should be cut in fairly large pieces, not small cubes.
There is no red pepper in the traditional Greek salad.
The salad is served with bread, not pita.
The salad is served in a shallow bowl; do not serve it in a deep bowl.
As with most simple dishes, the horiatiki needs excellent ingredients. Make sure you have extra
virgin olive oil, in-season ripe tomatoes, juicy Greek black olives, good, fragrant oregano and real
Greek feta cheese.
Ingredients:
2-3 tomatoes
1 medium cucumber,
5-6 Greek black olives
1 small onion,
1 chunk of feta -- about 1 ½ to 2 ounces,
Extra virgin olive oil
Oregano
Red wine vinegar
Salt
*You may also add some green bell pepper and capers.
Directions:
1. Cut tomato in wedges-do not cut in cubes.
2. Peel cucumber and cut in slices about ½ inch thick. You may cut the rounds in half.
3. Cut onion in thin slices.
4. Place tomatoes and cucumbers in a shallow bowl and combine. Place the thinly sliced onion on top. Add olives.
5. Drizzle with olive oil and a splash of vinegar.* Add some salt to taste.
6. Place a piece of feta on top and sprinkle entire salad with oregano.
*I do not usually measure out the oil, but if you are, just use a ratio 2:1 for olive oil and vinegar. Don't skimp on the olive oil, you don't want it to be drowning in it, but the salad should be coated in the oil.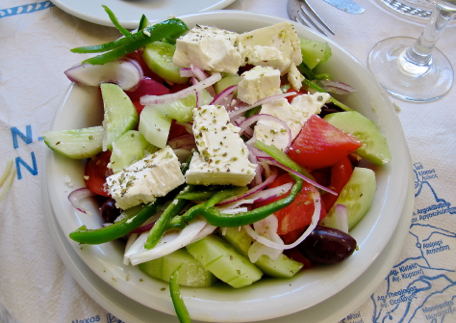 Yes there is a special way to eat this salad for maximum enjoyment.
1. With your fork, break the big chunk of feta.
2. With your fork, grab a piece of feta, a tomato and whatever else you can manage and eat it.
3. If you want to be polite you can spoon out a serving on your plate, but the beauty of the Greek salad is that it is best consumed directly from the serving plate. This way, you have a choice of the different combinations you can eat with your fork; tomato & feta, or cucumber, pepper and olive? The combinations are endless. Why limit yourself to a small serving on your plate? I personally cannot enjoy a Greek salad if I can't just eat it directly from the serving dish.
4. If you're really comfortable with the other people at the table, grab a chunk of bread and dip it in the leftover mixture of olive oil, juices from the tomato and crumbles of the feta.

Nutritional Value of the Greek Salad
Juicy red tomatoes, crisp cucumber, sharp onion, olive oil -- of course feta. I love the horiatiki salad, because it is healthy and almost decadent at the same time, just like most Greek food.
But this salad is not only about looks, it has substance too. It is rich in fiber and antioxidants due to a combination of tomato, onion and olive oil. Feta cheese is the perfect complement, providing the necessary protein. How many calories? A whole horiatiki salad will provide you with about 600 calories, 100 percent of your daily Vitamin C needs, and 50 percent of Vitamin A (in the form of beta-carotene) and Vitamin B2.
Related