Lunch time can often present its own set of conundrums. We try not to eat the same thing too many times in a row. We try to keep things affordable. We try to eat our vegetables in. But we also really, really love sandwiches.
Salads are a natural solution to turn to for workday lunches. They are nutritious, quick and don't make us feel like we need to nap after lunch. One of our most frequent choices is a big Greek salad -- full of fresh vegetables, salty olives, feta and if we're lucky, a few stuffed grape leaves on top. But sometimes, we feel the tug of grilled bread and gooey cheese in sandwich form. Thanks to Food and Other Stuff, we've found a solution: the Greek salad sandwich.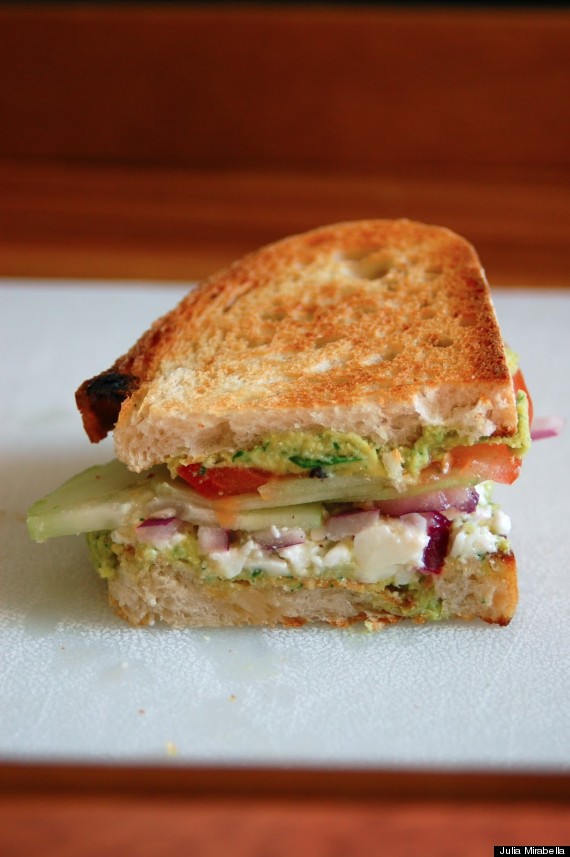 We love the layers of cucumber, tomato, red onion, glued together with a chickpea, parsley and feta purée, and some extra feta sprinkled on top for good measure. We can't wait to eat this. Which other salads should we turn into sandwiches?? We have visions of wedge salad sandwiches, dancing through our heads. Get the Greek Salad Sandwich recipe from Food and Other Stuff.