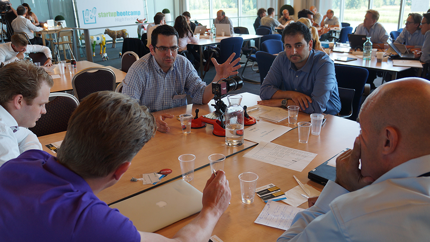 Lighting 3's Constantinos Bouroussis and Lambros Doulos at Startupbootcamp HighTechXL Final Selection Days.
The last three weeks have been kind of hellish for the Greek economy and society -- a referendum announcement, capital controls on the banks, uncertainty after a 'NO' vote on the European creditors agreement proposal, another round of negotiations between the Greek Prime Minister Tsipras and Eurozone leaders and then the third bailout agreement in five years, reportedly worth 85 billion euros.
I have to admit, I felt a bit lucky not to be in the country for most of these past three weeks. Not in a gloating way (after all, now I'm back and have to put up with the same hardships as everyone else here), but in the sense that following all the developments outside of Greece helped me keep my cool and not get (too) depressed over Greece's fate.
The news of the referendum struck me on a warm Friday night on the crowded canal of Utrecht. I flew into the Netherlands that same morning. After a few hours around the streets of Amsterdam, I arrived in Utrecht to spend the night with a Greek couple, friends of mine, before heading to Eindhoven, where I had been invited to attend the Final Selection Days of Startupbootcamp HighTechXL.
The announcement of the referendum was a bit shocking. When I left Athens, everything was apparently leading to the Greek government reaching an agreement with the European creditors for measures of around 8 billion euros. All politics aside, the way things were turning now, with the worst case scenarios looming, made us worried, to say the least. In the next hours, we were getting updates through social media of people withdrawing money from ATMs in the early morning hours of Saturday. On Monday, capital controls (a withdrawal limit of 60 euros per day per account and a prohibition of transferring money outside of Greece) were imposed; causing a lot of companies (and, oh the irony, most of them being tech start-ups) a lot of problems.
Thankfully enough, I got to follow this entire situation only through social media and updates from friends and family.
I arrived in Eindhoven on Saturday, June 27th noon, the day after the referendum announcement. After three years of partnering with the SBCHTXL team to organise their pitch days in Athens, I finally had the opportunity to see how the program works from the inside. There I met with six high-tech and hardware start-ups from Greece. That number doesn't really make an impression if you don't put it into perspective: The biggest high-tech and hardware start-up accelerator in Europe had screened 1,500 companies in Europe and other parts of the world -- of course using different levels of screening for each one -- and invited 20 to participate in the 4-day Final Selection Days.
Out of these 20 teams, 6 were coming from Greece. In other words, they were technologies or devices developed by Greek scientists in Greek research centers. Now these start-ups had the chance to go through two days of business-model refining and pitch training and two days of presenting in front of over 150 mentors and receiving feedback from them.
I'd be the last to join the 'success story' media party that took place the last 2-3 years in Greece, but -- give me a break -- 6 out of 20 shows the great potential of Greek R&D! And compared to the current situation in Greece, it raises yet again the question of 'the kind of Greece we want to build up'.
"During our Fast Track event in Athens in late May, we saw amazing technologies that have been developed in science parks and research centers there. I'm excited with the level of technology, innovation and scientific accomplishments in Greece. There are technologies with important potential and people with motivation and passion, and that shine in their eyes to build successful companies," Guus Frericks, co-founder and managing director of Startupbootcamp HighTechXL, told me.
Alexander Matthiessen is one of the three Greeks that work for the program. Actually he's employed as a Senior Advisor at EY Innovation, which is one of the co-organisers and main partners of the programs. At the age of 28, Alex is working for the first time during his career outside of Greece (no need to mention how happy he is). He confirms to me that Greece is only one of the markets that SBCHTXL focuses on, but the program keeps on returning to Athens because "[it] has the characteristics we're looking for -- high technology and strong teams." "There is a gap between the research world and the business world, and the economic situation in Greece forces companies to watch out for opportunities outside of the country," he told me.
In Eindhoven I caught up again with Zoe Giavri, Paris Ziogkas and Dimitrios Rozakis from TomoTECH, a patent-pending software that processes brain diffusion MRIs and that increases the accuracy of 3D imaging from 65 percent to 90 percent. TomoTECH has already developed its algorithm, has manually processed 50 MRIs and tests its web interface with seven doctors in Greece.
I caught up with Evi Valera from Sensoraide, a complete software and hardware solution for farmers in the Internet of Things era. Sensoraide collects data on temperature, humidity, harmful gases or substances through wireless sensors. Then it generates reports for agriculture production optimization with the aim of reducing operational costs for farmers. Sensoraide, after graduating from Startup Chile in 2013 and recently from Orange Grove, the start-up incubator set up in Athens by the Embassy of the Netherlands, is already testing its product with first early adopters in Greece.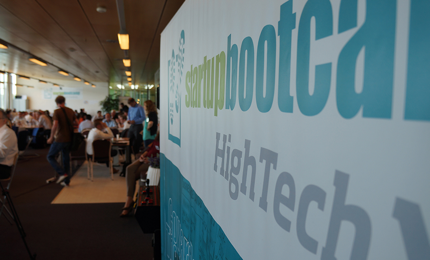 20 international teams received mentoring and feedback on their products.
For the first time, I met Dimitris Xevgenos and Konstantina Makrythanasi from Green Desalination, an EU-funded and awarded research project that aims at making the desalination process greener by exploiting the waste water, producing potable distilled water and solid salts for industrial use.
I met electrical engineer Nikos Kanopoulos and physicists Argyroula Mourtzikou and Theodoro Makri who are working on the new innovation developed by Patras-based Brite Solar. They have invented a transparent solar panel that, though it looks like a plain window, uses new composite organic/inorganic lightweight nanostructured cells to feed the energy needs of greenhouses, homes or office buildings. Brite Solar has already self-invested 700,000 euros and received EU grants of 1.4 million euros, and has obtained patents for the Dutch, US and Chinese markets.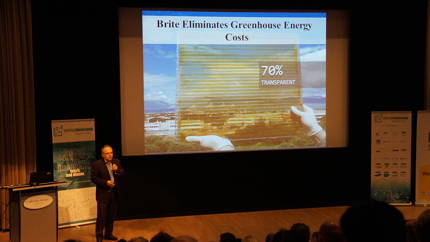 Brite Solar's Nikos Kanopoulos on stage.
I also met Mano and Dimitri Tsagkia who are working on Solumbro, a business idea for a smart beach umbrella, equipped with a small solar panel and wifi modules to generate energy and Internet connection.
And last but not least, I met Constantinos Bouroussis and Lambros Doulos, who presented Lighting 3, an automated luminance measuring software that uses image sensors. It can be used for measuring indoor lighting, roads and tunnel lighting, saving time and money for tunnel operators and local authorities.
Being around these promising young researchers while my country appeared to be on the brink of collapse was kind of sad. It was sad to see that Greece has some world-class talent (indeed, in a sector such as high-tech or hardware), yet the way it currently functions it cannot really support it, let alone help it shine. I was feeling almost depressed being at a place like the High Tech Campus while looking at the pictures of people queuing up outside of banks to withdraw 60 euros. I kind of felt for those young researchers, entrepreneurs-wanting-to-be for having the jinx of coming from a country with no structure to help them establish their business, reach their market and grow their business.
Now, I don't mean to say that programs like Startupbootcamp HighTechXL are taking advantage of the Greek situation and 'stealing' our best of talent. On the contrary, I believe that it's most important for start-ups coming from such a small country and ecosystem to compete for such opportunities. The Greek start-up ecosystem really boomed over the last three years with big funding rounds and exits for companies mostly from ICT, but it still lacks the experience and networks for helping create truly international companies. Even without the crisis, Greek start-ups would turn to networks abroad because they wouldn't be able to find these networks inside the country.
For example, Makrythanassi from Green Desalination told me that "we didn't choose Startupbootcamp HighTechXL as an exit door from Greece. We already wanted to establish networks in the Netherlands. We need to be an extrovert company, and the Netherlands is a leader in our sector. Wherever we go, we repeat that our product is Greek and we have a greek identity." They have set up their pilot production line in Tenos, an island in the Aegean Sea, and they're currently planning to establish their production plant at Lavrio, a port near Athens.
What would be great to see -- supposing that the Greek ecosystem will survive the ever-growing problems of the Greek economic environment -- is this exchange of know-how that stays in the country too.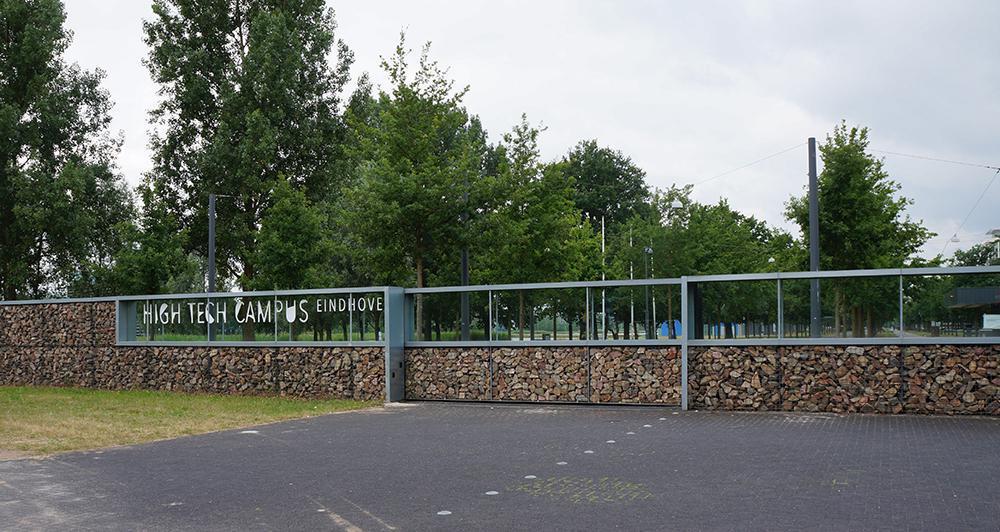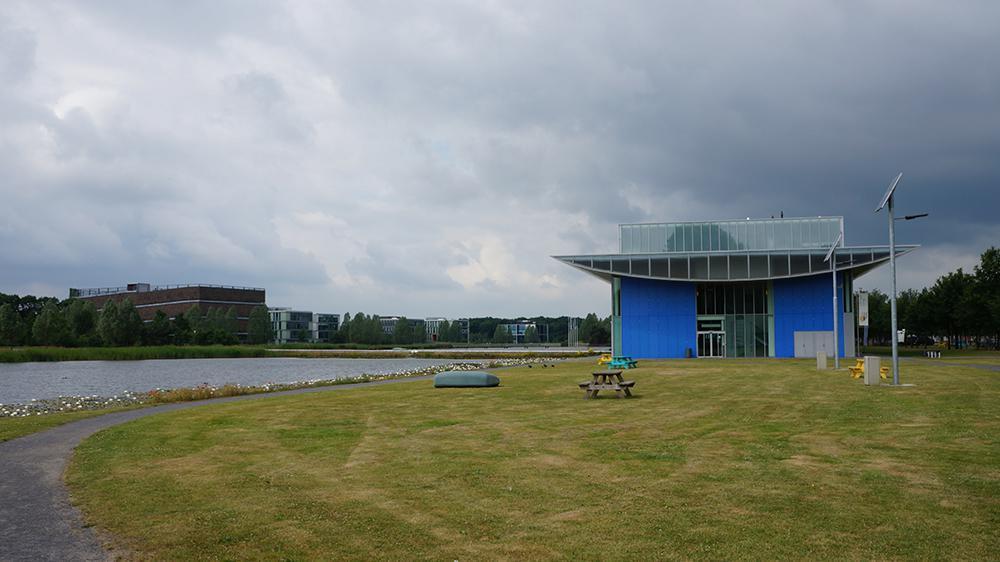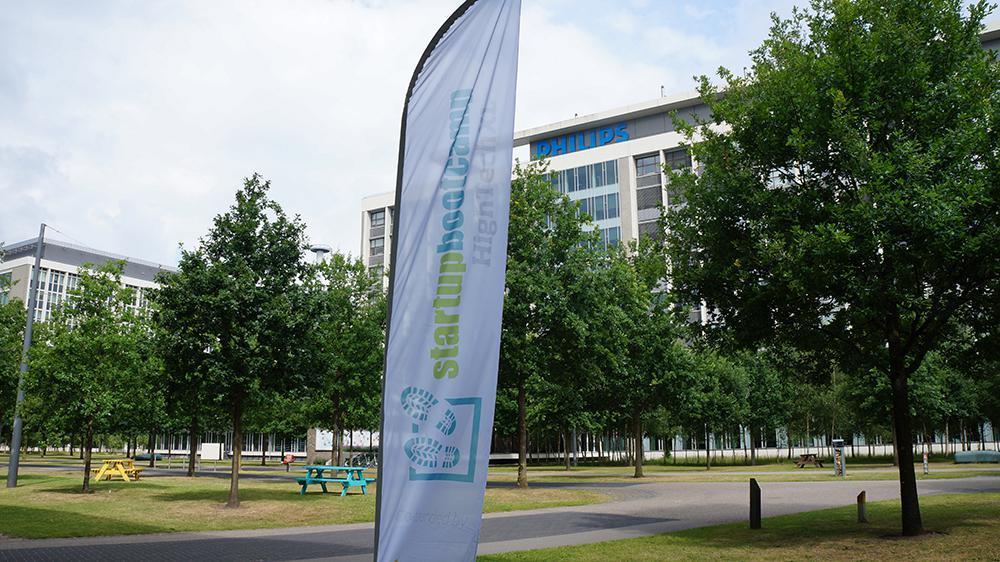 Startupbootcamp HighTechXL is hosted at High Tech Campus Eindhoven, Philipps' ex-R&D centre.
The Greek participants were -- obviously -- worried about the situation back home. In private discussions one was wondering what could happen to him and his children, and another one was anecdotally questioning if she will even have a company upon her return to Greece. (We Greeks tend to get overdramatic, but worries for the long run still remain for many of us.)
When asked to go on record, Frericks didn't really want to comment on Greek politics and the referendum idea but -- quite passionately -- he told me that "Europeans don't really get the human catastrophe going on right now in Greece. Even if the country explodes, I will continue working with Greece because of the innovation it produces." He wants to fill the gap between the research and business worlds. "In difficult economic times, we see a rise in necessity entrepreneurship. There's an urgent need for the younger generation to create new enterprises and develop a new economy. With Startupbootcamp HighTechXL we have already gotten in contact with various stakeholders from the Greek ecosystem to help out any way we can."
Eventually, the Greek start-ups weren't really affected by the situation going on back home and four of them (Brite Solar, TomoTECH, Sensoraide and Green Desalination) were selected to return to Eindhoven in September to join the third batch of the program.
Greece is again at crossroads. Maybe we have even bigger problems to solve than supporting start-ups. Or do we? Start-ups are listed high on the European Commission's agenda and several European countries are investing in attracting the best companies from Europe and the rest of the world. In Greece, we still have some rough days coming before we secure financing for our economy (that will include harsh bailout measures), but in our plan for the next day, we definitely need to throw some lines toward supporting existing and creating new high-growth, innovative companies. Then we must focus on connecting them with the tech world outside of Greece.
This post originally appeared on HuffPost Greece and was translated into English.