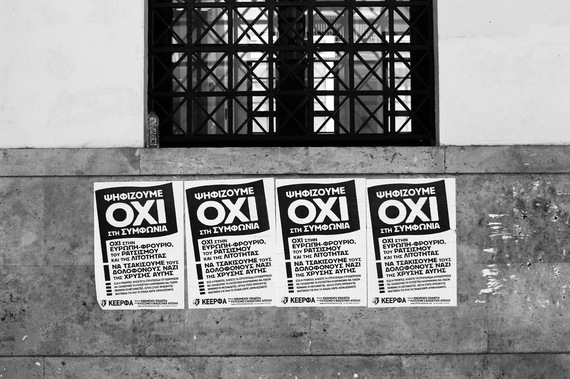 The Aftermath: more austerity tightens the screws.
The Greek debt crisis reached fever pitch as the EU implemented a new series of austerity measures. Greece was unable to pay its debt to the IMF for the past few months until a couple weeks ago when the IMF confirmed that Greece paid the long overdue debt of 2.05 billion euros. Greek banks reopened after being closed for 3 weeks as the government initiates repayment of its loans to the ECB and IMF.
For the previous week and a half, Greeks were only allowed to withdraw a maximum of €60 per day because of fear of a run on the banks. On Monday the daily limit was changed to a weekly one at €420. "This means we won't have to go to the bank every day but it is still the same small amount, which is not enough to live on!" says Chrysa Kouroukli, a 17 year-old Athenian. In addition, there is still a block on transfers to foreign banks and a ban on cashing checks. Chrysa worries that the supplies of canned foods her mother stock-piled in their pantry will run out soon. She explains that her family prepared when they first heard about the EU deadline, but they did not expect that they would not be allowed to draw out money for food.
The Greeks are facing many restrictions and price surges with the 10% increase in the Value Added Tax (VAT). This means that Greeks must pay more on goods and services. This rise was among the tough austerity measures demanded by Greece's creditors. The prices of food and essential necessities are such that the paltry weekly allowance is insufficient to pay for food and expenses. The effects of Greece's debt are felt in the majority of the population who are lower middle class. In fact the unemployment rate is at a startling 25.6%, one of the highest in Europe. This means that they rely on savings for sustenance, and these savings are now severely restricted.
The Greeks blame Prime Minister Alexis Tsipras for the debt, even though the economic problems began before he was elected in December--when the IMF issued its first of two international bailouts for Greece, eventually totaling more than 240 billion euros. With these loans came severe austerity terms, including budget cuts and tax increases that are worsening as Greece delays on its debt repayment. The weight of these measures are being felt by Tsipras who everyone had hoped would fix Greece's problems but is unable to do so. He is currently trying to make compromises with Eurozone leaders in order to lower the debt but to no avail, as Greece's creditors refused to accept his proposals. This is because the Eurozone leaders want to remove Tsipras from office, since he is part of the left-winged party, while most European governments are right-winged. "No matter what decisions he makes Tsipras will be criticized for his actions," says Chrysa.
Image courtesy of Chrysa Kouroukli.
REAL LIFE. REAL NEWS. REAL VOICES.
Help us tell more of the stories that matter from voices that too often remain unheard.