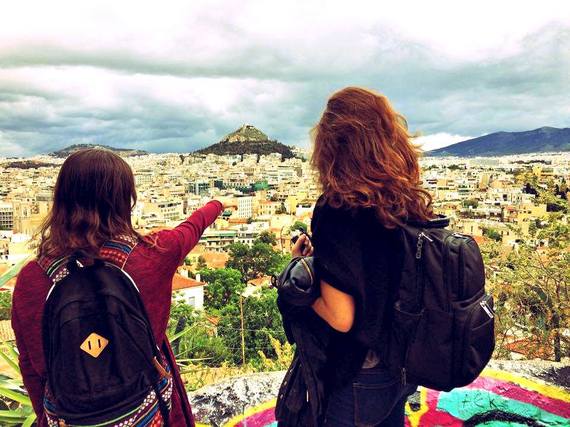 It's a Monday. I scour the large cafeteria and opt for a table in the centre of the room. It's late morning here at the Acropolis Museum in Athens. I take a look out towards the large veranda. Beyond that, a monument gazes down on us - an everlasting symbol of Ancient Greece. The Parthenon has taken a few beatings over its three plus millennia of existence, yet it has survived those beatings such as the bombing it suffered in 1687 during the Great Turkish War.
With Greece still in the midst of the financial crisis - it's coincidentally the morning after another protest in nearby Syntagma Square - it's easy to dreamily gaze at this magnificent temple with defiant thoughts that this country will survive the hardships of recent times in the same way as the Parthenon withstood its obstacles.
Other than being here and feeling patriotic, I'm actually here to meet two budding entrepreneurs who have recently embarked on a new venture and they arrive soon after me.
They're likeable straight away and it's not long into the conversation before I notice their passion and enthusiasm for what they've started and it's pretty evident that they have big plans.
Nikos Theodoris and Anna Manias set up Greeking.me at the beginning of this year. The company focuses on showing the city of Athens in a different light to your average tour guides. In fact, they omit the word tourist completely - that is their trick. They want visitors to experience the city through the eyes of a local. From cultural walking tours in Athens to cooking lessons (to learn more about Greek cuisine) to 'night crawls' discovering the city's nightlife to learning the steps of Greek folk dances, there are many options to choose from to experience all of Athens.
Greeking.me focus on quality sets them apart as they aim to exceed expectations thanks to the passionate team set up by Nikos and Anna.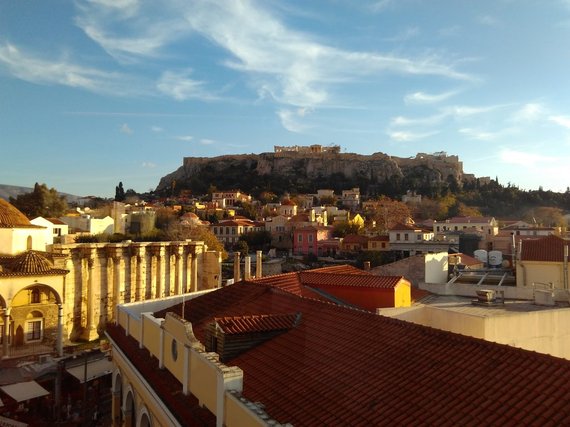 Whether you are an American hopping around Europe, or someone who is visiting from within Europe itself (each of Greeking.me services are offered in English, German, French, Italian and Spanish), this is a unique opportunity to see one of the world's oldest cities in a local, fun and authentic way.
The very informative and user-friendly site elaborates more on what is on offer.
As Nikos and Anna explained the vision for Greeking.me - they intend to expand to other towns and cities in mainland Greece - the conversation inevitably turned towards the current climate here. It is testament to people like them that this country still retains a sizeable chunk of its younger generation. Many have moved abroad owing to the ever-increasing rise in unemployment, so it is assuring to meet those who have opted to stay and make things happen for themselves. Personally, crisis or no crisis, I've always held the belief that everyone should make a difference in a way that they enjoy.
As we part ways, I'm certain that these two have a different concept and that the company will broaden its horizon. One hopes that the government of the day and future ones will make it easier for their people to build something rather than stifling them. The people of this generation will, I believe, be the ones to turn a faltering economy back to a prosperous, thriving one.