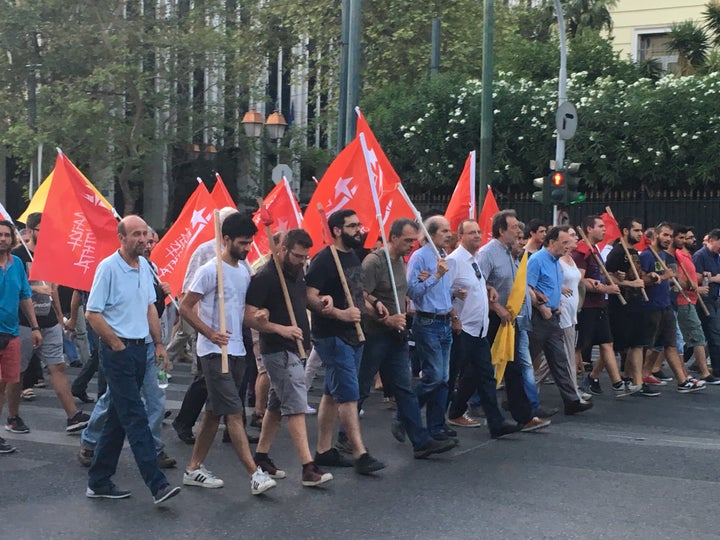 ATHENS, Greece ― Several hundred radical activists and labor union members gathered Tuesday on the anniversary of last summer's Greek referendum vote to protest the government's agreement to a new European austerity package against what they say were the Greek public's wishes.
In the wake of the British public's vote for a Brexit, or exit from the European Union, the protest was a reminder that the wave of Euroscepticism sweeping the continent is as much rooted in anger over the EU's program of fiscal austerity and disregard for public opinion as it is in xenophobia and concern about immigration.
The crowd grew larger as marchers paraded past the Greek parliament building and the National Garden of Athens, a short distance from Maximos Mansion, the Greek prime minister's residence. Nevertheless, at its peak, the throng of demonstrators, holding banners, waving the flags of various socialist factions and chanting anti-austerity slogans, was just a fraction of the much larger crowds that dominated Athens during Greek debt talks last summer.
Police clad in riot gear massed on cross streets, apparently prepared to confront demonstrators who decided to adopt violence. The march remained peaceful.
Minas Chronopoulos, a university student and supporter of the Front of the Greek Anticapitalist Left who led marchers in chants with a megaphone, said that the Brexit vote reflected the extent of frustration with austerity across Europe.
"A lot of people both in Britain and in Greece ― from what I have heard at least, in Britain ― voted 'no,' not in a chauvinistic way, but to oppose austerity in Britain, to oppose an establishment that oppresses people," Chronopoulos said.
"A lot of people both in Britain and in Greece -- from what I have heard at least, in Britain -- voted 'no,' not in a chauvinistic way, but to oppose austerity in Britain, to oppose an establishment that oppresses people."
It is an analysis of Brexit shared by many American progressives, including Sen. Bernie Sanders (I-Vt.), a Democratic presidential candidate.
Polling suggests that concern over immigration and national self-determination were the top priorities of British voters who opted to leave the EU. But many observers note that voters' opposition to immigration is often rooted in the perceived economic harm it causes, a fact reflected in the disproportionate share of working-class Britons that opted to "leave" the European Union.
It is hard to remember now, but instead of a Brexit, last summer the world was consumed with the drama of a potential "Grexit," or Greek exit from the euro currency union. Rather than submit to new pension cuts and tax increases demanded by Greece's European creditors, progressive Prime Minister Alexis Tsipras put the lenders' controversial proposals to a popular referendum vote in July, vowing that a rejection would give his government more leverage to negotiate.
While the referendum was over the narrow question of a new austerity package in exchange for emergency loans, it was widely framed by its detractors as a vote on a Grexit, since it would represent a rejection of Europe's sovereignty over Greece's economy and likely plunge Greece into an uncertain future outside the joint currency zone.
Greek voters listened to Tsipras, voting down the European proposal by a wide margin. But the Europeans reacted with anger, denying emergency aid to Greek banks and forcing Tsipras to accept the most dramatic austerity measures yet.
Voters nonetheless returned Tsipras and his Syriza party to power after the new memorandum with Europe on the promise not of preventing austerity but distributing it more equitably.
International attention may have shifted since then, but the financial stress on Greek citizens has only deepened and the frustration of the country still burns hot.
The tax hikes and pension cuts the government has continued to implement at the behest of European leaders have taken an added bite out of ordinary Greeks' already-depleted bank accounts. One-half of Greeks under age 25 are out of work, leaving them little hope for the future. Nearly half a million Greeks have left the country for greener pastures since 2008, according to a report released by the Bank of Greece, the country's central bank, earlier this month.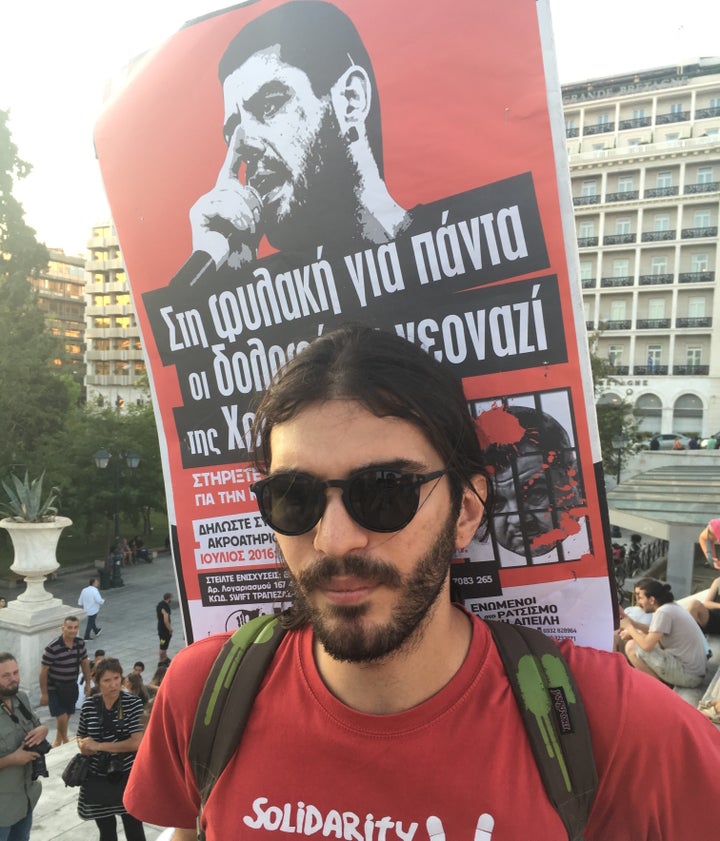 Even the views of fiercely ideological Greeks like Chronopoulos are shaped by economic desperation. Chronopoulos said he has been unable to find work to sustain him during his studies and aid his mother with medical bills.
In the past, like many Greeks, Chronopoulos has relied on the pension of his aging mother to help make ends meet. He now worries that future government cuts will strip him and his mother of that safety net.
It was not clear how the demonstrators believed Tsipras could have prevailed against the European creditors without submerging the country into even greater economic calamity. When Tsipras conceded defeat to lenders, weeks of government-imposed capital controls had sent the economy into a tailspin.
Mostly, protesters seemed to think that whatever the outcome, it could not be much worse than the current miserable state of affairs.
Peggy Vaveli voted for Syriza in January 2015, but was so disappointed in their capitulation that she did not support their re-election. Vaveli owns a film distribution company that employed 12 people before the financial crisis in 2008, but now employs only one person besides herself.
Vaveli said she was unfazed by the prospect of letting Greek banks collapse, the outcome that seemed imminent last summer.
"There is no money for people now. The banks have collapsed and been recapitalized three times by our tax money," she said.
One alternative to a new round of austerity, known as "Plan B" or "Plan X," however, has sparked political outrage in Greece this week following revelations by the economist James Galbraith, who was a senior advisor to former Greek Finance Minister Yanis Varoufakis. As has been reported in the past, Galbraith helped Varoufakis develop a plan in the event that negotiations came to a standstill, the Europeans allowed Greek banks to fail and the country ran out of money entirely. The plan centered on developing an alternative currency to replace the euro while the country recovered economically.
In Galbraith's new book, Welcome to the Poisoned Chalice: The Destruction of Greece and the Future of Europe, he gives new details of what the plan would have entailed. The country would have had to nationalize the Bank of Greece, convert bank deposits into a new currency and pay pensions and wages with IOUs.
Related
Before You Go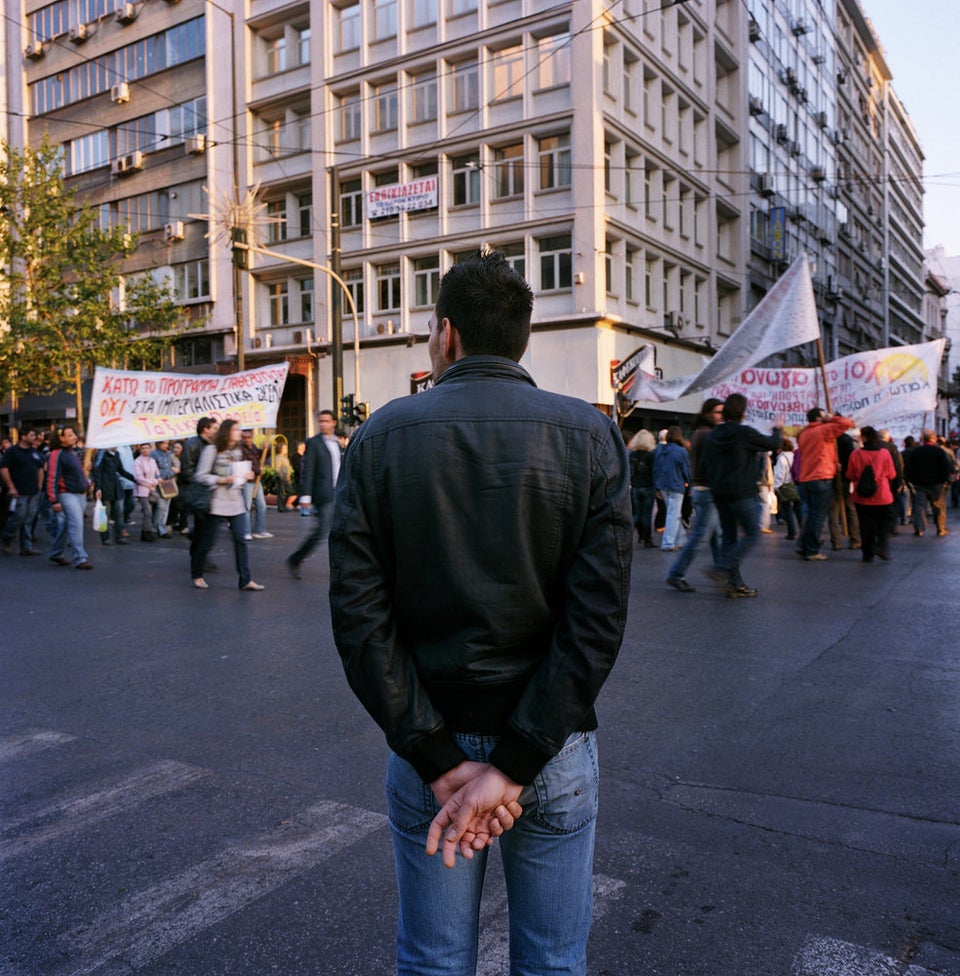 Greece's Economic Crisis Through A Photographer's Lens
Popular in the Community