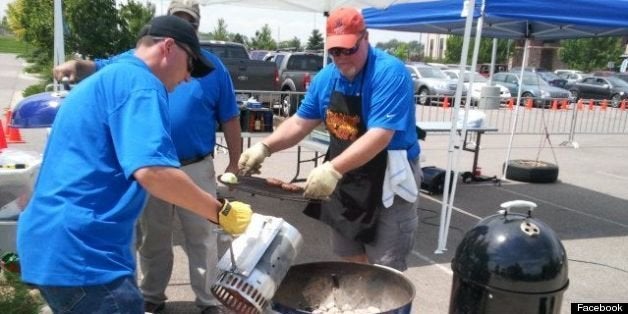 Greeley's impressive beef heritage will once again be a source of celebration this weekend.
The Greeley Beef Fest is back for a second year and will take place from 2-8 p.m. Saturday at the Twin Rivers Amphitheater at the Family FunPlex, 1501 65th Ave.
"Before this event we heard from the community and saw an opportunity to celebrate Greeley, the people, the neighbors, the talents and the quality of life we share," said Emily Tilton, events coordinator at The Tribune, which is sponsoring the event. "We want to offer that opportunity for the community where their talents could come together."
The city of Greeley is indeed one with agriculture deeply woven into its fabric.
"Agriculture brings balance to Greeley," said Bill Webster, a former state representative and Weld County commissioner, who for more than 30 years operated Webster Feedlots near Greeley. "Companies like the packing plant and Leprino are very strong assets to our community."
In a letter to George Washington, Thomas Jefferson once said "Agriculture is our wisest pursuit, because it in the end contributes most to real wealth, good morals and happiness."
The founding families of Greeley recognized the value of agriculture as many of them chose to raise cattle, not only as their profession but as their way of life.
Greeley today is a community dotted with structures that bare the names of families who shaped the beef industry -- not only locally, but nationally and globally -- and whose fortunes trickled down to benefit their hometown.
Medical facilities, schools, libraries, concert halls, post offices and buildings at the local university's campus all have been erected in honor of the Monforts, Farrs and others. They were beef producers who abandoned traditional production and feeding methods and revolutionized technology in the cattle industry, international exporting practices and other aspects of the business to make operations more profitable and efficient, and to help make food more affordable for consumers.
Those local structures stand today as a reminder that beef has been an enormous player in building Greeley and Weld County -- figuratively and literally.
Webster noted that his father was drawn to Greeley in 1933 because it was a stable and sound community due to the strong presence of agriculture. Webster said a prominent beef industry is what has kept Greeley thriving through many economic ups and downs over the years and sees that steadiness continuing into the future.
To honor Greeley's beef heritage, Saturday's event will feature food, a beer garden and live music, including the local classic rock cover band Fembot and a community stage showcasing a wide variety of Greeley's talent.
This year, Beef Fest has expanded food options. Vendors will range from Kona Ice, selling shaved ice treats, and CSK Grill, selling barbecue brisket tacos and their specialty fries, to Kenny's Steak House, selling sliders, and Wing Shack, selling its famous wings.
One of the main features of the Beef Fest is the Beef Chief Grill-off. Last year, Matt Henkener took home the title of Beef Chief and he plans to compete again this year. He, along with many other grilling enthusiasts, will be vying for bragging rights, as well as prizes sponsored by Kenny's Steak House. ___
(c)2013 the Greeley Tribune (Greeley, Colo.)
Distributed by MCT Information Services
REAL LIFE. REAL NEWS. REAL VOICES.
Help us tell more of the stories that matter from voices that too often remain unheard.