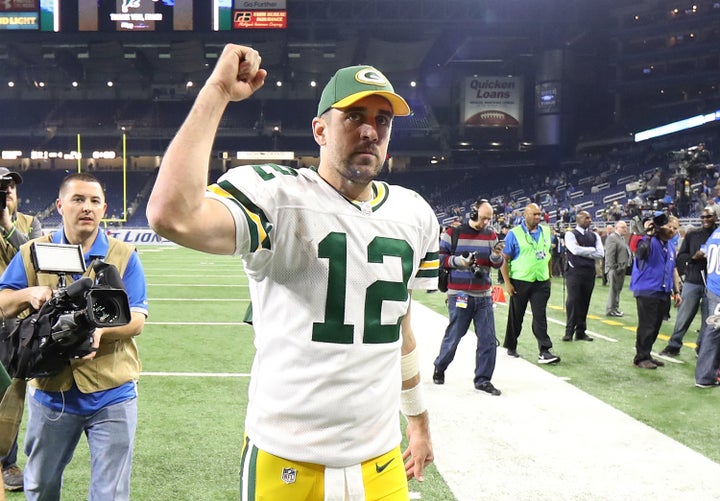 When Aaron Rodgers led the Green Bay Packers to their fourth Super Bowl title (and 13th NFL championship) in 2011, he did it despite his team being the sixth and lowest seed in the NFC. That year, the Packers had to win three road games just to earn the right to play Pittsburgh in the big game. That's the beauty of this single-elimination tournament: It doesn't matter how you got here. It just matters that you're here. 
Wild Card weekend 2017, which kicks off this Saturday, will feature two of the hottest teams in the NFL. The Steelers boast a seven-game win streak and feature a trio of superstars, including unlikely MVP candidate Antonio Brown. But while Pittsburgh undoubtedly deserves our attention, let's also take a moment to examine why the boys in green have become such a hot ticket.
It all starts and ends with Aaron Rodgers ― the likely league MVP, and for good reason. His 40 touchdown passes are the most in pro football, and during Green Bay's last six games ― all wins ― the 33-year-old signal caller has amassed 18 touchdowns and zero interceptions. However, it'd be wrong to simply dismiss the Pack as a one-dimensional, aerial attacking team.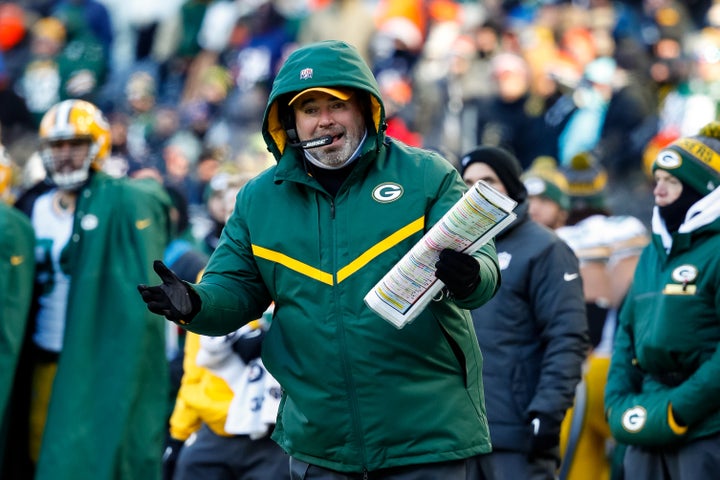 Longtime defensive coordinator Dom Capers has found the magic touch once more, and he's done so after an ominous stretch where his defense flat-out couldn't get off the field.
The turnaround was heralded by a crucial December thrashing of NFC West champ Seattle, when the Seahawks mustered a measly 10 points and confused Russell Wilson to the tune of a career-worst five interceptions. Then, with the division on the line at Detroit in Week 17, Capers ― despite losing three cornerbacks in the game to injury ― coerced Lions MVP candidate Matthew Stafford into several third down errant throws and a crucial pick.
Maybe the most surprisingly effective element for Green Bay, though, has been the running game, once completely dormant following the season-ending injury to starting back Eddie Lacy, along with a knee injury to backup James Starks.
Head coach Mike McCarthy has preached offensive balance, but for much of the season, he simply couldn't find a shred of it. During Green Bay's four-game losing streak ― three of which were at the hands of non-playoff teams ― Rodgers averaged over 43 pass attempts per game and twice led the Packers in rushing, which is never a good sign. In fact, only twice all year have the Packers recorded a 100-yard rusher. 
The oft-maligned McCarthy, to his credit, has done just that, discovering a legitimate solution in converted wide receiver Ty Montgomery. The second-year pro has become an explosive weapon who possesses surprisingly good vision out of the backfield.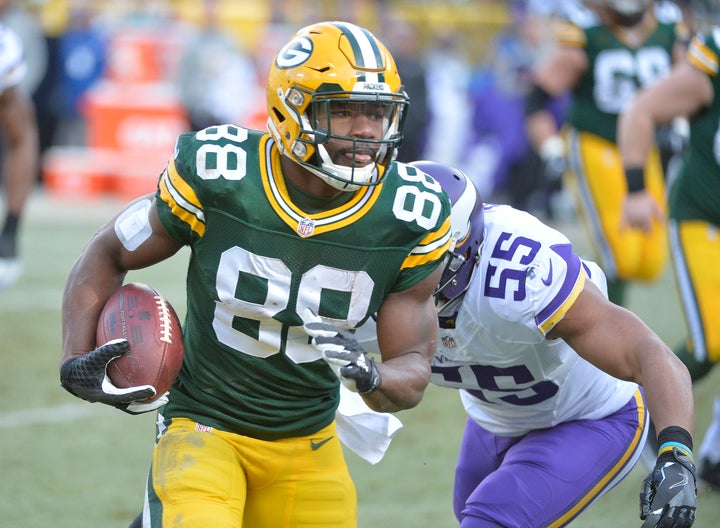 In fact, Pro Football Focus lists the former Stanford standout as the shiftiest running back in the league this season. No. 88 ― and yes, that should probably be changed to a number more befitting of a running back ― galloped for 163 yards and two touchdowns in a recent win over Chicago. Moreover, he has averaged a healthy 5.9 yards per rush, which would rank him first in the NFL if he had the qualified number of carries (100).
"To me, him getting over that hurdle is been what I've been the most impressed of because I mean, he's a football player," McCarthy told Detroit media ahead of the Lions game. "We've always played him in there situationally or schematically as a change up, so you could always see the playmaking ability. But to do the every-day, all-three-downs nuances of the running back position has been very impressive. That's just a real credit to him."
This is not to say Montgomery is better than otherwordly talents like Ezekiel Elliott or Le'Veon Bell. But his stellar play has undeniably provided the Packers with a dynamic threat lined up behind Rodgers. Better still, he has morphed into a terrific complement to the play-making Jordy Nelson (league-leading 14 touchdown catches) and Davante Adams (12 TDs) on the perimeter.
The result has been a far more balanced and effective offense.
During the team's six-game winning streak, Rodgers has averaged 33 throws per game, 10 less than the 43 he was attempting during the Pack's quartet of consecutive defeats, when they were seemingly out of the postseason race. 
CORRECTION: An earlier version of this article said that the Packers won their second Super Bowl and 11th NFL title championship in 2011. In fact, it was their fourth Super Bowl victory and 13th league championship.
Calling all HuffPost superfans!
Sign up for membership to become a founding member and help shape HuffPost's next chapter