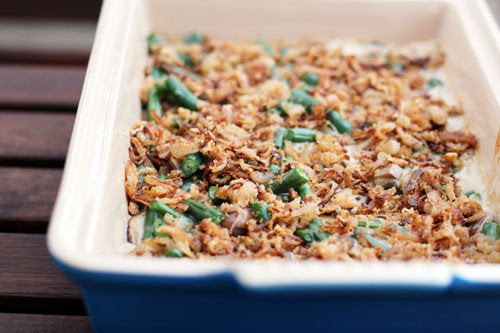 What I am about to confess may be controversial. It might even more controversial than the 2012 presidential election. Are you ready?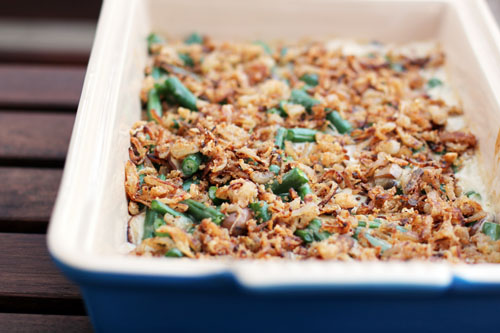 I don't like green bean casserole. You know, the green bean casserole that practically everyone in America loves except me. The green bean casserole that graces many a Thanksgiving table year after year. I appreciate that this casserole is a staple and I love that other people love it. But I am just not that into it. In fact, I pass when it is served.
Told ya. Controversy. I may as well go ahead and tell you who I voted for, for president. That might actually cause less of a stir! Here we go. I voted for... what? Did you really think I'd tell you who I voted for? Think again!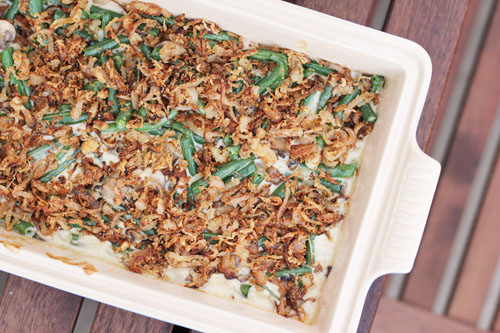 Back to the controversy at hand. Green bean casserole. I decided to invite green bean casserole into my life this year. But I also decided I wanted it to be made from scratch. Fresh mushrooms, fresh green beans, fresh cream, homemade fried onions. It was a daunting task, but I am so glad I took on the challenge. Because the end result was unreal.
My friend Brandon, a renowned casserole hater, took one bite and said, "Where have you been all my life?"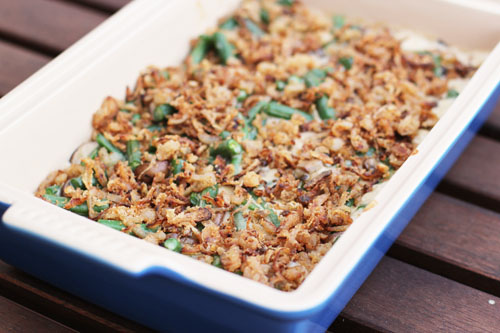 So, are you ready to cast aside the canned soup and the store-bought french fried onions. Are you ready throw a little blood, sweat and tears into your green bean casserole this Thanksgiving? Good. Here's the recipe!
Green Bean Casserole from Scratch
From Jane Maynard, This Week for Dinner
- 1 1/2 pounds green beans, trimmed and cut into 2″-3″ pieces
- 1 cup water and a large bowl of ice water
- 8 ounces cremini mushrooms, sliced
- 3 Tbsp. butter
- 1 small onion or 1/2 regular-sized onion, chopped
- 1/3 cup flour
- 1 1/2 cups chicken or veggie stock/broth
- 1 cup cream
- 1/2 tsp. salt
- 1/4 tsp. pepper
- 3 shallots, sliced very thin
- 1/4 cup flour
- 1/4 tsp. salt
- 1/8 tsp. pepper
- 1/4 cup canola or vegetable oil
Preheat oven to 350 degrees F.
In a large skillet with a lid, heat one cup water to boiling over medium-high to high heat. Add green beans. Put on the lid and cook for three minutes. Remove beans and place in ice water. Set beans aside.
Pour water off of the skillet. Reduce heat to medium and melt butter. Add mushroom and cook for about five minutes. Add chopped onion and cook an additional 5+ minutes, until onions are soft and translucent. Sprinkle 1/3 cup flour over the mushrooms and onions and stir well, cooking for a minute or so. Slowly stir in the chicken broth. Slowly stir in the cream. Mix well. Add 1/2 teaspoon salt and 1/4 teaspoon pepper. Stir well then mix in green beans. Transfer to 9×13 casserole dish and place in oven. Bake for 30 minutes (you will put fried shallot rings on top for the last five minutes of baking... see below).
While casserole is baking, heat 1/4 cup oil in a large skillet over medium-high heat. Mix flour, 1/4 teaspoon salt and 1/8 teaspoon pepper in a medium to large bowl. Mix shallot rings in the flour, coating well. Use your hands to mix the shallots in the flour so you can break the rings up and get them coated really well. Transfer floured shallots with tongs to the skillet. Cook, stirring frequently, until shallots are crisp and golden.
Sprinkle fried shallots over the top of the casserole at the 25 minute baking point. Bake five more minutes. Serve hot!
If you want to make this ahead of time, I would do everything except the fried shallot rings and put the casserole in the fridge before baking. Bake five to 10 minutes longer since the casserole will be going into the oven cold and make the fried shallot rings while the casserole is baking.
Popular in the Community