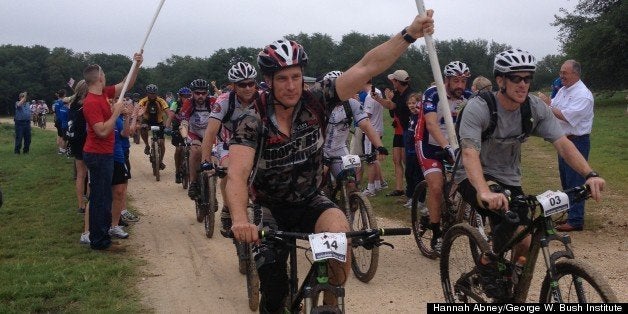 WACO, Texas -- Some people see it as a mixed blessing that modern medicine has saved the lives of many soldiers, only to produce huge numbers of amputees.
But Maj. Kent Solheim didn't see too much to be upset about. After being injured in Iraq in 2007, he just wanted his leg cut off so he could get back to nearly normal.
Solheim, a 40-year-old Green Beret, was in central Texas last week to ride mountain bikes with former President George W. Bush for a three-day event hosted by Bush at his 1,500-acre ranch in nearby Crawford to honor wounded veterans. Another Green Beret, 31-year-old Billy Costello, who was wounded in 2011 and looked to Solheim for inspiration during his recovery, was also on the ride.
After a 30-mile ride with Bush and 12 other vets on Friday, the two amputees sat down for an interview with The Huffington Post to tell their story.
In 2009, Solheim had been wounded two years earlier and was fed up with his bum leg. He had been shot at close quarters during a firefight on the streets of Karbala, Iraq, on July 27, 2007.
Solheim, a North Carolina native with a surfer's shock of blond hair, was leading a night operation to capture an insurgent leader. His team "fast-dropped" from helicopters on ropes and came under fire. He charged around a street corner and confronted an enemy fighter, killing him with a blast of gunfire. But as the insurgent lay on the ground dying, he shot Solheim with a machine gun. One bullet went through Solheim's left shoulder, one through his left knee, and two through his right knee.
"The first round broke my femur, and I just remember my leg breaking. I remember hearing my leg break," Solheim said.
Solheim, who was 34 years old at the time, was so close to the enemy fighter that when he fell down after being shot, he landed on the insurgent.
After his first consultation with a specialist back home, Solheim wanted to have his leg amputated below the knee. But at the behest of his wife and his doctor, they tried to salvage the knee. He underwent 29 surgeries and hobbled around for almost two years. He got a desk job with the Army.
But the impaired knee wasn't working. So on March 2, 2009, Solheim went under the knife, eagerly.
"For me, it was pretty easy. I had no qualms with it. I never even had a second thought about it," Solheim said. "I'd almost done two years with a paralyzed leg, so to put on a prosthetic, for me it was kind of liberating."
Roughly six months after his right leg was cut off below the knee, in the fall of 2009, Solheim said goodbye to his wife and two children and left for Afghanistan to serve his fifth deployment.
Solheim, who was a captain at the time of his injury in 2007, was promoted to major and took command of Charlie Company, Fourth Battalion, Third Special Forces Group, with as many as 87 soldiers in six special forces teams under his leadership.
Right before Solheim had deployed, he and Costello both took part in a parachute jump exercise. They had never met, but as Costello climbed into a Navy vessel after jumping into the Atlantic, he noticed the senior officer's prosthetic leg.
"I got on the boat and I saw that he didn't have a foot," Costello said. "I was like, 'Aw man, that guy ain't go no leg.'"
Two years later, on Sept. 20, 2011, Solheim was back in the states between deployments. He would eventually be back in Afghanistan on his sixth deployment the following January, but he was not overseas on the day Costello, who was now under his command, sustained his own injury.
Costello was part of a team extracting roadside bombs from the only approach to a village in Kandahar Province. They were almost done and eager to leave.
"We're just packing up to go," Costello said. "I was moving through an area that we had already cleared, and there was one that we didn't find. It found me."
"I remember seeing a black cloud of smoke behind me, looking down and being like, 'Yeah, my leg's gone,' then worrying about landing on my head, because I didn't know how I was going to land," he said. "Everything slows down. I'm in the air, I'm flying, my leg's gone. So I was reaching for my tourniquet. I knew I had to stop this thing."
Two of the fingers on his right hand were "hanging on by a thread," but luckily Costello did not suffer any severed tendons in his wrist. Unluckily, his right leg was gone below the knee and, once back in the states, the knee would have to be removed as well.
Solheim was both a resource and an inspiration for Costello.
"He'd already been through it, so he was somebody I could look at, you know, whenever needed, to get through it and be a stud on the other side," Costello said.
"I spent that 30 days I was in the hospital just researching prosthetics and finding out what I could get back to," he said. "Just knowing that he'd gotten through it all and was still active duty, took over a command ... It was almost like, 'Oh, it's not too big of a deal. I'm still alive. I still have the ability to get back to doing the things I love doing. Still gonna be able to kiss my wife and hug my kids at night.'"
Costello got his first prosthetic leg just before the end of 2011.
"I was snowboarding by the end of January," he said. "I was trying to break records, because [Solheim] left a legacy that I had to try to keep up."
Solheim also visited Costello at Walter Reed National Military Medical Center, bringing 17 or so fellow soldiers to encourage him. Solheim also helped Costello's family navigate the recovery process.
Now Costello, like Solheim, is helping veterans who have been recently injured. In February, he climbed Mount Kilimanjaro in Africa with a group called Combat Wounded Veteran Challenge. During the trek, he was hooked up to sensors that tracked how much body mass he lost, for development of new prosthetic units that can adapt to volume change. And when he got back to the U.S., Costello took video of his trip back to Walter Reed to show to soldiers still in recovery.
"We share that with guys who are in the hospital bed right now, saying, 'Just under two years ago, I was in your position but I made it to the summit,'" he said.
Costello has decided, because of the extent of his injuries, to receive a medical discharge and go back to school for an engineering degree.
Solheim and Costello were part of a group of 14 U.S. military veterans who rode roughly 60 miles of single track over three days last week with Bush, who, at 66, is still an avid mountain biker. This was the third year that Bush has held a mountain bike event for veterans, most of whom are dealing with either physical wounds or with PTSD or traumatic brain injury.
"[Bush] says it's to say thank you, and I believe him," Solheim said. "But I also believe that the position that he's in and podium he's got available to him, by virtue of being president, he's trying to use that to still help veterans and wounded and guys that served, guys that have been affected by the conflict. That's very respectable, too, because he could have just ridden off in the wind and be done with it. But he's still doing what he can to help the guys."
On Memorial Day, Solheim said he'll do what he always does: go to the Army's special operations headquarters at Fort Bragg, N.C., and listen to them read the names of all the special operations soldiers killed in the last year.
Costello will be with family in Shelby, N.C. The holiday, he said, is different than what it was when he was growing up.
"Now more than ever, guys really have people to remember on Memorial Day, and really take the time to honor them. So, it means a lot to a lot of people," Costello said.
Related
Popular in the Community