What is sustainability, and what would it look like in your own home? There are a lot of things you can do to reduce your carbon footprint, like going vegetarian or driving an electric car, but chances are your house maybe be having a larger impact on the environment than you'd like.
Almost half of the energy your home consumes comes from heating and air conditioning. Unless your house is completely coated in solar panels, more than half of the electricity you're using is probably generated from coal, gas and oil.
"Green building" is an effort to curb the environmental toll of inefficient homes, and it's taking hold in the construction sector. The Huffington Post reached out to nine architects to talk about their stunning projects that are not only sustainable, but beautiful too.
1. This beautiful butterfly alights on the California hills -- and saves you water.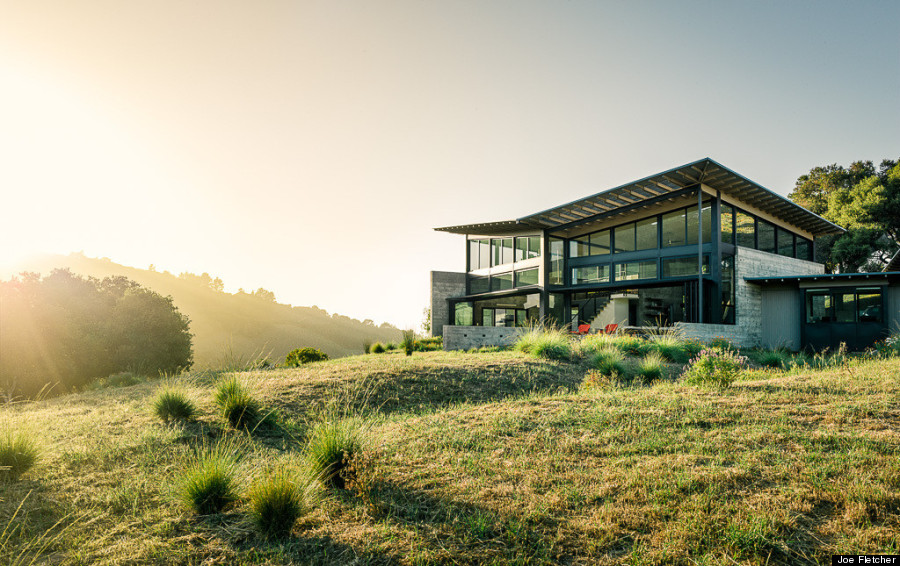 Spreading its wings out over the hills of Northern California, Feldman Architecture's Butterfly House thrusts its owners into the drama of its perch. Not only is the house itself beautiful, but looking out its wall of completely open windows its hard not to be overcome by the drama of the view, says principal architect Jonathan Feldman*.
"When the clouds go over [the hills] or the fog rolls in, they suddenly become these really cool, exciting personalities that people are living through," Feldman told The Huffington Post. "It's cool to have a nice photograph on your wall but these guys are immersed in that landscape every day of the year."
The shape of the roof allowed Feldman and his team to incorporate something that he is most excited about: rainwater collection. With California's recent drought strengthening its grip on residents, rainwater collectors can be assets for people willing to spend a little bit more money. "The long view is worth considering," Feldman said.
In the long run, strategizing how a house uses water -- including used water -- can significantly reduce the pressure a home puts on the environment. "People need to take this water shortage way more seriously," Feldman said, but added that other projects are showing new possibilities. "We have urban projects where we're using all the shower water and laundry water to flush the toilets and water the landscapes. That's something I'm super excited about."
*The architect Jonathan Feldman is not related to the author of this story, also named Jonathan Feldman.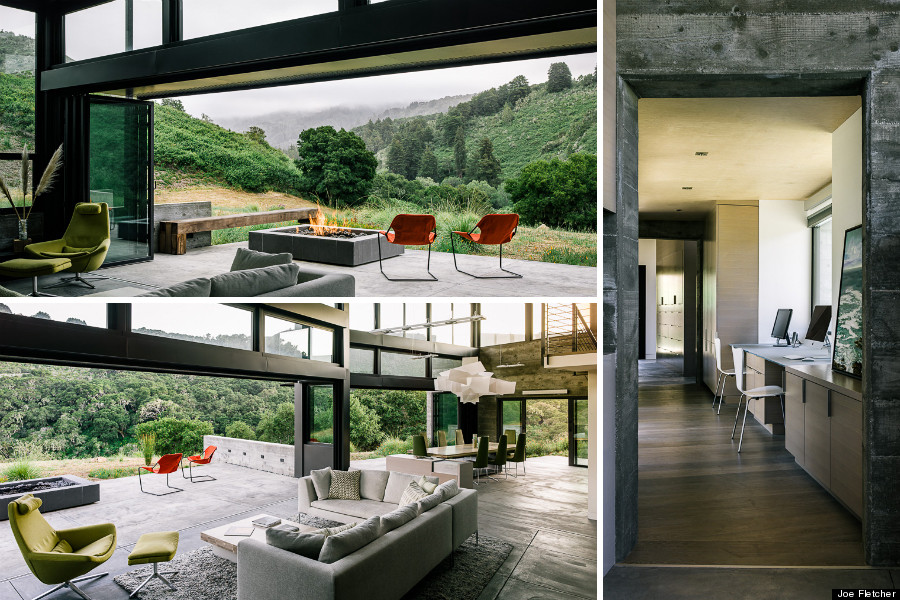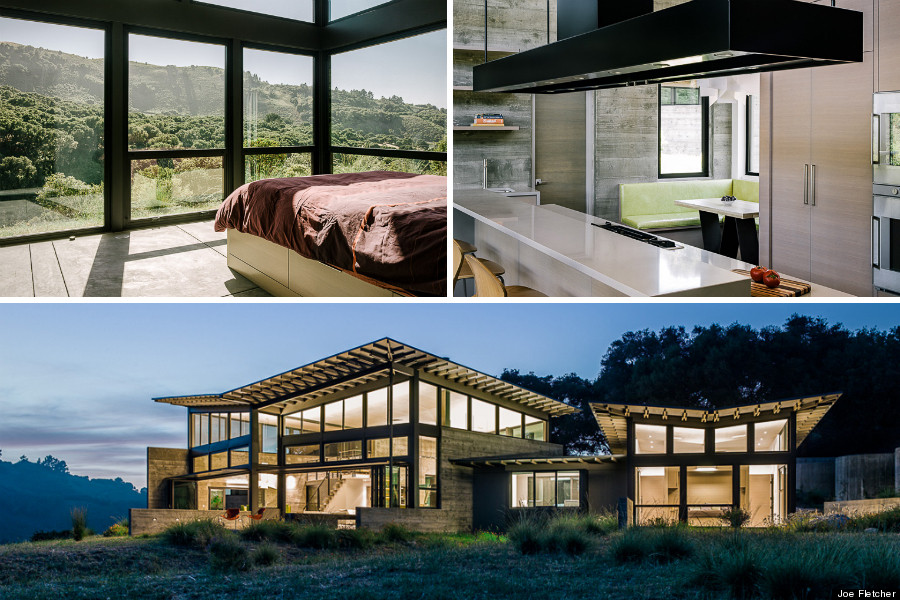 2. Recycling has never looked this good.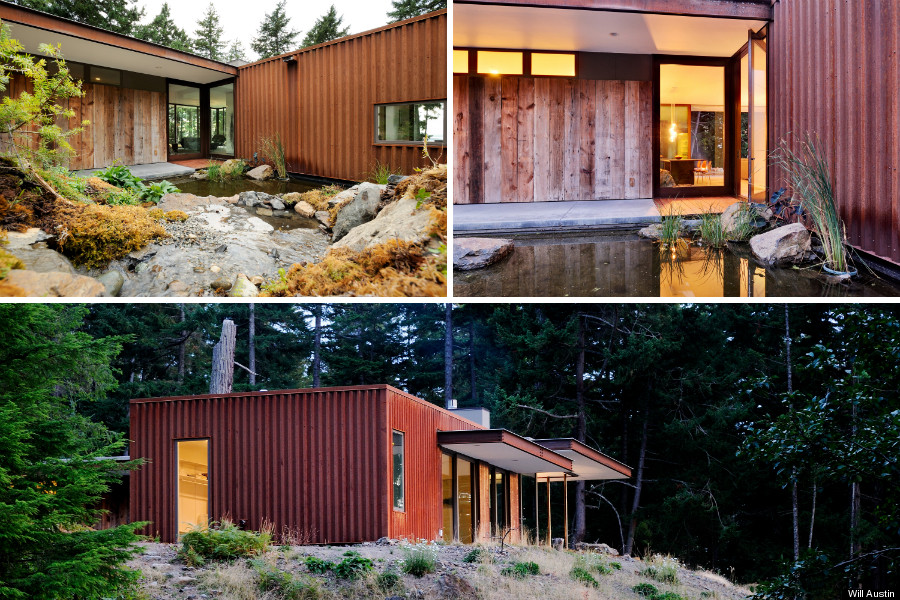 Situated on Orcas Island in Washington, architect Gary Gladwish's Eagle Ridge Residence emphasizes the use of recyclable materials. "I don't rule something out just because it's used," Gladwish told HuffPost. "Some of the appliances, the fireplace, all of the wood siding, the material for the bathroom counters, all of that was used, upcycled or recycled material."
The Eagle Ridge Residence also uses structural insulated panels, which can cut down on waste and costs considerably. The panels save time in construction, produce less waste on the site and save money in energy costs, since less heat is escaping the structure.
"The waste stream in this country is greatly contributed to by construction," Gladwish said. In building the home, all the waste generated by its construction was taken off site in five loads in an SUV. According to the project's description, the majority of this waste was recyclable as well.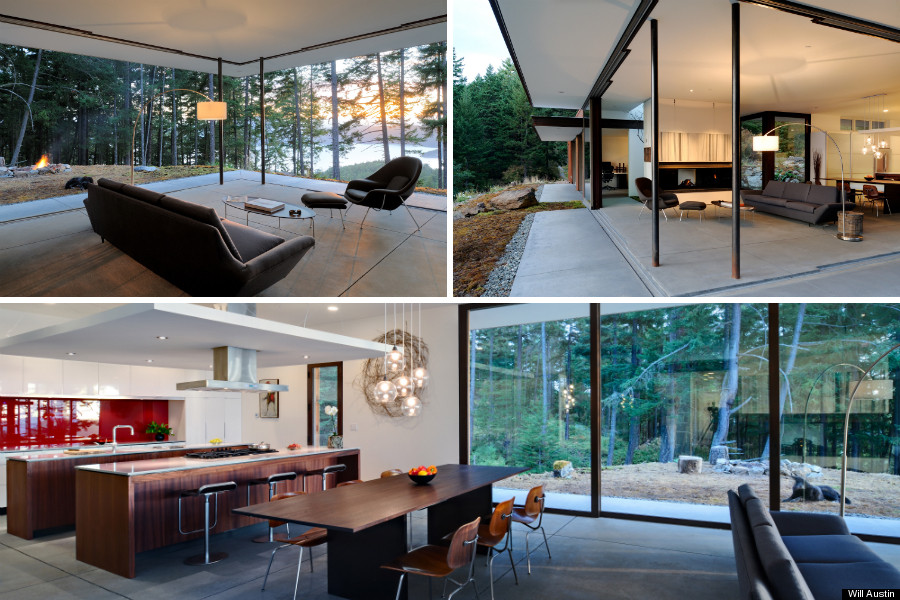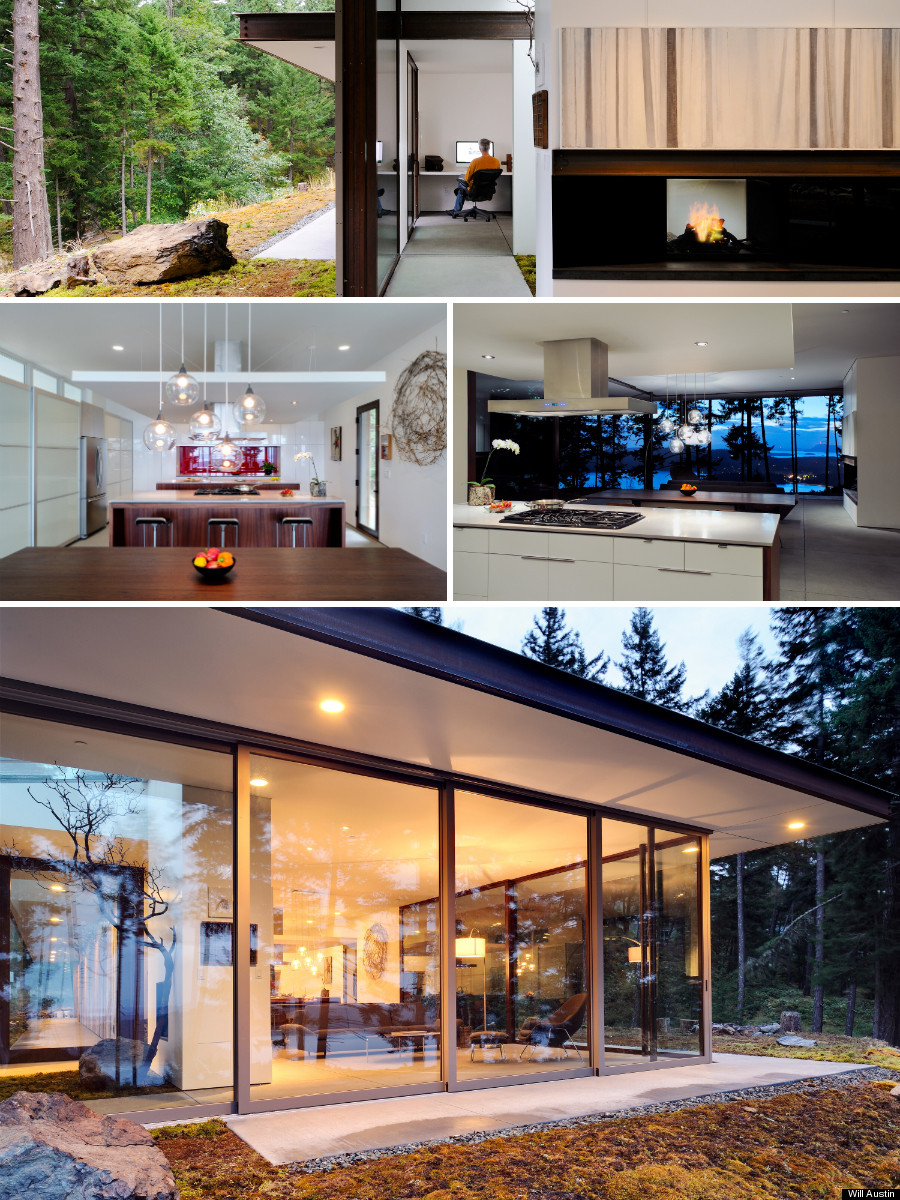 3. A little positioning can make spending on heating and air conditioning a thing of the past.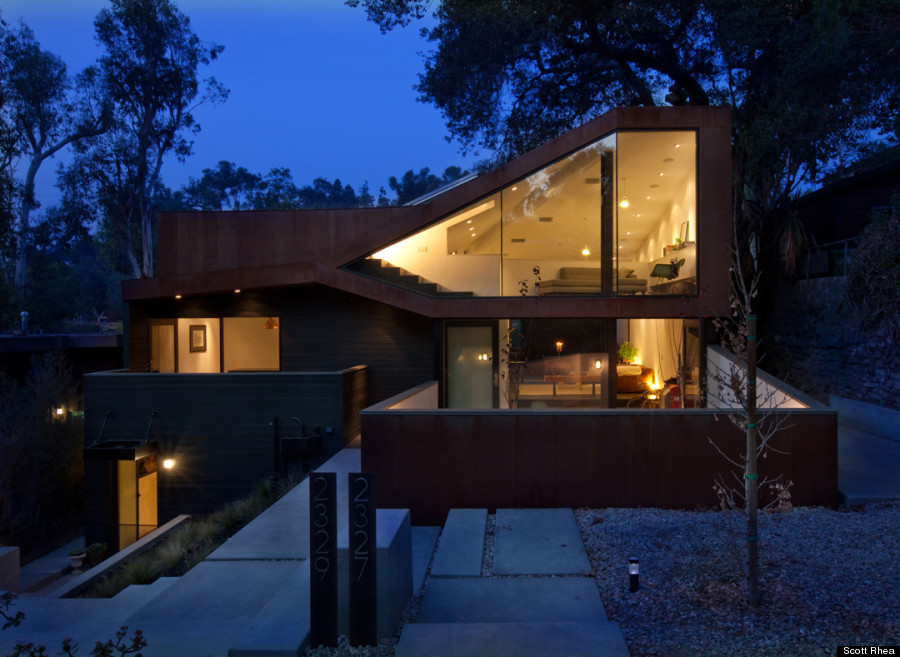 Los Angeles's Manifold House takes advantage of southern California's year-round warm climate to control the home's temperature. Using strategic positioning and careful planning of the home's indoor shapes, architect Aaron Neubert and his team from ANX push toward "passive" solutions to keep their buildings naturally cool.
What really interests Neubert is how knowledge of passive ventilation has fundamentally changed the design process. "If you're bringing fresh air through plant material or over water, it increases the cooling of the space, and the question becomes how do you make that beautiful?" he told HuffPost. "It becomes interesting, because you're not just talking about aesthetics with the client, you're talking about performance."
In the Manifold House, windows and vents within the home can help keep the house at the desired temperature. This precise tuning of the air channels in the house completely removes the need for typical air conditioning systems.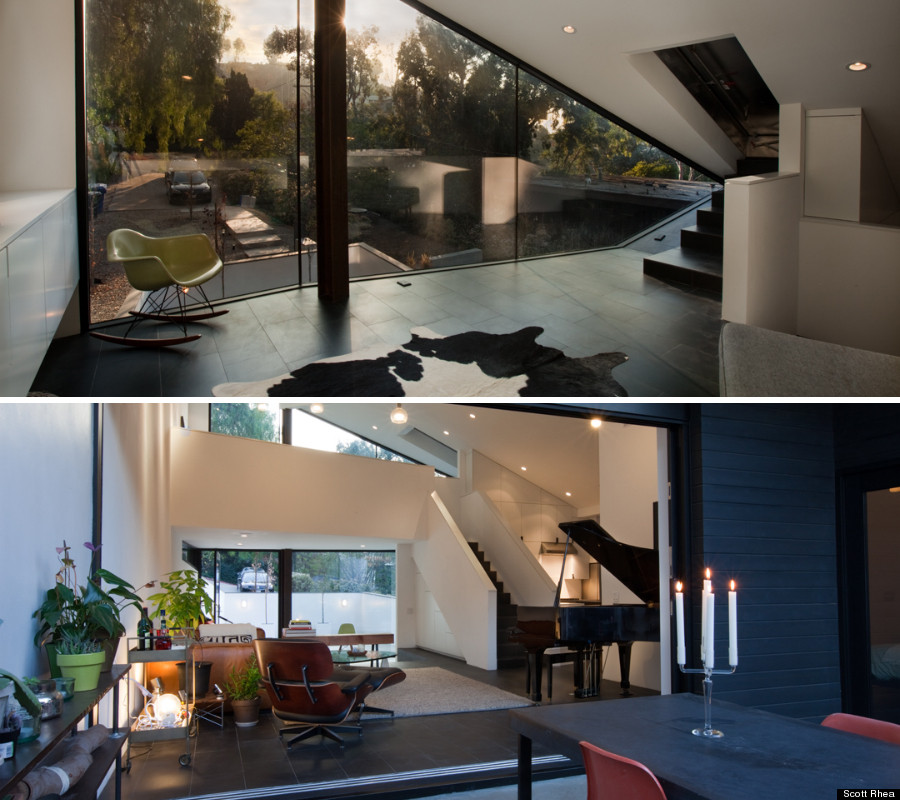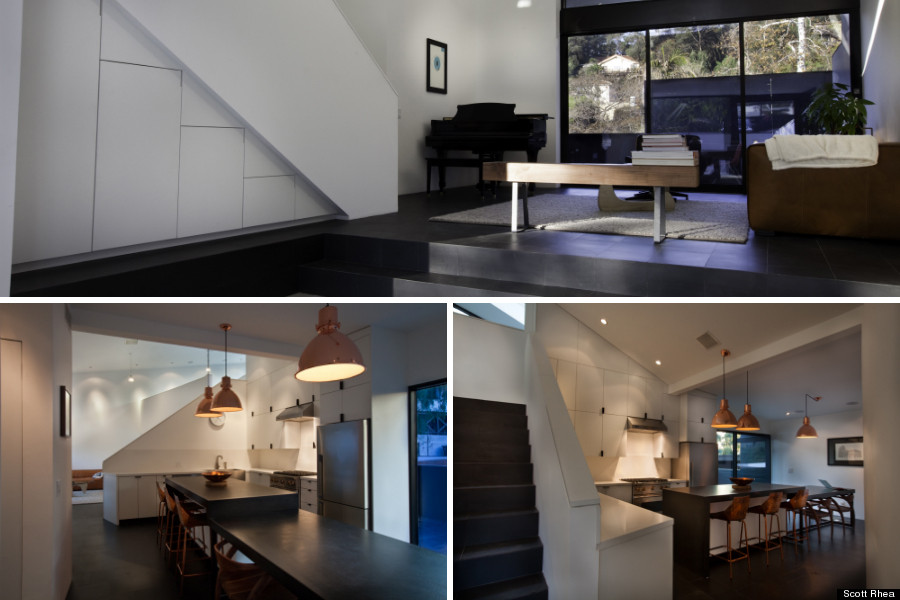 4. Solar panels can be easy on your eyes -- and your wallet.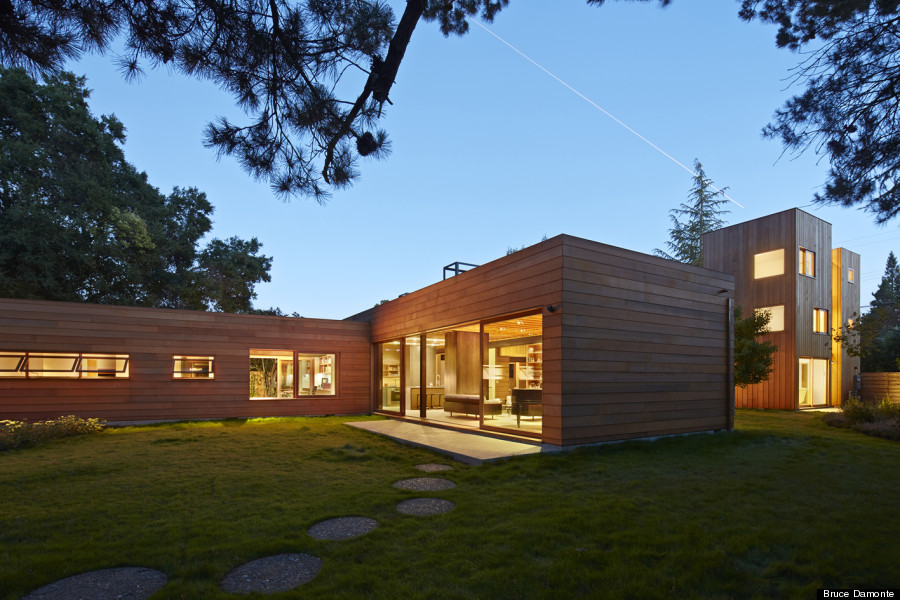 In Menlo Park, California, the Low/Rise House uses an electrifying approach to keep the house very low-carbon: an array of solar panels. Hidden from view along the home's flat roof surfaces, the array reduces the overall energy demand of the house significantly. The house is also positioned to remove the need for air conditioning during the day, even when it gets to be hotter than 100 degrees. Together, there is almost no draw on the grid for power.
"In order for green building to be successful, sustainability shouldn't be obvious, it should be an integral part of your design," principal architect Dan Spiegel of the Spiegel Aihara Worshop told HuffPost. Even though the solar panels are nearly invisible, they will provide the house with almost all its power, and pay themselves back in less than five years.
To keep the house tightly insulated, the solar panels aren't bolted to the roof. No holes are drilled through the building envelope; instead, ballasts keep the solar panels in place and ensure that if the solar array ever needs to be adjusted, the roof will not be needlessly damaged.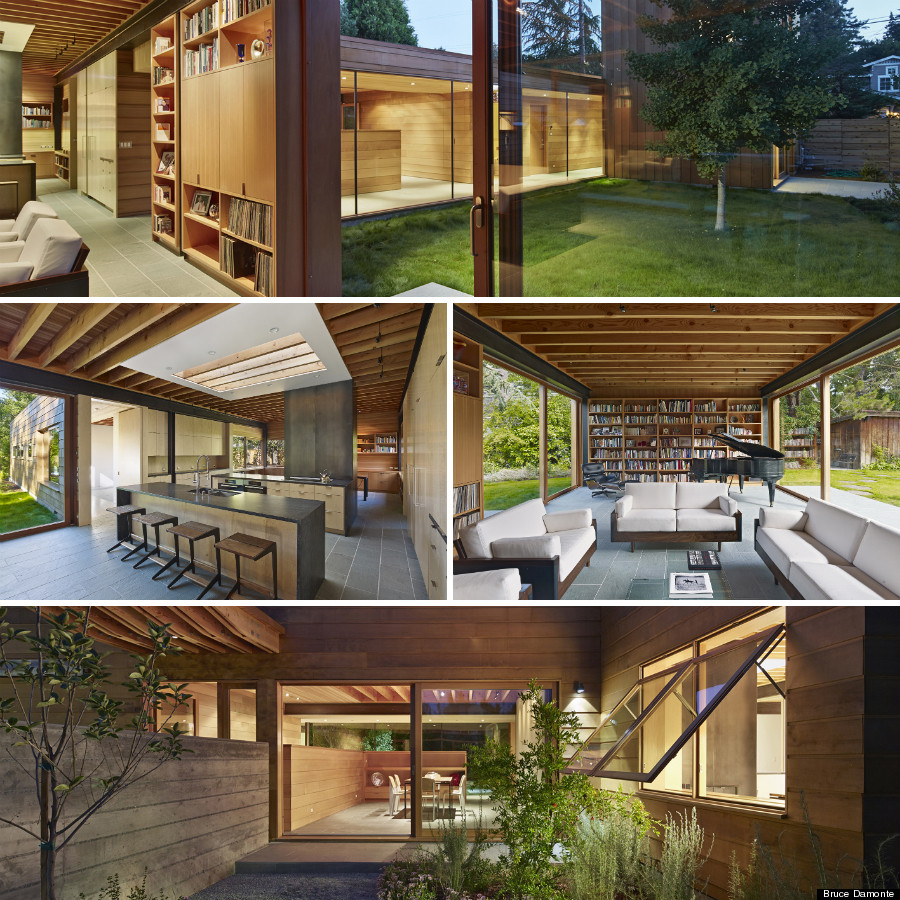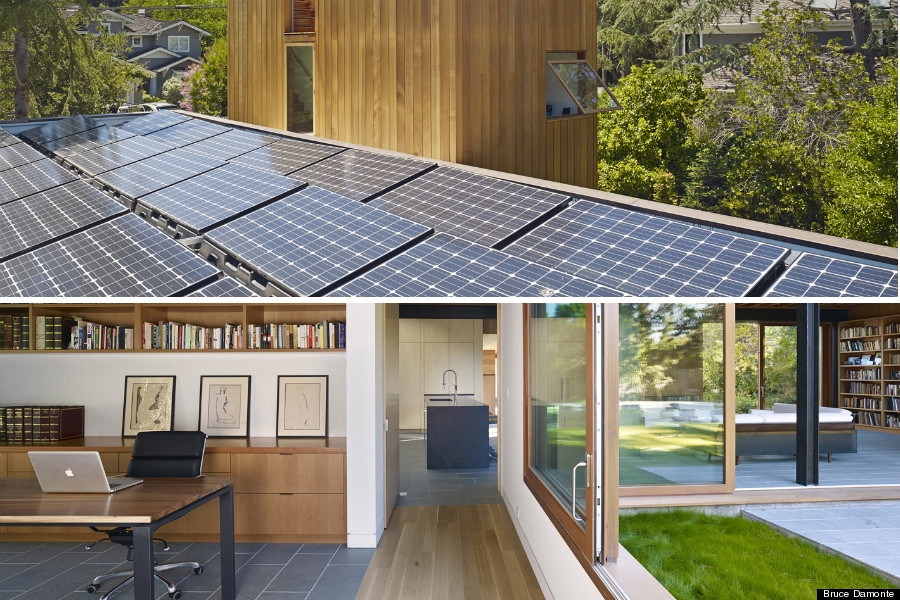 5. What could be better than a house on Martha's Vineyard? A house MADE OF Martha's Vineyard.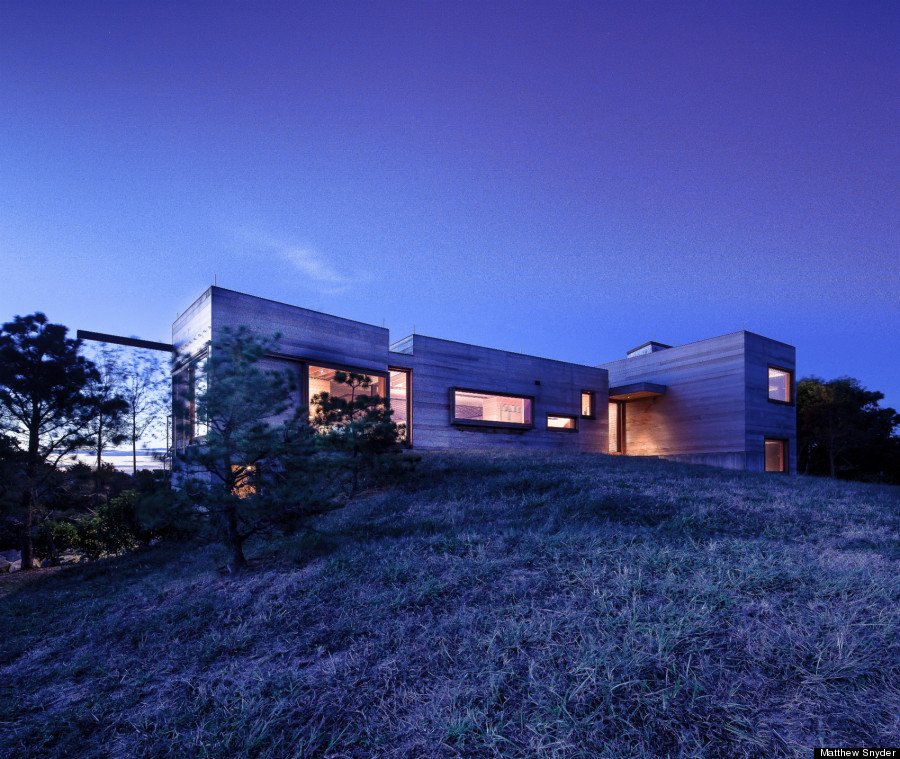 Driving through a grove of trees and a meadow on Martha's Vineyard, you'll come across what architect Peter Rose calls "good behavior in a precious landscape." The Island House by Peter Rose + Partners in Edgartown, Massachusetts is a green vacation home for a family of five that does its best to have a low impact on the island.
"The house is almost invisible, and much smaller than the house it replaced," Rose told HuffPost. What gives the house its cloak of invisibility is its wood siding, made of unfinished wood that weathers naturally over time, and a green roof, populated by local sea grasses. The roof collects water into a cistern, irrigates the land around the house and keeps the house independent in terms of its water use.
"Martha's Vineyard is one of the most precious, beautiful places in this world," Rose said. When designing the home, providing the owners with the opportunity to experience the location was key. Passive cooling keeps the temperature stable, even when letting the outside in. "When the windows open up, you drift into a beautiful landscape."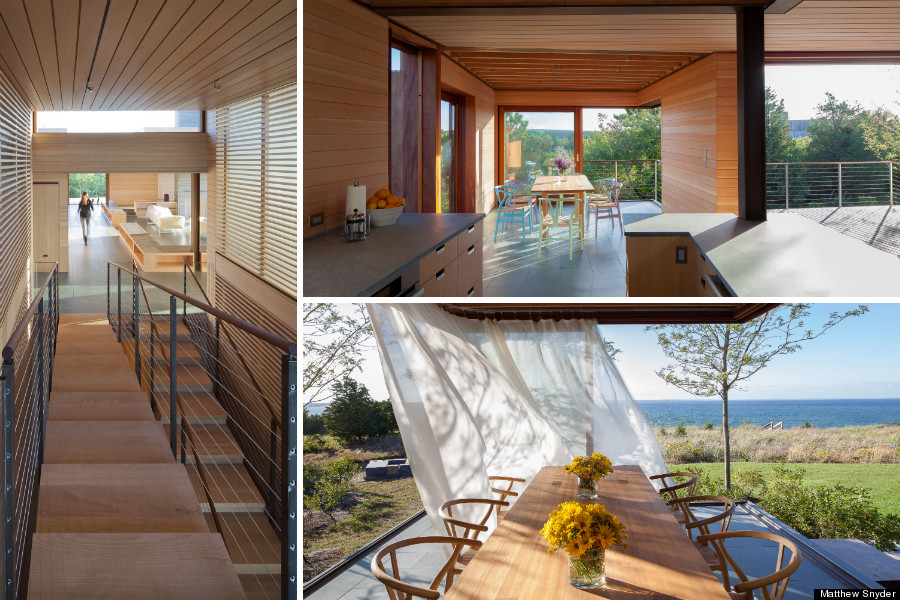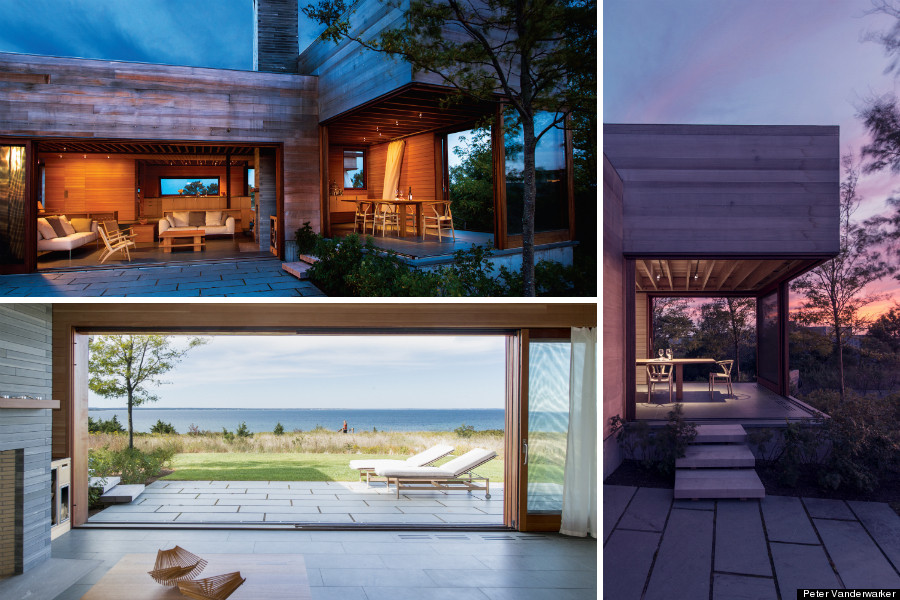 6. With a bit of planning, you can build a normal sized house with 30 percent fewer trees.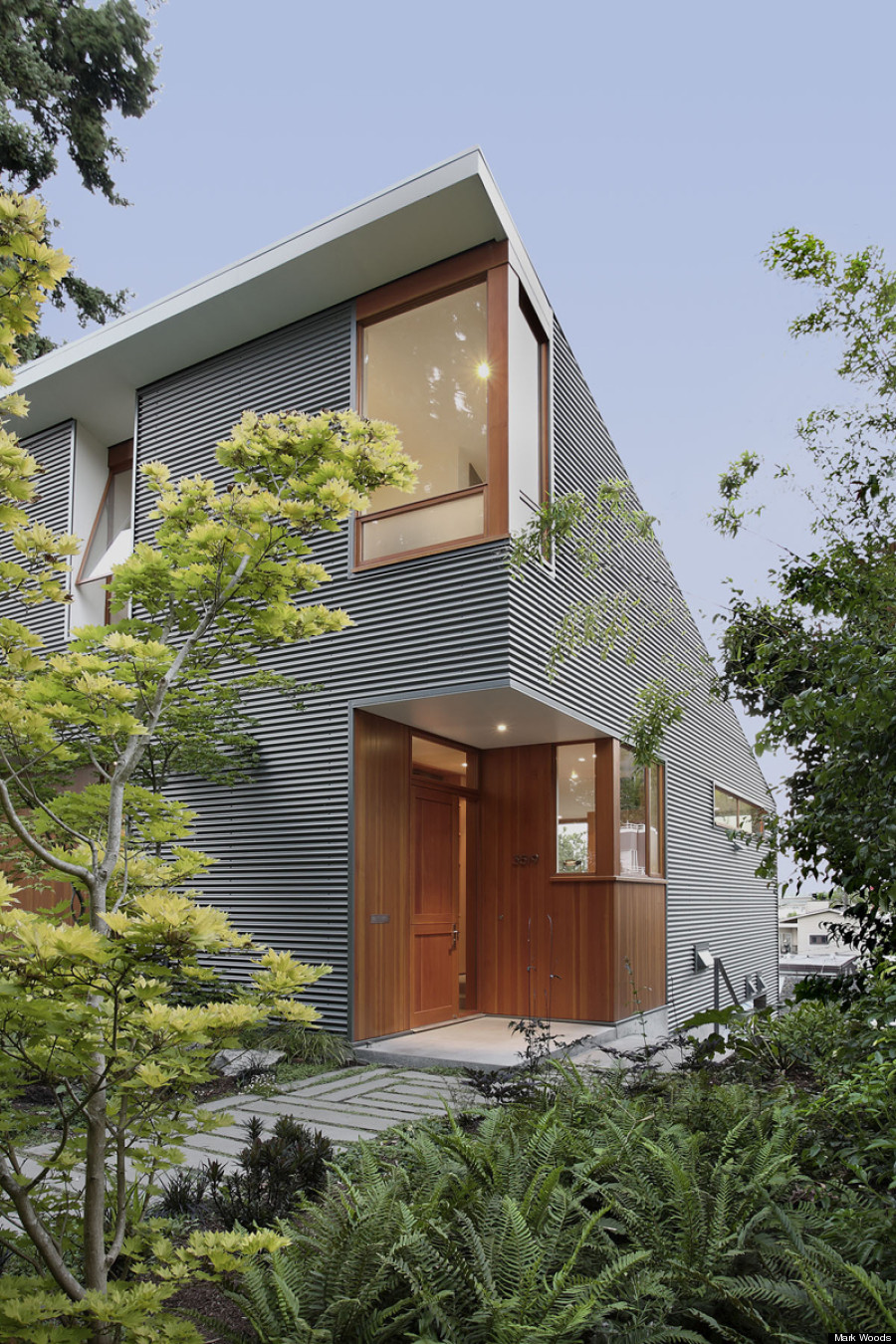 "Getting a building right, so it endures, is the first step," SHED Architecture & Design's Thomas Schaer said about the construction of the Main Street House in Seattle, Washington. The house uses advanced framing and a bit of extra planning to significantly cut down on its material usage and costs.
"In standard framing, you don't need to align your studs, and there's so much extra wood, it's almost idiot proof," Schaer said in an interview with HuffPost. "But with advanced framing, with extra care and planning, you can use 30 percent less of everything." Advanced framing also prevents the transfer of heat from the interior to the exterior, creating more insulation, which keeps the house's temperature more steady.
Requiring less materials then means requiring less lumber for construction. Areas the size of Panama are cut down every year for wood and paper products, and advanced framing can be a driving force for reducing our demand for wood. Schaer says that this is a common practice in Canada, but the United States has been slow to move away from standard framing.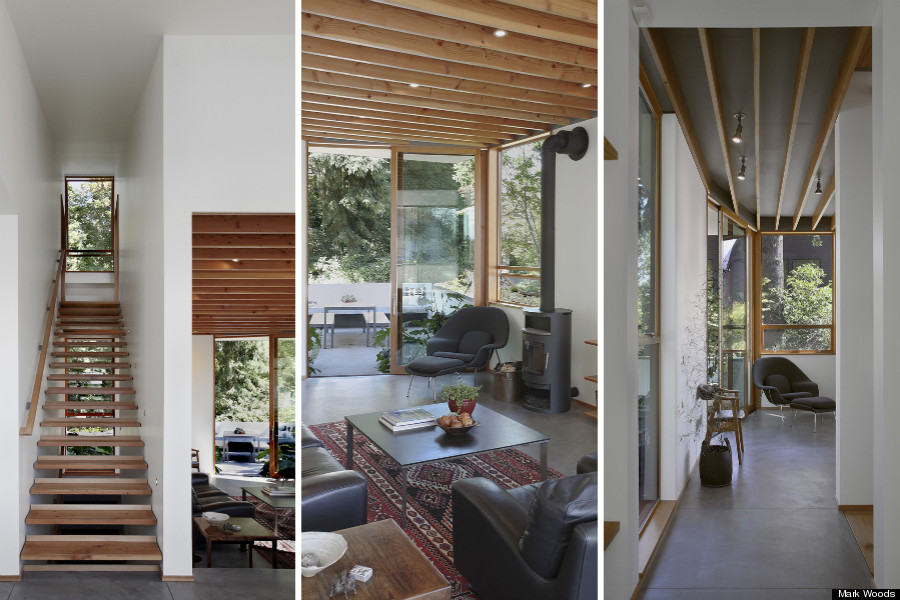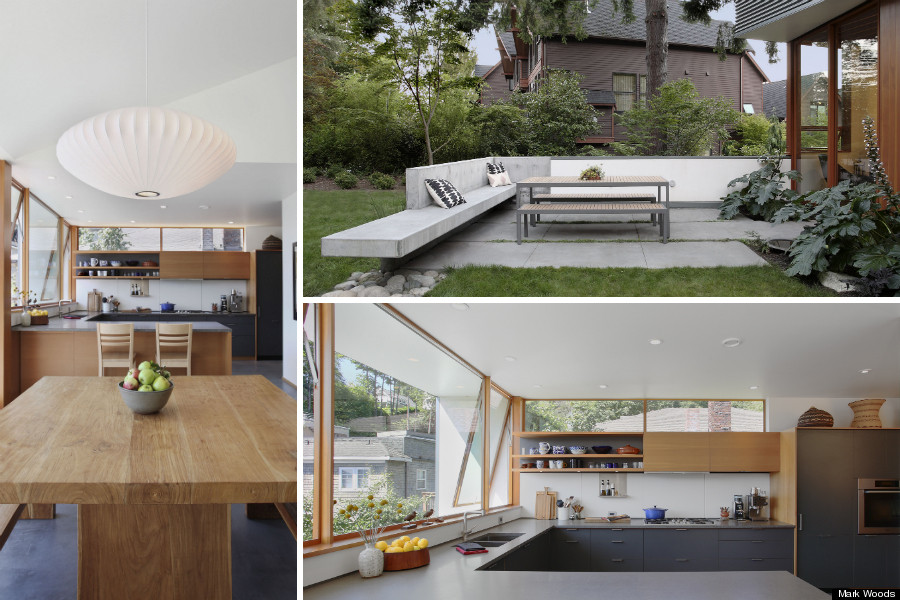 7. Get rid of your heating and air conditioning and replace it with...concrete?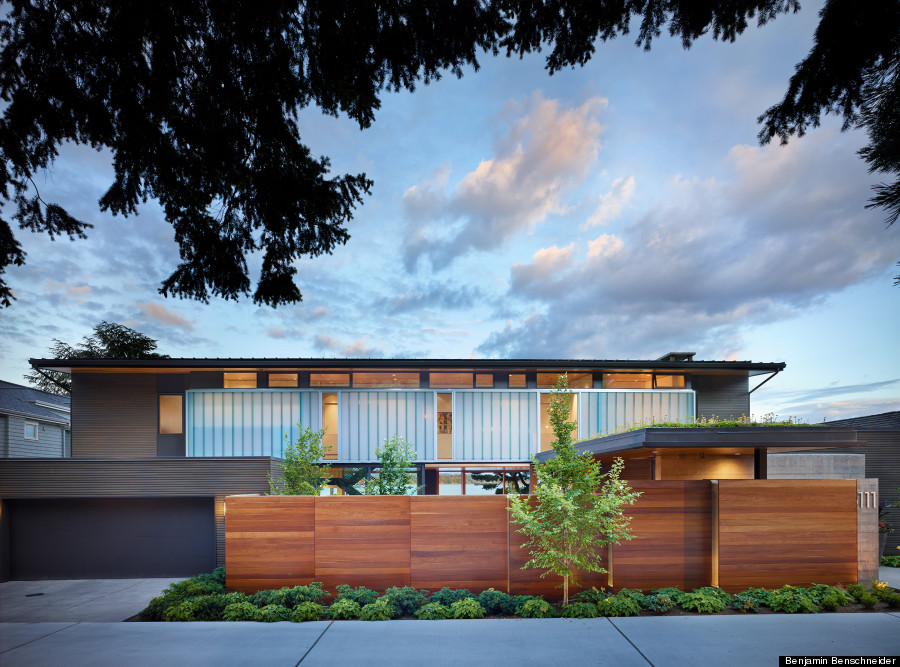 To architect Ted Cameron of DeForest Architects, sustainability is more than being fashionable in looking for solutions; true progress is made in designs that have more than just "green lipstick on." His Courtyard House, situated on Lake Washington in Seattle, is certainly fashionable, but its structure is what makes it so green.
Much of the Courtyard House's structure is made of concrete, which uses radiant heating to keep the house's temperature regulated. "The radiant floor of the house evens out the spiking of temperature," Cameron said. The home faces the sun and absorbs heat during the day, and then uses its stored heat to stay comfortable at night. "The house cools down at night and stays cool at night," even without an air conditioning system.
"There is a trend to return to modernism now, but green building won't fall out of favor," Cameron said. "Resources and fossil fuels can't just be wasted anymore."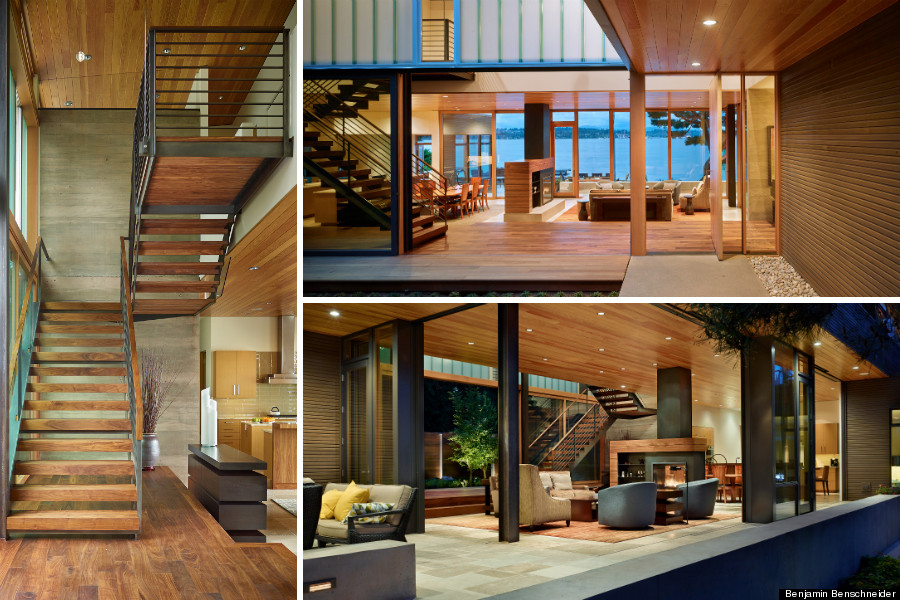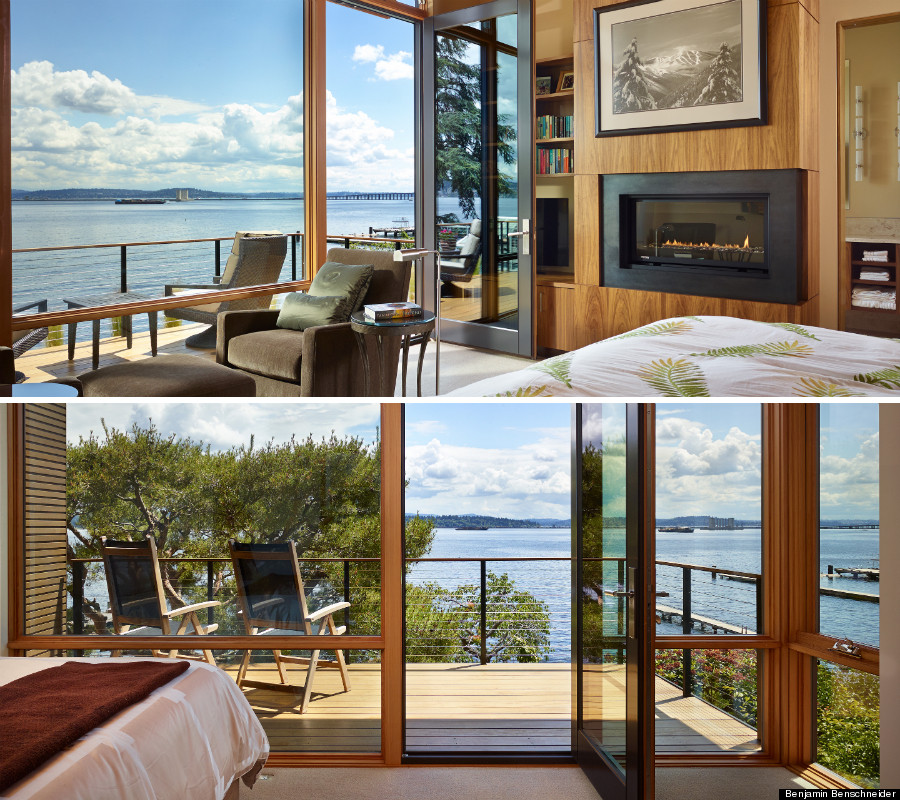 8. Don't sacrifice; you can still live large even if you build small.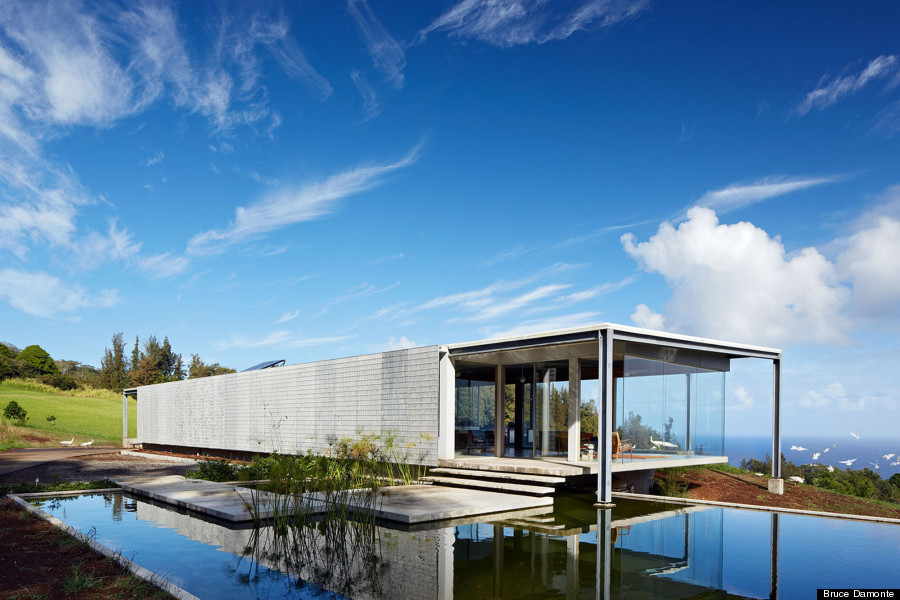 Large homes are a symbol of status in the United States, but architect Craig Steely asks, "Do you really need to build that big?" Lavaflow 5, overlooking the Pacific Ocean on the island of Hawaii, is remarkably small. At 1,100 square feet, it provides a comfortable home that uses as much energy as it generates.
By stripping away extraneous materials and space, the footprint of construction becomes much smaller. "I've always been inspired by how good buildings look before they're finished," Steely said in a phone interview. "They look compelling, powerful and strong; but then they become covered, clad, buried and killed in layers of requirement." Steely's skeletal structure is all "sharp and bones," which affords less space for rot and mold to grow.
The small frame and roof of the house were prefabricated in San Francisco and shipped to Hawaii, where they were assembled in five days. The house also uses passive cooling to keep the house at a comfortable temperature and a solar heating system to provide the home with hot water without the need for gas.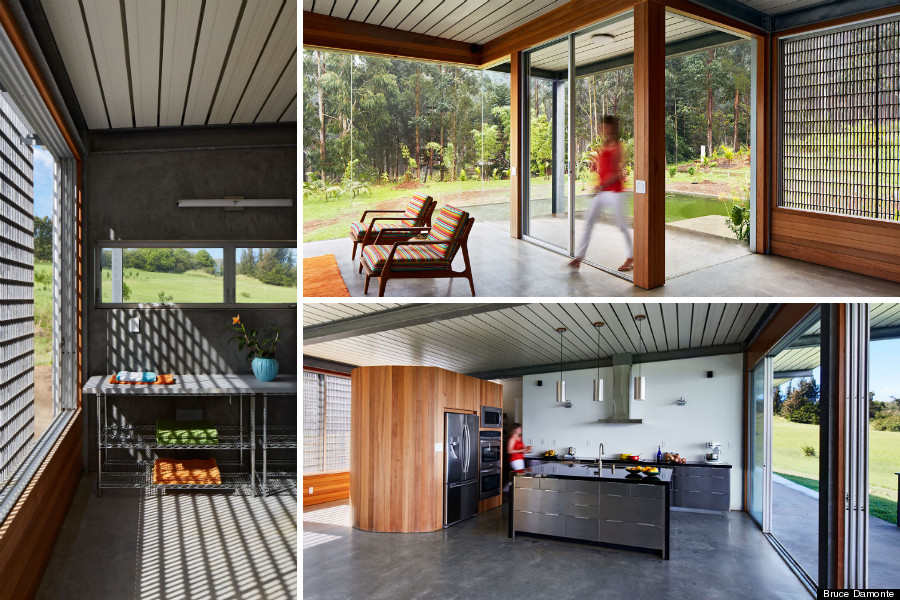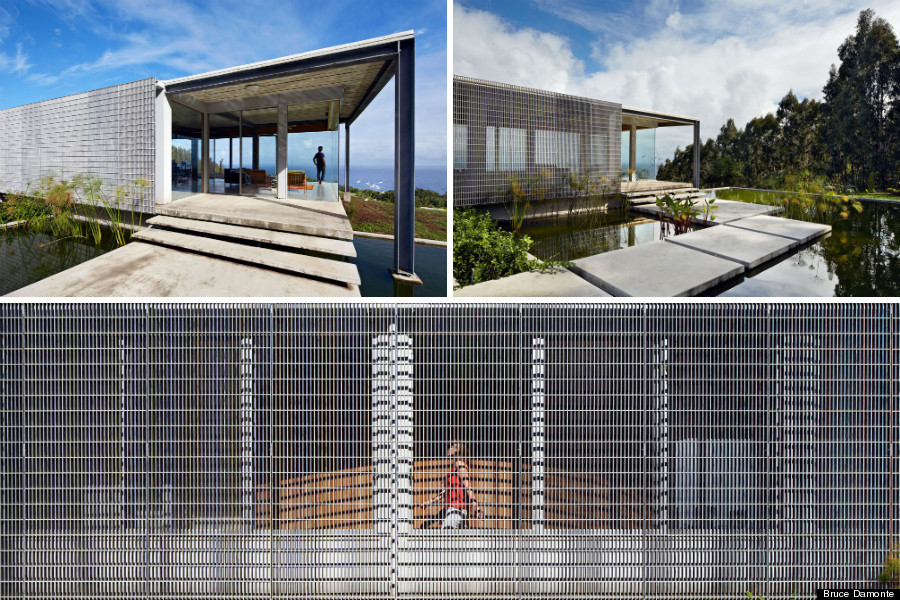 9. Seal your envelope tight and heat your home with a hair dryer.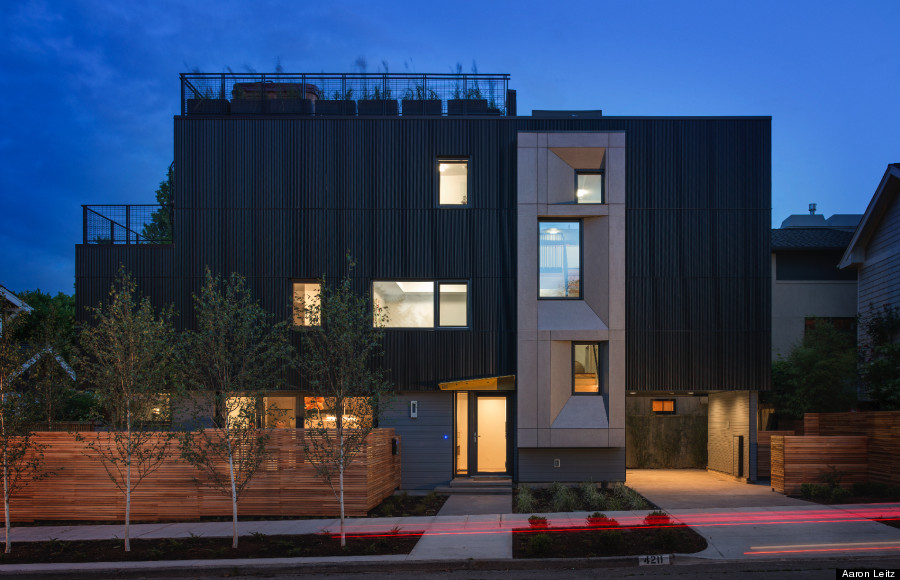 "This house is a vision of how things should be. Energy and water are two of our top priorities," said Joe Giampietro of NK Architects. "If you're building any other way, your house is outdated as soon as its done," builder Sloan Ritchie agreed. The Park Passive House in Seattle, designed by NK's Marie Ljubojevic and Lauren McCunney, has cut its energy consumption by 90 percent thanks to the careful design of the architect and builder.
"We really try to balance with the environment," Giampietro told HuffPost. Part of what helps the house conserve energy so effectively is its tight envelope; the envelope prevents the outside temperature from affecting the inside temperature when all the windows and doors are closed and allows heat to spread through the house easily. "Theoretically, the net energy needs of the house can be met by a small heat source, like a hair dryer," he said.
Jennifer Ritchie is the wife of Sloan Ritchie, and together they live in the home comfortably. Ms. Ritchie, accustomed to her previous home, had difficulty managing all the captured heat at first, but quickly learned how to keep the house cool all day. "I owned a 1912 Craftsman home that had been ordered out of a Sears catalog that wasn't even insulated," she said. "With the multi-locking windows and insulation, it makes things really quiet and it reduces our electricity and gas bills significantly."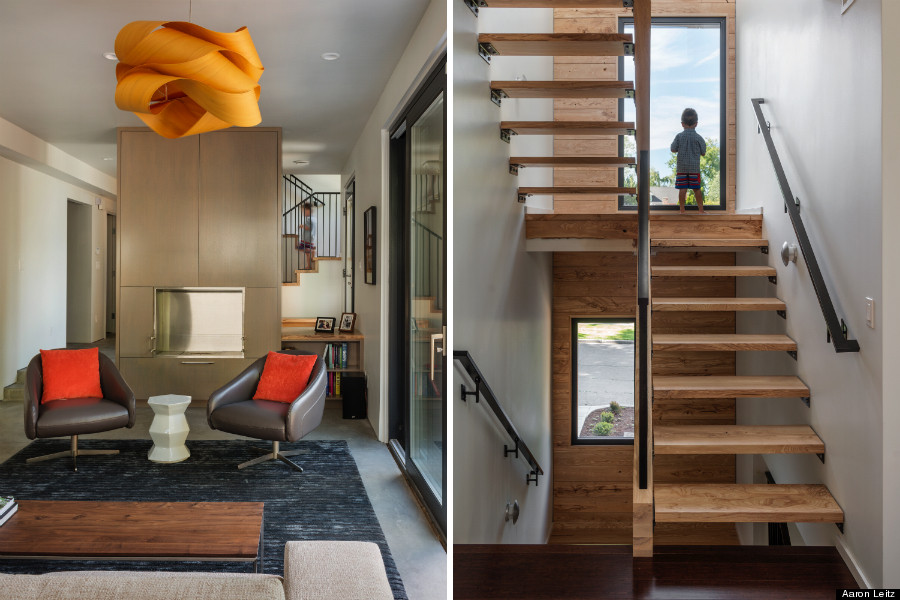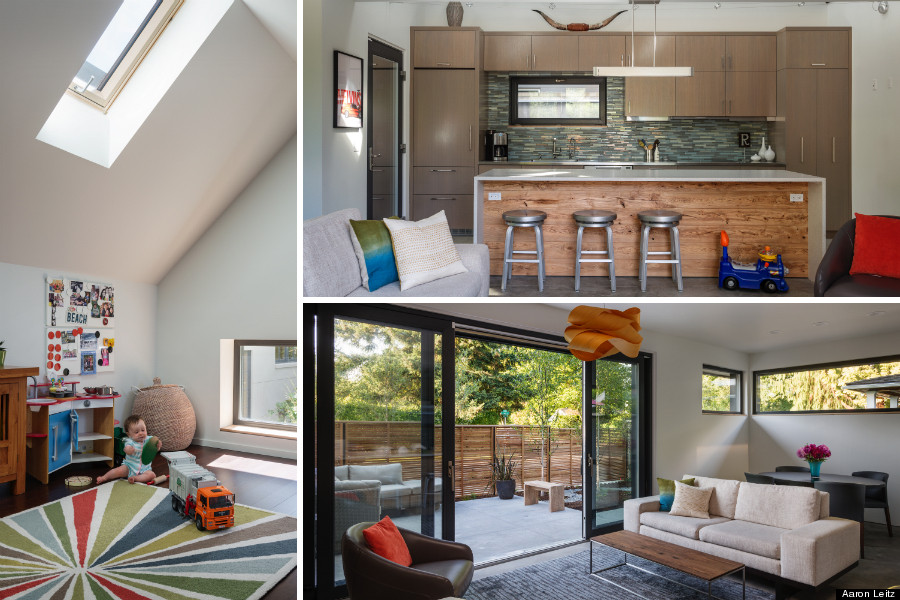 Related