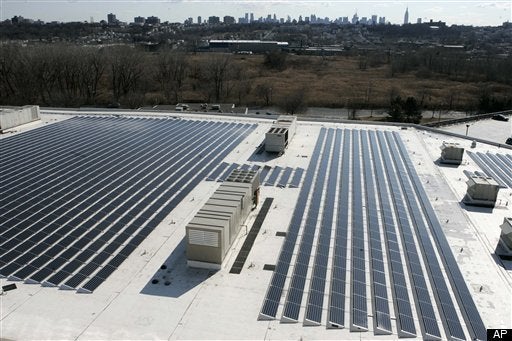 In his State of the Union address, President Obama boldly proclaimed that our nation has reached a "Sputnik moment" -- a point in time that will be characterized by our ability (or inability) to respond to an era as ripe for innovation as any that has presented itself in more than a generation. Seizing this moment, he said, is our opportunity to win the future.
Of course, a huge part of winning the future is to reduce our reliance on the fuels of the past. And last week, the president showed exactly the kind of leadership we will need to when he unveiled his Better Buildings Initiative.
Over the past several years, Americans have become more and more aware of their carbon footprints -- and the market has responded. Hybrid vehicles have moved from science fiction "cars of the future" to a ubiquitous place on our roads and will soon be trumped by plug-in electrics. EnergyStar appliances have replaced wildly inefficient relics of the past. We use mass transit more. We eat locally sourced organic foods.
The Better Buildings Initiative is the next step. For the first time, we will look at the carbon footprints of the buildings. The schools where our kids learn. The stores where we shop. The offices where most of us spend at least a third of our days.
With the U.S. Green Building Council's LEED green building certification system already deployed against more than 7.4 billion square feet of commercial space, we have a running start. Green buildings save energy, water, natural resources and money. But they also create jobs, jobs that Americans can do in the United States, and that can't be outsourced. We have long stressed that green building could -- and should -- be the centerpiece of a green jobs creation program -- adapting the more than five million commercial buildings, and 120 million homes already in existence in the United States to be more energy efficient will mobilize our domestic manufacturing and construction sectors in a way not seen since World War II. And the innovation they are already inspiring has the potential to create jobs in every sector of the American economy.
Winning the future means reducing our dependence on foreign energy sources, and winning the future means reducing our reliance on energy sources that pollute the air and water and lead to climate change. Making our buildings more efficient will automatically reduce our energy usage, preserving our natural resources.
Winning the future also means having a healthy workforce -- and green buildings are healthy buildings. Green schools are healthy schools. In fact, we've already seen green schools where test scores rose and absences due to respiratory illness fell. A healthy student learns more and eventually enters the workforce better prepared to keep America not just competitive, but exceptional.
The original Sputnik moment may have signaled the beginning of the Cold War, but it was also the spark that led us to put a man on the moon and explore galaxies beyond our own, and kicked off an unprecedented period of innovation in our country's history.
By declaring this to be our generation's Sputnik moment, the President signaled that it is time, once again, for Americans to ignite that same spirit of exploration and discovery in order to preserve our place among the world's nations. And just as winning the space race was essential to our national security, so too is winning the race to reduce our consumption of exhaustible energy sources.
Other nations looked on in envy as Neil Armstrong took his small step for man and giant leap for mankind. The next leap will not involve exploring new worlds, but improving our own.

Related
Popular in the Community