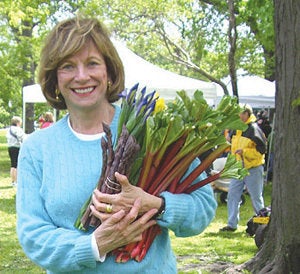 For those who flock to the now legendary Green City Market Wednesday and Saturday mornings, take a minute to thank the culinary gods for Abby Mandel who died Wednesday in Highland Park Hospital after a yearlong battle with mantle cell lymphoma.
Abby Mandel Meyer was the founder of Chicago's 10-year-old Green City Market, longtime food columnist (The Weekend Cook) at the Tribune and member of Les Dames d'Escoffier.
Her spirit lives on in the market, a wonderful confluence of farmers and food lovers, chefs and amateur cooks alike.