April is spring cleaning time. You know how to clean your home, and, like me, you may make your own basic cleaning products using white vinegar, baking soda, veggie oil and lemon juice.
But this spring, it's time to expand your thinking to your local school. Think about how cleaning a school building -- maybe 100 times larger than the average house -- might take more time, more effort and even different kinds of products -- products specifically designed for use in large-scale commercial and institutional buildings.
Besides size, there are other big differences between cleaning at home and at school.
At home, you often know who made the mess in the first place and you can tell your family to help clean up. Not so true at schools: schools are very densely occupied and heavily used buildings. Counting breakfasts, after school activities and weekend programs, not to mention team practices, the buildings might be in use 10-12 hours a day, six days a week. Community users? Add more hours of use and take those hours away from time to clean.
At home, you know where the cleaning supplies are -- close at hand, under the sink or in a closet, and if you are right there, you can clean up small spills as they happen. In a 300,000-square-foot school, where are the supplies? Custodians need them close to the classroom and cafeteria messes, but instead they may be tucked into a corner of a basement. And given budget cuts, it's unlikely there will be a custodian standing by to take care of small spills. See data on school facilities here.
I learned how different school buildings are from the people who know them best: school facility directors and head custodians, who are typically responsible for cleaning and maintaining these big complex buildings. As Healthy Schools Network was just getting started, we told everyone, "Use nontoxic cleaners." Finally, a good-hearted facility director sat me down and said, "We agree. But can you tell us what those are and how to get them?" 15-plus years ago, there were not a lot of easy answers for this parent.
Today, the answers are easier and clearer. There is a better understanding of the importance of preventing dirt from overwhelming the cleaning staff in a big building, more certified green products in the marketplace, and growing reports of success in cleaning schools with less hazardous, low-emissions products.
Learning from schools themselves, and advocating with many partners, our advice today is both more specific and more practical than it was 15 years ago when we researched and published the nation's first user-friendly guide to green cleaning at school.
The practical steps for schools include:
Prevent dirt from entering and accumulating (and this will help at home as well). That means, keep dirt and messes out of the school in the first place. Sweep sidewalks regularly. Install door sweeps. Use "walk-off mats" at all major building entries to trap dirt coming in on shoes. Maintain filters in heating and ventilating systems. Hold regular school locker cleanout days. Keep food and pets out of classrooms. Ventilate gyms, kitchens, and bathrooms to the outside.
Use third-party certified green cleaning products designed for large-scale buildings. These products are certified to work by independent bodies and also to meet restrictions and standards for hazardous chemicals ingredients such as phthalates, asthmagens, endocrine disruptors and carcinogens. The reliable independent certifiers in this field are Green Seal and UL Environment.
Use up-to-date equipment, such as microfiber cloths and mops and HEPA-filtered vacuums.
Reduce the over-use of disinfectants, which must be registered for use by EPA as pesticides. Contrary to what advertising leads you to believe, you may be surprised to learn that disinfectants are not needed everywhere and that disinfecting and cleaning are two different processes. Use registered disinfectants only as directed, when required, and or in target areas. Disinfectants must be used according to directions. For instance: clean the surface first, then apply the disinfectant and let it sit ("dwell time"), then rinse off. If you are not doing that at home or at school, re-read the directions carefully and check the product's label for active ingredients and health precautions.
More tips for schools: Ban the use of cleaning products from home. Do not allow children to use commercial cleaning products or disinfectants. (Kids can get their classroom ready to clean at the end of the day, but teachers should never direct them to use commercial products). Ban the use of room deodorizers such as plug-ins and aerosols: these are chemical "masking" agents" and often emit toxic chemicals.
There are lots more practical action tips for schools and for homes.
Here's one: on Earth Day, ask to tour your school to see if it is up to date on cleaning best practices. Ask the principal to open the custodial closet; we hope it looks like this (see below) and not like this (see below) and that the products all bear either Green Seal or UL Environment labels.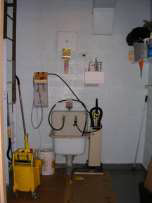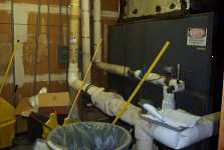 You might also ask to see one bathroom and sniff the air. Is it ventilated to the outside, or does it smell like cake toilet deodorizers or wall dispensers spritzing disinfectants that may trigger asthma?
CAVEAT EMPTOR: And this is indeed the hardest part. Be alert to and be careful of marketing claims from chemical manufacturers and their trade associations. The Federal Trade Commission has recently begun regulating environmental marketing claims. A Green Seal or a UL Environment certification mark on general all-purpose cleaning products used in commercial-scale buildings will assure you that the product works and at least meets basic "green" standards. For home use, a smart consumer will try out nontoxic cleaning with grocery store items, and then be cautious. For example, EPA's new "Safer Choices" label may indicate a safer home cleaning product, but EPA uses flexible criteria in this technical assistance program for chemical manufacturers, not strict, pass-fail standards, and EPA does not yet require that products have an onsite audit prior to displaying the new EPA label.
Calling all HuffPost superfans!
Sign up for membership to become a founding member and help shape HuffPost's next chapter