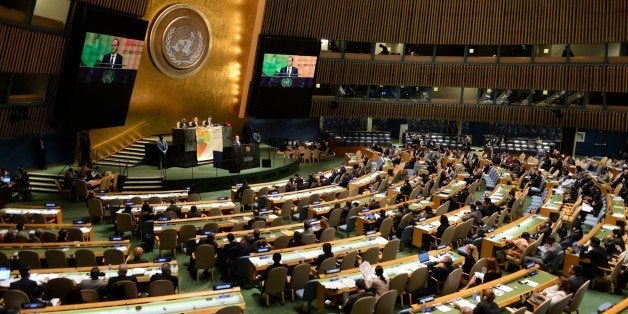 Among the blizzard of announcements made as part of the UN Climate Summit over the past few days, one that should not be lost in the storm is the pledge made by French President Francois Hollande to contribute $1 billion to the new Green Climate Fund. This announcement -- along with smaller but still significant contributions from Korea, Mexico, Denmark, and Norway -- will have a direct impact on the prospects for reaching a new international climate agreement next year in Paris.
Following on a $1 billion pledge from Germany, we at last see a pathway for the fund to meet its goal of a $10 billion initial capitalization -- if, that is, the United States and other key countries now follow suit. Only then can the fund get to work on its vital mission: to make strategic, paradigm-shifting investments that spur low-carbon growth and climate resilience in developing countries.
The need for such immediate investment is clear. The International Energy Agency found that global investments in clean energy technologies and energy efficiency must double to nearly $790 billion per year by 2020 -- and increase to $2.3 trillion per year by 2035 -- in order to avoid dangerous levels of warming. In addition, the World Bank determined that the cost for developing countries to adapt to even moderate warming will be at least $70 billion to $100 billion per year through 2050, which is over three times thecurrent estimate of global adaptation investment.
To help address this shortfall, world leaders agreed to establish a Green Climate Fund back in 2009 as part of the Copenhagen Accord. The five years since have been spent developing the fund so that it can play an effective role within the larger ecosystem of public and private climate finance vehicles.
Getting the design right was critical and worth the wait -- but now that they have built the car, it needs gas to run. As the United States and others decide if and when they will follow the lead of Germany, France, and others with appropriately scaled contributions of their own, they should be encouraged by several features of the fund.
First, the fund is specifically designed to bring about systemic change. While easier said than done, it is important that the fund is structured so that project proposals are not merely assessed on a case-by-case basis, but in the full context of a country's economic development trajectory. This means identifying and filling those critical incremental financing gaps that will then unlock much larger funding streams, thereby enabling transformational change. Even if it's a relatively small financial contribution to the overall project, such investment can be the difference between success and failure. The United States, for instance, has found that one important tool in helping to mobilize clean energy investment in Africa has been targeted assistance with early stage project planning -- once the plans are in place, the private investment (and ultimately the electricity) begins to flow.
Second, the fund is jointly governed by developed and developing countries, and, if successful, can attract significant contributions from a bigger pool of countries than just traditional donors. Korea has stepped up to support and house the fund; Indonesia has already made a contribution and has indicated that it is prepared to increase its investment. China and others should be expected to follow suit. Not only will this help to ensure that the fund has the resources it needs, but it will give more countries a direct stake in its success and will encourage the participation of their private sectors as well.
Third, one of the fund's main objectives is to elevate investment in climate adaptation, which historicallyhas trailed investment in emissions mitigation by a large margin. Adaptation measures, however, are increasingly necessary, as countries confront the effects of severe weather events and slow-onset events such as sea-level rise. The fund intends to support adaptation and mitigation activities equally over time.
Fourth, a core part of the fund's mission is mobilizing private finance, and it has embedded in its design a private sector facility with the mandate to determine new and innovative ways of using financial tools and limited public money to drive the vast amount of private investment that is needed to meet the climate challenge. Countries have learned a lot during the past few years about how to better engage the private sector on the climate challenge. For instance, the US Overseas Private Investment Cooperation, which works with the private sector to meet critical development challenges, increased its support for clean energy from $8.9 million in 2008 to $1.2 billion in 2013, leveraging many times more that in private investment. The Green Climate Fund needs to have success like this at a global scale.
The ultimate achievements of the Green Climate Fund will be known only over time, but countries -- both developed and emerging -- have it in their power to ensure that it gets off the ground. After five years, and with the impacts of climate challenge continuing to mount, the time to do that is now.
Peter Ogden is a Senior Fellow at the Center for American Progress and former Director for International Climate Policy on the National Security Council. Gwynne Taraska is a Senior Policy Advisor specializing in U.S. and international climate and energy policy at the Center for American Progress and the Research Director of the Institute for Philosophy and Public Policy at George Mason University.