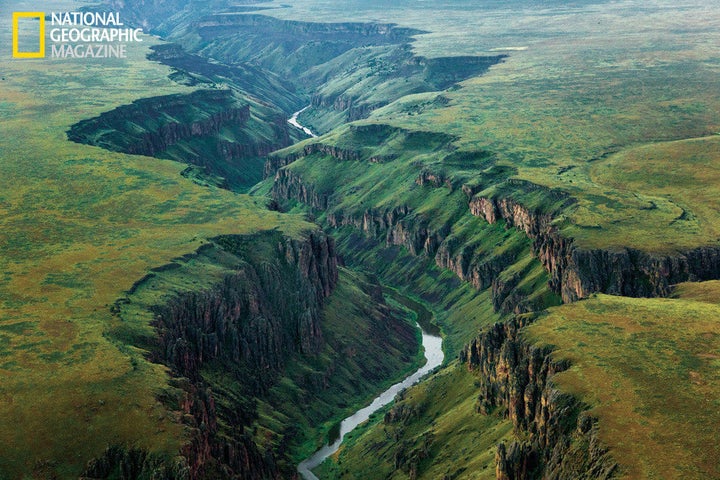 Earlier this month, I spoke at the inaugural South by Southwest Eco. I began by mentioning my former career on Wall Street-a topic unlikely to win me many fans.
The theme of my speech was broadening support for conservation by crossing boundaries --talking about nature differently and reaching beyond the usual suspects of those we ordinarily work with.
A little over three years ago, I crossed a personal boundary, leaving my career as an investment banker to follow my passion for protecting nature.
And as head of The Nature Conservancy, I am now committed to helping the conservation movement cross boundaries, reaching out to everyone from businesses to kids to demonstrate why protecting nature is in their best interest.
Take our collaboration with Dow Chemical, for example. The Nature Conservancy is working with Dow to determine how the company's operations rely on and affect nature. Dow's factories are enormously dependent on water supply. They also depend on mangroves and other natural systems to provide buffer from coastal storms. Our goal is to create tools and methods other companies can test and apply.
Some critics ask why we would work with companies that have a big environmental footprint. I say, why wouldn't we? In my view, it would be irresponsible of us to shy away from the opportunity to guide companies whose decisions affect the places we want to conserve.
Are partnerships with companies a panacea? No.
Are there risks to engaging businesses? Of course.
But change is not possible without risk.
And change is critical given the great challenges we are up against. By 2050, the world's population is expected to reach 9 billion people. Soaring demands for food, water and energy put enormous pressure on the natural systems we seek to protect. And climate change will only multiply existing problems.
Solving these challenges will require new ways of thinking. It will require reaching beyond our core supporters. And it will require a shift in thinking, from "Isn't nature wonderful?" to "Isn't nature valuable?"
Specifically, we need to talk much more about the benefits nature provides to people -- clean air, healthy soil, fresh water, coastal buffers from storms.
This notion of "natural capital" is not new. In 2005, the Millennium Ecosystem Assessment concluded that these services are in sharp and worrisome decline.
What's exciting is that environmental organizations around the world are turning this concept into reality. We are crossing boundaries to put these ideas into practice, connecting the value of nature to a broader audience.
Last year in Iowa, for example, a coalition of conservationists, sportsmen, farmers, community leaders and businesses banded together to support a constitutional amendment that will direct $150 million per year of the next sales tax increase toward wetlands restoration, water quality programs and other projects that will help prevent and reduce impacts from flooding.
We had our work cut out for us, campaigning in a conservative state, during a deep recession and facing a tough political climate. But the amendment passed with more than two-thirds of the vote.
Voters understood that their lives and livelihoods, including Iowa's $21 billion agriculture industry, are closely linked to clean and productive water systems.
Finally, all of our efforts will be wasted if we don't foster the next generation of conservationists.
But it's not all bad news. A recent study found that when youth are given more opportunities to have a meaningful experience outdoors, they will be more likely to value nature, engage with it and feel empowered to do something about it.
One initiative my organization has launched to address this problem is called Leaders in Environmental Action for the Future (LEAF). The program matches urban high school students with summer internships on nature preserves across the country. Programs like this are key to closing the gap between nature and people -- especially among urban and youth audiences -- and building tomorrow's conservation leaders.
Environmental organizations need new strategies like these to deal with the difficult challenges ahead. That's not to say that other strategies don't have their place. Is our work helped by more confrontational organizations that challenge businesses and governments? Yes. Are there times when different approaches will be more effective? Of course. The more strategies the better. We're all on the same team.
As South by Southwest has proven in the areas of technology and music, the best new thinking and creative ideas often emerge when we cross boundaries to seek out new relationships and ideas. We will never achieve our mission by talking to ourselves. We have to reach out to all sectors of society -- from businesses to farmers to children -- to demonstrate the value of nature to our lives.
Calling all HuffPost superfans!
Sign up for membership to become a founding member and help shape HuffPost's next chapter