Passion, Politics and Panic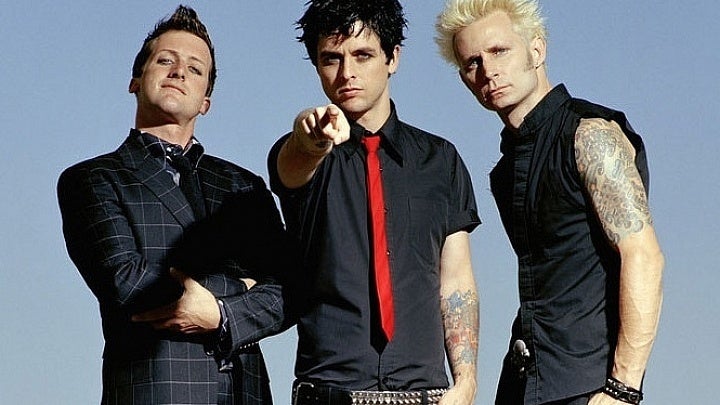 Green Day, the Grammy winning Rock and Roll Hall of Fame band, ended their forty nine city seven month "Revolution Radio" tour Saturday night at the Rose Bowl in Pasadena.
Revolution Radio, their 12th studio album, debuted at #1 last October with break out lead single 'Bang Bang' which charted at #1, as well as 'Still Breathing' which peaked at #1, making 11 number one hits for this band in a three decade career. The album is a return to Green Day at its best, their inspired synthesis of political and personal angst and heart gripping rhythms pumped through manic punk rock compositions that have created their signature sounds. The tour ended with a high energy performance that showed off the punk band at its finest.
The Rosebowl is not an intimate arena, but the band made it feel surprisingly so. Walking on stage to thunderous applause, bassist Mike Dirnt and drummer Tre Cool waved almost giddy to the crowd as lead singer Billie Joe Armstrong took stage and immediately began interacting with the audience demanding shouts of "Don't you just want to lose it? Are you ready to lose it!" as they broke into 'Do You Know Your Enemy,' from 21st Century Breakdown.
The thunderous music and towering images of the band on the giant video screens on either side of the stage lit up the stadium as they rolled into 'Revolution Radio' the title track of their current album, and continued straight into the high powered 'Holiday' from 21st Century Breakdown, 'Letterbomb' and 'Boulevard of Broken Dreams', top ten hits and fan favorites.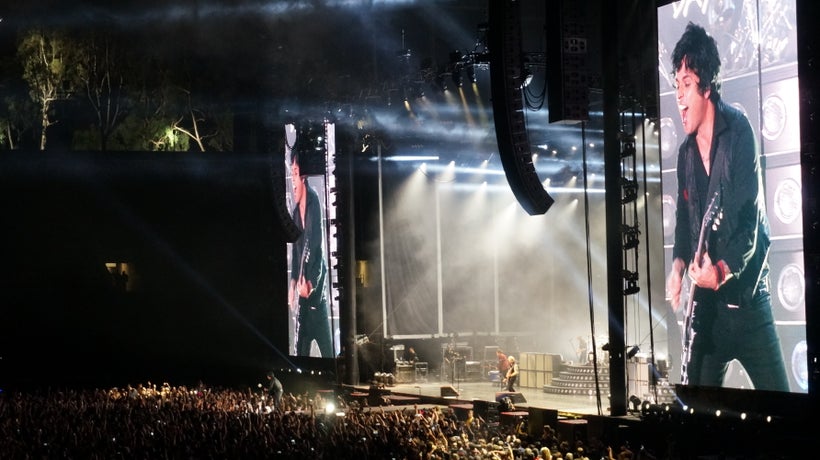 Billie's interaction with the audience was constant, as he gazed out more than once at the ocean of humanity waving their cell phone lights saying 'You are my people!" He also lead the stadium in many chants, including one of "No Racism, No KKK, No Homophoboia and NO NAZIS," to the cheers of the crowd. He passionately proclaimed his distaste of Washington politics and shouted that "Hate was not happening here tonight. Here everyone is welcome! This is unity music! This is not a political party, man, this is a celebration!" And the stadium cheered in response.
The band cleverly mixed up their 30 year catalog of songs, digging deep for some music the group hasn't played live in twenty years, next playing 'Longview' (from the new album), 'Younglood' (both from 1994) and then '2000 Light Years Away' (for the real 'old school' Green Day fans, as Billie put it), which is from their second album Kerlplunk in 1991. They then stayed back in time for 'When I Come Around', and 'Welcome to Paradise', both early hits and each top ten singles.
A beautiful lyrical rendition of 'Are We Waiting', off of American Idiot, started with the powerful cascading drum beats by Tre Cool, and during the intro Billie was telling the crowd to light up their phones as he broke into the first lyric "Starry nights, city of lights, coming down over me – " which waxed poetic as the stadium was filled with tens of thousands of lights waving in rhythm to the song.
The band continued into the high powered 'St. Jimmy" off the same album and built to a furious crescendo which rolled into a long drum solo by Tre Cool, who dazzled with his speed and precision, and who I think is one of the great drummers in rock and roll. His two minute drum solo lead into a high powered rendition of Knowledge, (from their first Album 39/Smooth), but not before Billie shouted out "It's Mexican Independence day ladies and gentlemen! Viva Mexico!' as the fans cheered again. The band continued into 'Basket Case', an early Green Day fan favorite and hit. On the heels of this song Billie came forward saying 'who can play the guitar, I want to bring someone up right now!"
Pulling a woman up on the main stage they played their song 'She' as the fan did her best, but Armstrong quickly ran over taking over the left hand and the chords on the neck – while she strummed and sang. Billy then gifted her the guitar as the band broke into a full version of the song, culminating in a dramatic finish as the stage went dark.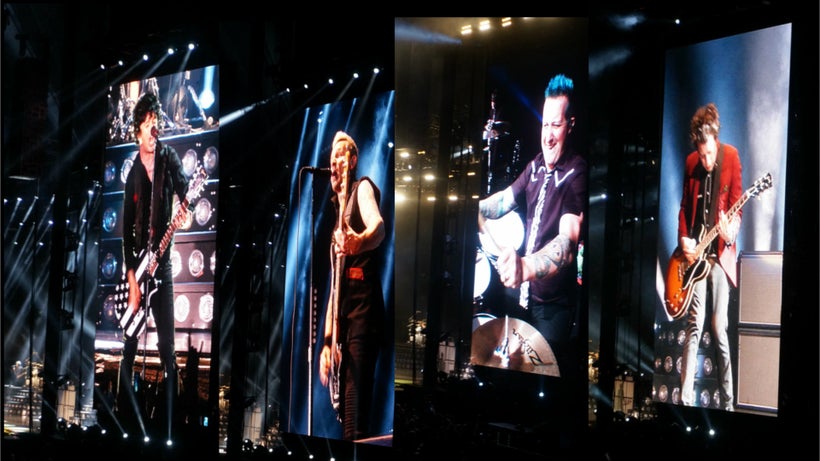 That was 19 songs in and 90 minutes of show which could easily have meant the end of a normal rock and roll concert. But the band came running back on stage all wearing odd costumes and broke into 'King for a Day' an early song which sounds like the impossible collision of a New Orleans Jazz band and a punk rock group. This gave the opportunity for saxophonist Jason Freese, who also doubled on keyboards, to take center stage for an impressive solo as well as guitarist Jason White who's toured with them since 1999.
The band then segued into the Isley Brother's 'Shout', which had the audience jumping on their feet. But when things got 'a little bit softer now,' the band fell flat to the stage and Billie rolled on his back and suddenly started singing the Monty Python hit, 'Always Look On The Bright Side Of Life," as the crowd laughed and sang along. Still on his back he proclaimed to the sky; "Yes, that's it, you have to look on the bright side of life. Doesn't this feel good?" He then had the entire bowl sing 'I Can't Get No Satisfaction', which really started to make you think he was just making it all up as he was going along. And that made the show feel unusually fresh. Then he stopped and poured his heart out.
We have been through enough together. Now we need to do something positive! We come here, it's more than a crowd, more than a gathering, it's people coming together and having passion together! Enough of the negativity! I'm so sick of the cynical attitudes! And the politicians just F*ing everything up. This is what America is supposed to be. This coming together! America is a celebration of diversity. This is what gives me hope. I need you. We need each other. Stick up for the underground please. They're trying to kick people out of this country and they're more American than the politicians in Washington DC right now. Well, not tonight.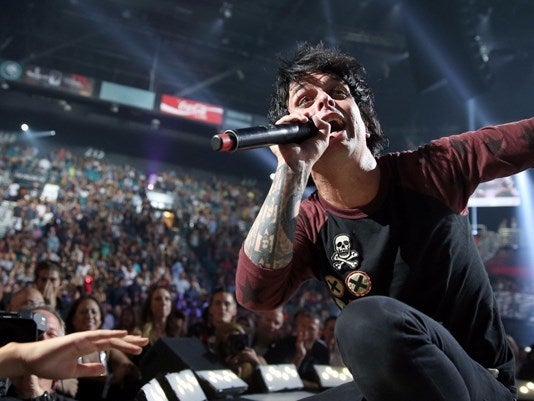 The cheers drowned out his next lines of his song as he had the stadium sing 'Hey Jude,' until the band came back together to finish the Isley Brothers song.
He then emotionally dedicated their most recent #1 hit, 'Still Breathing,' off the new album, to "all the survivors out there in Florida and everywhere," and the whole stadium was on their feat as they joined in to sing the chorus. As the song ended he looked out at the packed arena.
This is our last night - and best night of the tour, thank you so much, I'm so proud to call California my home, and thank you for the last 30 years of being in Green Day.
He thanked the band, he and his friend Mike together since 1986, and the core trio together since 1990, and the others who've toured with them for years. They ended their set with 'Forever Now,' also from the new album. Their bows and waves were long and sweet, one felt like they didn't want the show to end.
The band came back for two encore sets, and another twenty minutes of music. Clearly emotional, they thanked the crew and the fans again, and played, 'American Idiot', 'Jesus of Suburbia' and after leaving the stage again, Billie returned solo in a spotlight, with only an acoustic guitar and closed the evening with 'When September Ends,' and 'Good Riddance' (Time of Your Life).
It was a great show and so very refreshing to have a band be so unapologetically political and speak with passion about their convictions. These politically correct times are stifling for many entertainers who shy from public expression fearing the inevitable blow back and controversy. Green Day lives and creates in the volatility of their political feelings and gives a voice to the friction and disquiet they feel, and perhaps to many of their fans who don't know how to express themselves. They have never shied away from their doubts, anxiety or panic about the modern world, and how acknowledging those feelings is the only way to survive it. To see this band maintaining their art at the top of their form thirty years into their careers was a delight.
REAL LIFE. REAL NEWS. REAL VOICES.
Help us tell more of the stories that matter from voices that too often remain unheard.
This post was published on the now-closed HuffPost Contributor platform. Contributors control their own work and posted freely to our site. If you need to flag this entry as abusive,
send us an email
.