The wine-making track of the Organic World Congress in Modena, Italy is a serious business, with dozens of scientists reporting the results of their surveys and experiments, all for the benefit of our personal enjoyment and health and the sustainability of our planet. Below I summarize their research on the organic wine market -- supply and demand -- and on sulfites and the alternative treatments of downy mildew, powdery mildew, the grape berry moth and weeds. The conferees mill around in the spectacular Castle of Levizzano Rangone near Modena, set among rolling hills covered with lush vines, the view of the vineyards from inside the castle stretching far the distance. At a welcoming event we taste Lambrusco Grasparossa di Castelvetro wine as a jazz group plays. Afterwards we go for dinner to the village at the base of the hill.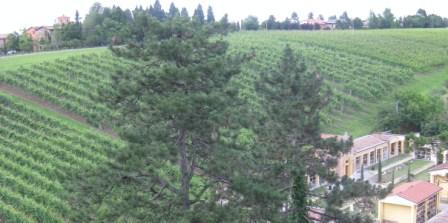 View from the newly renovated Castle at Levizzano Rangone, south of Modena, Italy, where the organic wine-making conference is centered. The family that owns the castle and vineyards is committed to green practices.
The visit to impressive vineyards and the related wine-tasting is a highlight of the Organic World Congress. The big vineyard we visit is gorgeous and eco-friendly -- but it is not organic.
For that, participants are taken to a pilot farm, Moretto in Castelvetro, where organic Lambrusco wine is produced under the experimental ORWINE protocols, funded by the EU Commission to bring together scientific knowledge with organic wine-growing practices.
A survey of European wine-makers under the auspices of the Italian Association for Organic Farming (AIAB) covers the marketing of organic wine, size of production units, major clients, export share, most common grape diseases, additives and wine-making practices. Details may be obtained from the authors -- Gianna Trioli (Gianni.Trioli@vinidea.it) and Cristina Micheloni (C.Micheloni@aiab.it).
Wine-making organic standards are more complex than, say, standards for organic vegetables. A three-way case for organic vegetables can be made, that organic production is earth-friendly, health-friendly and tastes better. For organic wine the case needs more elaboration.
One major principle for organic wine in the United States is to avoid "added" sulfite chemicals. Yet sulfites have many beneficial qualities. They occur naturally in grapes (as well as, e.g., onions and garlic) and have long been used on grapes to fight certain diseases. Sulfites are also produced naturally by yeast during fermentation and have for centuries been added to wine as a preservative or taste enhancer, to protect against oxidation and bacteria.
The sulfite compound is very interesting, with a sulfite ion loose in a molecule of sulfur dioxide, potassium bisulfite or a sodium sulfite or bisulfite. Most of the sulfite molecule bonds with other substances in the wine and the bound sulfite usually can't be tasted or smelled in normal concentrations. A smaller part of the sulfite molecule doesn't bond with the wine andlooks for bubbles of air or alien substances that could cause wine to spoil. The free sulfite has a strong preservative effect in the wine, which might otherwise turn to vinegar within a year. It is also more easily detected by the nose or palate than the bound sulfite.
The problem with sulfites is twofold.
- First, addition of too much sulfur salts or sulfur dioxide solutions to grape juice before fermentation can mask a wine's flavor.
- Second and more seriously, small quantities of sulfites can trigger headaches or, even worse, allergic reactions in some people who do not have the enzyme to break down sulfites. For such people, consuming sulfites can result in breathing difficulty within minutes. Asthmatics and people with aspirin allergies are at greater risk for such a reaction, which requires an immediate visit to the E.R. because it can be fatal. Symptoms include sneezing, swelling of the throat, and hives. The recommended way to checking whether you are allergic to sulfites is to consume a brightly colored (sulfite-treated) dried apricot, two ounces (56 gm) of which has 112 mg sulfites, many times the typical concentration of sulfites in a glass of wine. Watch for reactions; if there are none, you are unlikely to be allergic to sulfites in wine.
The bound and free sulfites are combined as "total" sulfites, measured in "parts per million" or "ppm". Wine bottled since 1987 and sold in the United States must have a label stating that it "contains sulfites" if it contains more than 10 ppm. To omit the label, producers must show levels below 10 mg/liter by analysis. Wines must have less than 1 mg/liter to have a label that says "No Sulfites". All wines must carry the label, whether made in the US or abroad. (An equivalent law was passed in the EU in 2005.). Red wines and older white wines contain the lowest levels of naturally occurring sulfites (under 5 ppm), while young white wines may occasionally show levels from 5 to 15 ppm. Most wines contain 25-150 ppm, which shows the extent to which sulfites are added. The legal limit is 350 ppm (mg/liter). Australia requires a label indicating "preservative 220" for wines with added sulfites, but other countries permit sulfites without a label -- including France, Italy, Spain and Chile. European wines contain an average of 80 mg/L sulfites, about the same as in the United States, about 10 mg in a typical glass of wine, slightly higher in white wine than red wine.
To be certified as organic by the U.S. Department of Agriculture, organic wines must be (1) made from grapes that are certified organic and (2) contain no sulfites or tartaric added during the winemaking process. Wineries that use organic grapes, but add preservatives must be labeled simply: "Made with organically grown grapes."
Modern winemaking equipment and sanitation make it possible to produce good wines without sulfite additives, but to avoid the wine going off, it's usually advisable to drink it within a year or 18 months. However, I have seen organic wines sold with vintages that are four years old and they may be fine. Another problem is unusual aromas from the aldehydes that would be bound and made odorless by sulfites. Organic wines tend to be sold at natural food stores, but increasingly may be found in a special section of trendy supermarkets or in a special section of wine stores. At a New York City wine store I found the organic wines next to kosher wines. The person in charge of the store couldn't explain the difference between the two.
Helga Willer presents a paper at the conference on the general state of organic winemaking worldwide. In the 1950s, Switzerland and Germany were pioneers. By 2006, 85,000 hectares of vineyards were managed organically. Europe is still the largest producer of organic wine, but the share of the market is tiny, less than 3 percent. The United States and Chile are the largest sources of organic wine outside of Europe, although Down Under data are lacking. Another survey attempted to identify the needs of organic viticulture in Europe. The contact for this ongoing survey, as well as for EU regulatory issues, is Monique.jonis@itab.asso.fr.
A paper from Californian L. A. Thrupp describes a surge of interest in organic grape-growing and the addition of new organic wines. He describes two pioneers in organic viticulture, the Fetzer and Bonterra vineyards. Fetzer is the largest organic grape-grower in California and has led not only in viticulture techniques but more broadly in wastewater treatment, renewable energy, soil conservation and biodiversity, along with care for its employees. It is also a leader in educating other grape-growers in best practices. Bonterra got major prizes for the taste of its wines this year in the international organic wine competition..
Two Romanian professors describe the results of experiments at the Tarnave Vineyard and arrive at the conclusion that organic viticulture is not only better for the environment and consumers but is more profitable. Contact cameliaburja@yahoo.com.
Organic wines have their own magazine, the Organic Wine Journal and, as mentioned, their own annual competition, the 2008 International Green Wine Competition. This first major competition dedicated to organically produced wine, had 271 entries, mostly wines made from certified organically grown grapes, with 40 of them biodynamically produced. The entries came from 6 states (AZ, CA, IL, OR, TX, WA) and from 11 foreign countries -- Cyprus, Portugal, Canada, Chile, Argentina, Italy, Spain, France, Lebanon, New Zealand, Australia. Competition results are posted here, with "The Consumer's Green Wine Shopping List," showing the names and prices of the award-winning wines. Bonterra Vineyards in Mendocino, California -- producing an organic wine since 1990 -- won two of the 15 gold medal for its Sauvignon Blanc ($13) and Merlot ($15). Bonterra Zinfandel ($15) and the McNab ($45) won silver medals.
Two French researchers compared three organic approaches to suppressing "downy mildew" (Plasmopara viticola) and conclude that Chitoplant (chitin) is best, in conjunction with copper. Four German professors test Riesling and two other grape varieties and conclude that copper hydroxide and Myco-Sin VIN gave good results under medium infection pressures. Under heavy rain conditions Frutogard worked well and copper hydroxide with 1.9 kg pure copper. More details from uwe@eco-consult.net. Four Italian researchers conclude that of the cultivars they reviewed, the Chardonnay grape is most resistant to the disease -- contact someone@lamb.it.
"Powdery mildew" (oidium) has been controlled primarily with sulfites. Two Swiss researchers report that sulfite use is a major issue for consumers, growers and EU agricultural regulators (hanna.stolz@hbl.org). An Italian scientist looks at alternatives, especially in the late stages of viticulture when the sulfur is more likely to affect taste. What worked for medium levels of intensity was a 500 g/hl dosage of sodium and potassium bicarbonate. Another study in Tuscany by four researchers compared fungicides and recommended Tiovit and Heliosoufre.
Another grape pest is the grape berry moth and four Italian researchers studying vineyards in the Veneto region conclude that when the threat is moderate, non-chemical approaches are more effective than use of chemicals.
Weed control, a problem not confined to viticulture, is reviewed by an Australian scientist. Mechanical approaches are considered to harm the soil through frequent passes. Undervine mulching was assessed as an alternative. The most effective approach was use of cereal straw with a depth of 20 cm. or more. Cereal straw improved the soil pH but this benefit did not follow to the pH of the must (pressed grapes). The researcher's main conclusion was that trials must be made locally because the availability of mulch and soil needs vary so much.
On the winemaking end, -- L. Blateyron and G. Elichiry compare three final filtration thresholds for preparing wine for bottling. Blateyron is also a co-author of a paper on organic nitrogen as a way of overcoming sluggish fermentation.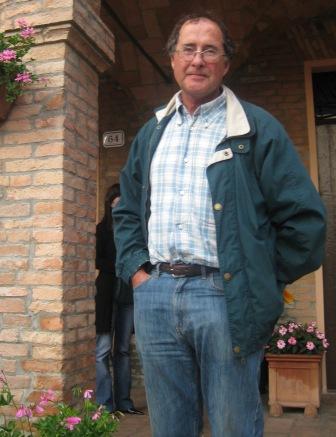 I meet a stalwart organic farmer, Alan Chubb, at Levizzano Rangone. He has a small organic vineyard in the Britain, a country not widely known as a winemaking region. In the south of England 600 farmers grow grapes on an average of less than 2 hectares (5 acres) per vineyard. The organic contingent is very small. Of the 600 growers, only five grow organically, with a total of 20 hectares certified and 10 more in the pipeline. Alan is the smallest organic grower with one hectare under cultivation in Wiltshire (his website is www.quoins.demon.co.uk).
Alan argues that the first step toward organic viticulture is picking the right root stock. His favorites are Grondo, Orion and Madeline Angevin. These are hardy and greatly reduce the need for pesticides. When weather conditions deteriorate or pests attack an area, the organic farmers tend to do better because they have hardier plants.
It takes three years of chemical-free farming to become certified organic. While they are waiting, Alan says some farmers opt to join an ethical trading system (FairTrade, for example) so their products can have entry into the premium food market immediately.
The economics of his vineyard are transparent. He produces 4,000 bottles/year and sells them to Waitrose for the sterling equivalent of $13 each -- Waitrose charges $24 per bottle. Alan says he doesn't get a premium for being organic -- he just pays less than conventional growers because he doesn't buy commercial fertilizer or pesticides.