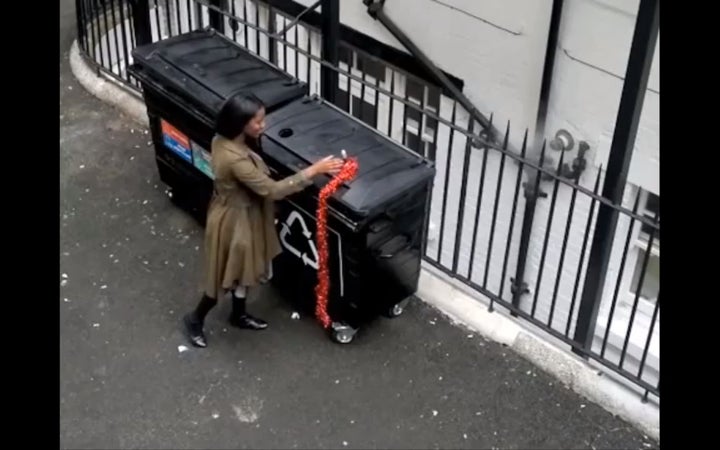 Fashion designer Eileen Fisher has been cleaning her cluttered home closets, lugging her simple sweaters and layered knit dresses down the hardwood stairs of her Hudson-side home toward a new shop that could make her company both greener and more charitable.

Customers and employees have donated more than 50,000 used Eileen Fisher garments for resale since 2009, raising more than $600,000 for nonprofits that support women and girls. Now Green Eileen, as the program is known, has opened its own recycled-item only store outside New York, giving old and new shoppers a way to do good -- and to feel good about her brand.

More than just selling used clothes for charity, programs like Fisher's are transforming traditional eco-friendly efforts into two-way projects that build community around a cause. Shoppers at a growing group of clothing companies can now not only buy recycled items or see a portion of sales go to nonprofits, but partner with brands that give them a more active role in giving back.

"You need to be responsible for the product from start to finish, but you also need to create community and connection," Fisher said at her airy corporate headquarters in Irvington, N.Y. "It makes the business much deeper than just selling stuff."

Polls show consumers prefer brands that pursue green and social goals, with 72 percent saying they expect companies to protect the environment and 62 percent saying they'd switch brands to support a cause, according to a 2010 study by global public relations firm Edelman.

But with two-thirds of companies now doing some sort of social responsibility campaign, according to a 2010 PRWeek/Barkley PR survey, shoppers are looking for more than fuzzy-feel-good initiatives. They want the emotional satisfaction that comes from observing their impact up-close, says Edelman managing director Carol Cone.

Some 63 percent say they "want brands to make it easier for them to make positive difference," and nearly three-fourths say companies should work with them for a greater goal, Edelman's survey found after polling 7,000 adults in 13 countries, including 1,000 Americans. They want a kind of consumer community service, and look to brands as conduits to connect them to a cause.

In the fashion industry, that realization is sparking a shift in focus from greening the way that clothes are made to greening the way that we consume them.

Manufacturing often accounts for just 20 to 30 percent of a garment's environmental impact, studies show, while shipping, shopping and washing contribute far more. Long driven by a marketing strategy called "planned obsolescence," fashion often pushes us to replace outdated items each season, while advances in manufacturing and trade slash prices and further speed sales. The average U.S. household now generates 228 pounds of textile waste a year, according to Census and Environmental Protection Agency figures -- the rough equivalent of trashing a sweater a day.

In that context, marketing experts say, companies can stand out by looking beyond traditional eco-initiatives that promote nontoxic dyes or organic cotton, to focus on consumption and disposal -- for example, by making clothes that don't need to be dry-cleaned, or that last long enough to be resold as vintage threads. A key step is making consumers aware of their own role in the process.

In addition to funding nonprofits, sportswear companies Nike and Patagonia have, for example, collected more than 25 million used sneakers and 45 tons of gear in "partnership" with customers; and Patagonia last year took the unorthodox step of asking shoppers not to buy anything new they don't absolutely need, building an online community around that commitment.

Top fashion schools are dedicating courses to sustainable merchandising, not just manufacturing; with students at Parsons The New School for Design in New York signing a sustainability manifesto that not only commits them to reducing waste, but to encouraging "responsible purchasing" by customers.

Internet companies including Rent the Runway, eBay and Etsy are meanwhile revolutionizing the consignment store model, helping millions to instantly borrow or buy used garments online, or to use them to make their own clothes instead.

Select retailers add to the second-hand market, too, recruiting recyclers with coupons. British department store Marks & Spencer gives £5 in store credit for every load of clothing donated to Oxfam; Eileen Fisher doles out a $5 gift card per donated item -- giving garments new life even while enticing shoppers to celebrate their clean closets with new sales.

"They're empowering consumers to be engaged with doing good, but also rewarding them," said Marshal Cohen, chief retail analyst at The NPD Group market research firm, who predicts these programs will bring a long-term boost to their brands.

At Eileen Fisher, a cut of profits had for years gone to charity, but when the financial crisis slashed sales in 2008, the team decided it needed a more business-minded way to protect giving. Green Eileen was launched as an experiment, collecting and reselling used clothes to fund Fisher's foundation.

Thousands of nearly-new jackets, linen skirts and cashmere cardigans soon flooded drop-off points at certain stores and corporate headquarters, where they were sorted, dry-cleaned and stashed under boxes, along hallways and in any free corner by Janet Goyzueta, who started as Fisher's personal housekeeper and now helps to run Green Eileen.

The items are resold at a rough two-thirds discount off their original price at two company stores near Manhattan and, since November, at a Green Eileen storefront in Yonkers -- netting more per garment for charity than many thrift shops.

Fisher imagines the model expanding, starting with existing stores in Chicago, San Francisco and Boston. Customers say it is already making them more loyal to her line.

Since losing 60 pounds in 2010, Jane Sarasohn-Kahn, a Pennsylvania-based health care consultant, has donated more than 240 Eileen Fisher pieces to the program, stuffing big brown bags with everything from silk scoop necks to cropped crepe pants to send in.

"It's the companies that sustain the message of giving back to the community that create the greatest trust," said Sarasohn-Kahn, who now spends so much time at her local Eileen Fisher store that she considers the saleswomen her friends. "It's a win-win-win."
Calling all HuffPost superfans!
Sign up for membership to become a founding member and help shape HuffPost's next chapter