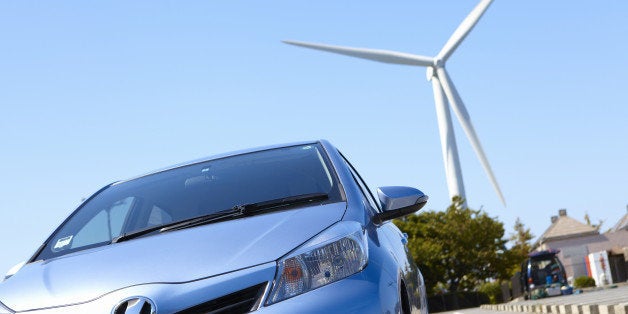 All Electric BMW i3
The BMW i3 is one of the most sustainable, luxury cars on the market from the exterior to the interior. Overall, 95 percent of the materials used to manufacturer the vehicle can be recycled, even the lithium-ion battery which can be re-purposed as storage in solar or wind power systems.
The door panels and climate layers are made from finished kenaf, a 4,000-year-old species that can yield up to 10 tons of fiber per acre after growing up to 14 feet in one season. The seats are made from naturally tanned leather using olive leaf extract. It provides natural protection against fading and wear. Both the interior and exterior are made of renewable raw materials and recycled plastic. The dashboard and instrument panel is made of FSC Certified open-pore eucalyptus wood which ages and develops unique character over time (based on your climate and location). The textiles in the care are made up of nearly 100 percent recycled plastic which contains 34 percent of PET.
Solar Cooler
The SolarCooler is the world's first portable, solar-powered refrigeration cooler. This sustainable cooler is perfect to take on the beach, camping, or any place where you can harness the energy of good sunlight. At 50 pounds, it certainly does more than hold up to 60 cans of soda. The cooler also sports a 12V charging station to recharge cell phones, stereos and even a blender if you wanted. It is capable of producing temperatures of -10 degrees Celsius, so it would be able to make it's own ice. The new company is currently accepting orders through their indigogo campaign page and goes into production Spring 2014.
RZT S Zero Electric Lawn Mower
Old-fashioned lawn mowers are loud, gas guzzlers and can be a pain to upkeep. But imagine a seater mower that requires zero gas, doesn't make any noise, and is easy to maintain. The RZT S Zero Electric by Cub Cadet is an answer to your prayers. The 100 percent electric mower provides 60 minutes of cutting time on a single charge.
C1 by LitMotors
The C1 by LitMotors is self stabilization 100 percent electric half car. With seating for two, this sleek ride will never leave you searching for parking. With only two wheels, one in front and the other in the back, what keeps this vehicle upright? A gyrascope, which is a heavy object that spins at a high frequent that creates lots of force and momentum to stay upright. This same technology is used in international space station. The C1 needs six hours to fully charge and you can get 200 miles per charge and up to 100 miles per hour. At a price point around 24,000 USD, expect to see this electric car on the market in December 2014 or early 2015.