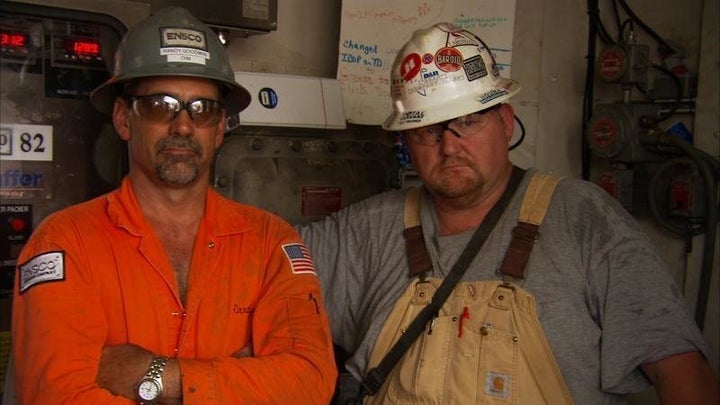 It's easy to paint in black and white. It's easy to deem one side right and thus the other side wrong. It's easy for renewable energy advocates to stamp "evil" on the oil industry. But where does that get us? While simplified versions of reality are easier to digest, perhaps it's only when the grey area is understood that results will be achieved.
The documentary Houston, We Have A Problem is no Michael Moore production. It doesn't feature short soundbites, evil empires, or conspiracy theories. What it does do is present many sides of the complex energy debate. It does this in a surprisingly respectful manner, allowing each interviewee the chance to voice their opinion without being edited to fit the filmmaker's vision. Filmmaker Nicole Torre, an alternative energy advocate, even let oil executives contribute their version on the history of oil in the U.S.

Both versions are certainly heard. When asked about global warming, all of the oil executives either skirt the question or cite their Bachelor of Science degree while questioning the human impact on global warming.

One oil executive is so proud of his oil that he drinks it on screen, then proudly claims, "I took it to the Palm restaurant one night and put it on my salad... a little oil and vinegar."

But the oil executives also raise issues worth contemplating. They suggest that we stop blaming Big Oil, and rather blame the American people instead. There is certainly a long list of reasons to blame oil executives, and they're an easy target. But who is responsible for maintaining the demand for oil? Who is keeping the oil industry in business? Certainly the oil executives are partially responsible, but what about the many of us who jet across the country, enjoy long road trips, savor our steaks, and need a nightlight even in the daytime?
As BP Huddleston, chairman of Huddleston and Co. says of people against oil, "When you say 'Bad Ol' Oil,' you're talking about your next door neighbor."

Ultimately, the film acknowledges the work that oil executives have done, and then takes a look forward to alternative energy. In what may be the defining line of the film, Van Jones comments on the oil industry, "We need to retire them with dignity."

A film like this makes one wonder... could we all just get along? Is there any, possible, tiny, remote chance, that Big Oil and their opponents could sheath their swords, crook their pointed fingers, and realize that a handshake may be more productive?

Perhaps when money and jobs aren't on the line. But when Houston, We Have A Problem looks to the future, it reveals that even some historically large oil enthusiasts are embracing alternative energies. As a third generation Wildcatter says, "We know as good as anybody that oil is not going to be around forever. It's just not. We need wildcatters to come out today, but we need the wildcatters in biofuels, in renewable energies, in all the various sources of energy available."

The final section of the documentary is dedicated to "The New Wildcatters," showing off wind power, steam drilling, solar power, and even an algae biodiesel lab. Ultimately, Houston, We Have a Problem is an educational, upbeat examination into the history and future of oil. It is a refreshing reminder that the energy debates are not black and white. In an ideal world, we will enter the next energy revolution with everyone on board... former oil executives included.
WATCH the trailer for Houston, We Have A Problem:
Calling all HuffPost superfans!
Sign up for membership to become a founding member and help shape HuffPost's next chapter