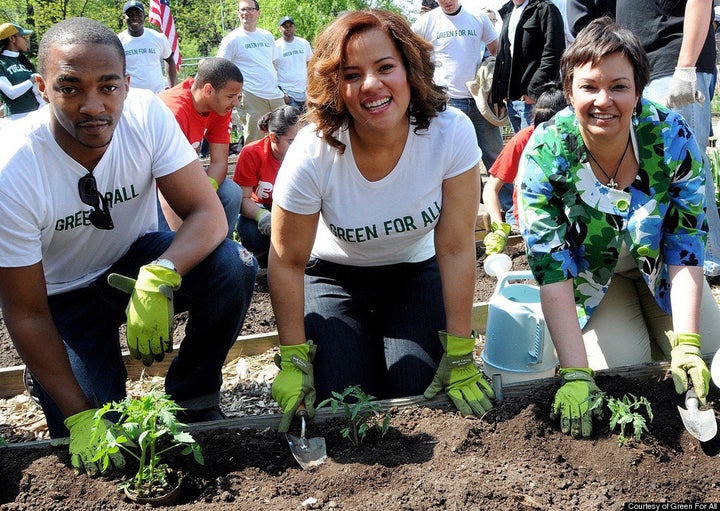 "When you go from using food stamps and all of a sudden you have the power to support yourself, it changes the way you see yourself, it changes how the world sees you."
When Phaedra Ellis-Lamkins was 12 years old, her mom went from welfare to work and Phaedra's life changed.
"If you know what that feels like, you can't not want to do it for others."
Phaedra said Friday's announcement that unemployment has dropped means more people are now feeling that same sentiment. "It's not enough, it's not perfect, but it's a sign of hope," she said. "It means people are working again."
Phaedra, 34, is the CEO of Green For All, which works to get people back to work through green jobs. Partnering with individuals, small businesses and cities, and the Obama Administration, the organization is working to make the green economy a central part of the economic recovery.
Phaedra got her start in the labor movement in San Jose, California, fighting for airport employees and helping to establish universal healthcare for children in Santa Clara County.
It was there that she realized that while Silicon Valley executives forged ahead, many of the people behind the scenes were falling behind. She recalls one janitor who cleaned the offices of "people who made a lot of money" sleeping in a garage with several other workers. "The glamorousness of Silicon Valley doesn't translate to the reality," she said.
Soon after, in 2009, Phaedra joined Green For All, an organization that works to make sure people commonly left behind by the economy are part of the emerging green sector. Her predecessor as CEO, Van Jones, joined the Obama Administration to advise on green jobs.
"It really is about creating policy that offers an environment that's open to these opportunities, and providing information so people can access these opportunities," said Phaedra. "And providing a fun and soulful way to do it."
Phaedra said the opportunity to rebuild the economy provided by the recession was also a chance to avoid the mistakes of the past. "I don't want to be the kind of country that imports batteries and water from China," she said.
This includes everything from making sure there are basic manufacturing jobs in green industries, to establishing policies that encourage cities and governments to employ small businesses, to training small business owners to bid for city contracts.
In Portland, Green For All worked with a company which weatherized 500 homes, giving the contracts to small businesses which employed 100 people in a program which aims to eventually provide 10,000 jobs.
Addressing green economy skeptics, Phaedra said the numbers are hard to argue with. Wind industry jobs jumped to 85,000 in 2008, a 70 percent increase from the previous year. By contrast, the coal industry employed about 81,000 workers in 2007, part of a steady decline.
"The reality is [old] industries aren't working for most Americans, and most American's aren't working for those industries."
Calling all HuffPost superfans!
Sign up for membership to become a founding member and help shape HuffPost's next chapter