Welcome to "WTF, CSA?" Periodically, throughout this CSA season, we'll help you make use of your overflowing CSA baskets. You ask, we answer. That's how this works. Or rather, you shout, "WTF?" into your CSA box and now we're going to tell what on earth to do with all that green garlic.
Around this time of year, in farmer's markets and CSA boxes alike, one of our favorite things on earth happens -- green garlic comes into season. Although green garlic (or spring garlic as it is sometimes called) sounds exciting and exotic, the truth is that it's just the young version of the garlic that we all know and love. Before your garlic divides itself into separate cloves, is picked and dried and sent off to supermarkets all over the world, it starts out as a green plant, with a stalk, leaves and the garlic scapes we dealt with previously for "WTF, CSA?". There are a lot of things to love about green garlic, but we want to highlight two of the biggest ones today:
Green garlic can be used anywhere you'd use regular garlic, but it will impart a slightly less intense, slightly more verdant flavor to whatever you put it into. We often end up using a little more green garlic than we would regular garlic in recipes, but it is also important to note that we really love garlic.
Our favorite thing about green garlic is that the whole plant is edible, from bulb, to stalk, to leaf, to scape. The higher up you get on the stalk, the woodier it usually gets -- once it gets to the point where it would be too tough to chew, cut it off and toss that portion into the bag of vegetable scraps you keep in the freezer for stock. You're all doing that, right?
Although green garlic is great in just about everything, we especially love to make recipes that highlight the specific, springy, summery qualities of this onion family member. We've found some amazing ideas below, but let us know if you have a favorite way to use green garlic in the comments!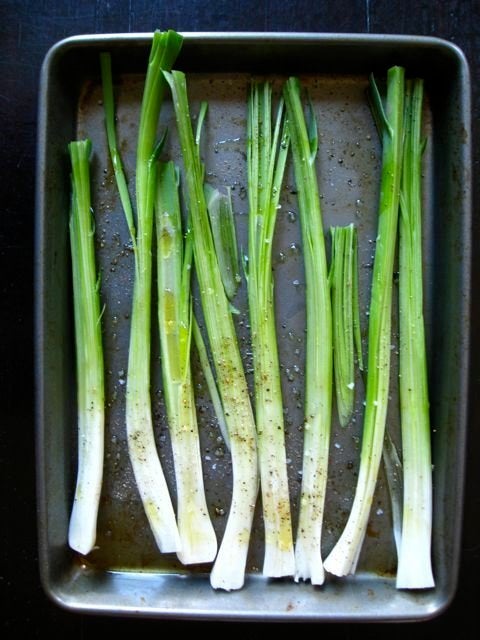 Green Garlic Recipes
Support HuffPost
A No-B.S. Guide To Life
Related
Popular in the Community