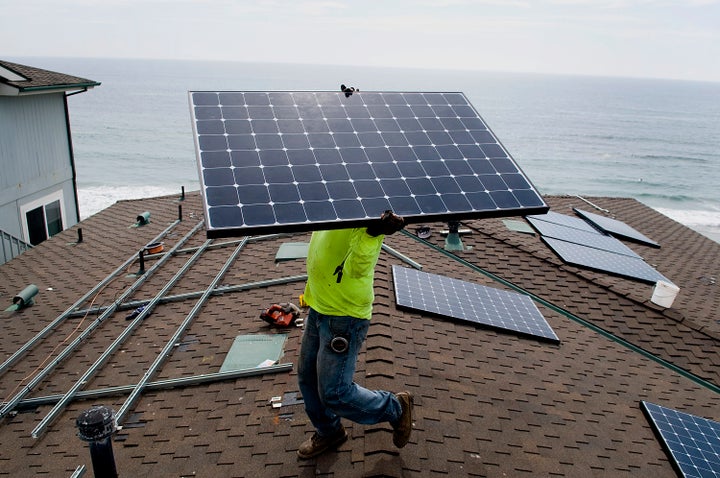 But a movement now gaining steam among 2020 Democratic hopefuls could challenge the age-old axiom that good-paying jobs conflict with reducing the fossil fuel emissions roasting the planet.
On Friday, the DNC voted overwhelmingly to approve a resolution, proposed by Chairman Tom Perez, that the party "support[s] fossil fuel workers" and will accept donations from "employers' political action committees." The vote effectively reversed a resolution the DNC adopted in June banning fossil fuel industry donations. The new resolution came in response to what the DNC described as "concerns from Labor" that the original resolution "was an attack on workers" at a time when Republicans are scoring a historic string of victories to weaken unions.
Just 4.4 percent of workers in coal, oil and gas extraction are union members, and organized labor represents just a sliver more, at 4.8 percent, according to Bureau of Labor Statistics data from January.
But powerful building trades unions ― including the International Brotherhood of Electrical Workers, the United Brotherhood of Carpenters and Joiners of America and the North America's Building Trades Unions federation ― remain vocal supporters of pipeline projects. It's easy to see why. Welding inspectors average nearly $36 per hour, equipment operators and construction foremen net about $25 per hour, welders earn roughly $22 per hour, data from the salary comparison site PayScale show. Annual salaries for project managers average more than $95,000, operations managers take home nearly $86,000 and project engineers earn about $78,000.
By contrast, the median hourly wage for solar installers on PayScale rose to just over $16, and salaries average out to about $40,000 a year. The Solar Foundation found that hourly wages averaged $20 per hour for mid-level installers and $38 per hour for project development supervisors. Wind turbine technicians, per the Bureau of Labor Statistics, earned salaries of less than $54,000 per year in 2017, and hourly wages of $25.91.
But pipeline jobs are temporary. The controversial Keystone XL, for example, would create just 35 permanent jobs. At a time when planet-warming emissions are hitting record highs and deadly billion-dollar hurricanes and wildfires are reaching unprecedented levels, scientists say the best hope for averting the most cataclysmic effects of climate change rests in ending fossil fuel use by 2035.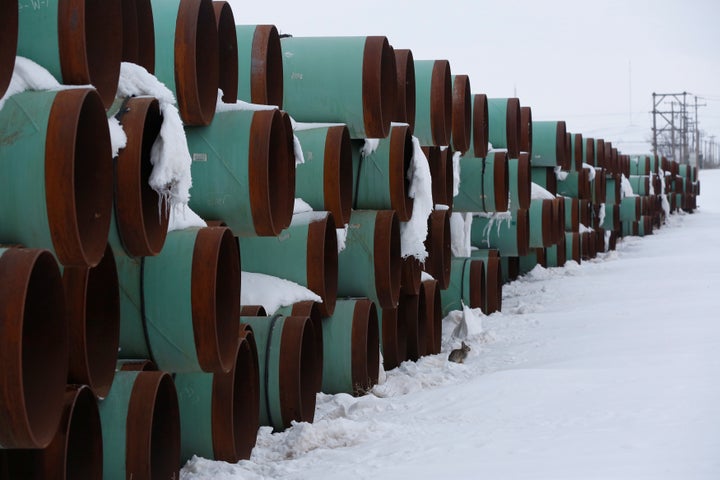 So, what if the years-long effort to meet that goal by rapidly scaling up renewable energy across the country included guaranteed union-wage jobs to millions of Americans?
"If we could guarantee full employment and guarantee every American a job because we believe that is something people need to live dignified lives, and say that a big part of that is going to be putting America to work fighting climate change and protecting our environment for future generations, we could end the jobs-versus-environment debate once and for all," said Evan Weber, national policy director for the climate justice group Sunrise Movement.
In March, Sen. Kirsten Gillibrand (D-N.Y.) told The Nation that "guaranteed jobs programs, creating floors for wages and benefits, and expanding the right to collectively bargain are exactly the type of roles that government must take to shift power back to workers and our communities." In April, Sen. Cory Booker (D-N.J.) announced legislation to lay the groundwork for a federal guarantee with a powerful cadre of co-sponsors, including Gillibrand, Sens. Jeff Merkley (D-Ore.), Kamala Harris (D-Calif.) and Elizabeth Warren (D-Mass.).
Later that month, Sen. Bernie Sander (I-Vt.) outlined his own bill to guarantee a job to every American worker "who wants one."
Think-tank proposals to flesh out the policy vary in cost. The liberal Center for American Progress staked out the most limited but cheap proposal to guarantee $15-an-hour jobs to roughly 4.4 million workers without college degrees: about $158 billion, "approximately one-quarter of Trump's proposed tax cut for the wealthy on an annual basis." The nonpartisan Levy Economics Institute, whose analysis Sanders used, pegged the cost at $378 billion a year in the first five years, rising to $415 billion in the second five years. A similar job guarantee set out in a paper commissioned by the nonpartisan Center on Budget and Policy Priorities estimated the cost at $543 billion a year, or just under 3 percent of the gross domestic product.
"Look, we know guaranteed jobs are popular, and we know that green issues are popular. It makes sense that putting them together would also be popular"
The Center on Budget and Policy Priorities proposal already has strong public support, with 55 percent of eligible voters across party affiliations in support and only 23 percent opposed, according to a YouGov survey this year that the left-leaning polling outfit Data for Progress commissioned.
Earlier this year, the analytic firm Civis Analytics polled American across the political spectrum on the question: "Democrats in Congress are proposing a bill which would guarantee a job to every American adult, with the government providing jobs for people who can't find employment in the private sector. This would be paid for by a 5 percent income tax increase on those making over $200,000 per year. Would you be for or against this policy?" The results were similar: 52 percent of respondents in support and 29 percent opposed.
Support is even higher for policies to reduce climate pollution and increase renewable energy capacity, even if it comes at a cost. Sixty-one percent of Americans who voted for Obama in 2012 and then for Trump in 2016 supported requiring a minimum amount of renewable fuels even if it increased electricity prices, according to Cooperative Congressional Election Study's 2016 survey, which Data for Progress analyzed for HuffPost. That soared to 76 percent among voters who picked Obama in 2012 but sat out the 2016 race, and it climbed to 85 percent among those who voted for Obama and, in 2016, for Democratic nominee Hillary Clinton.
The data showed similar support for strengthening enforcement of the Clean Air Act and Clean Water Act, even if it meant fewer U.S. jobs. Fifty percent of Obama-and-Trump voters said they would back such regulations, a number that rose to 77 percent among voters who picked Obama and then sat out the 2016 election, and 83 percent for Obama-and-Clinton voters.
Sean McElwee, the co-founder of Data for Progress, said preliminary analysis of as-yet-unreleased polling his group plans to publish in the coming weeks "suggests a green jobs guarantee may be more popular than a jobs guarantee in general."
"Look, we know guaranteed jobs are popular, and we know that green issues are popular," he said by phone Friday. "It makes sense that putting them together would also be popular."
A proposal marrying those two policies is emerging. Dubbed the "Green New Deal," a reference to the 1930s spending programs that helped pull the United States out of the Great Depression, the policy made its way onto the platforms of a handful of progressive candidates this election cycle. Alexandria Ocasio-Cortez, the likely next representative for New York's 14th Congressional District, called for "the investment of trillions of dollars and the creation of millions of high-wage jobs." Kaniela Ing, the state lawmaker running in Hawaii's 1st Congressional District election on Saturday, echoed that call in June, promising to fight for the "massive investment to the tune of anywhere from $1 to $1 trillion."
"The backbone of this proposal will be a jobs guarantee," he told HuffPost in June. "There's so many jobs out there that the private sector won't create that would literally help protect our planet and save us from impending climate doom.
Before You Go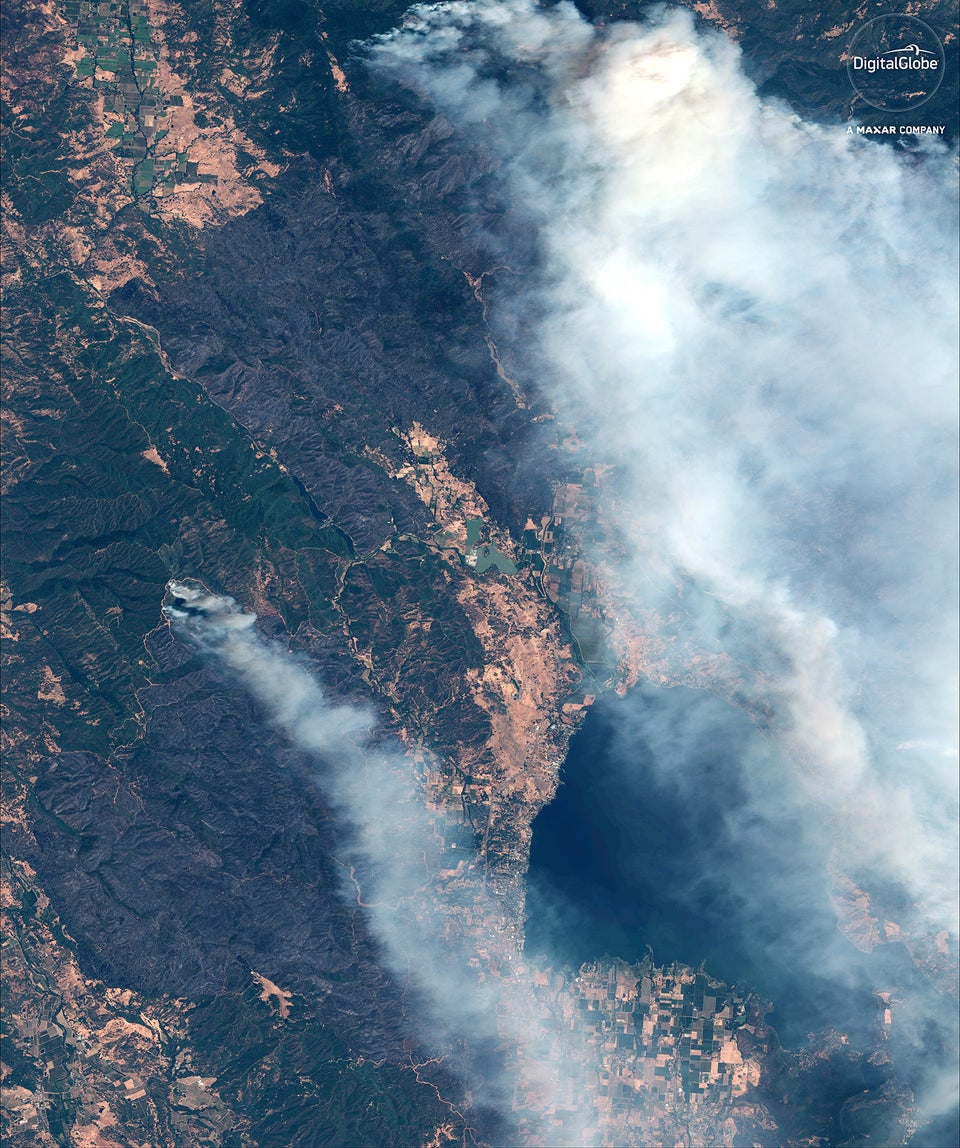 California Wildfires From Space
Popular in the Community