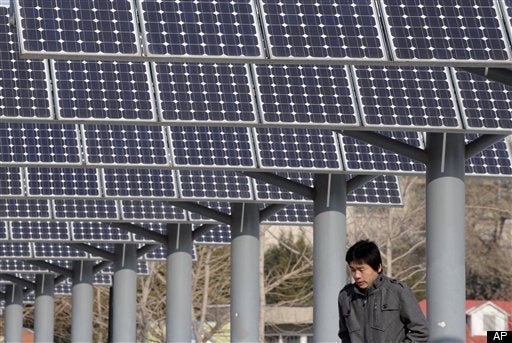 The #1 argument by corporations and politicians who oppose reducing pollution, fighting climate change and moving America to a cleaner, greener, more sustainable future is that doing so will cost the country jobs and hurt the economy. In fact, since many corporations and politicians claim to believe that climate change is a serious issue that must be dealt with (eventually), the "sustainability = job killer" argument is essentially the only one they have.
And it's a lie -- scaremongering from dirty energy companies so they can keep polluting at current levels, protect their unsustainable energy monopoly and maximize their short-term profits. They claim that responsibly cleaning up their own poisonous mess -- instead of "socializing" the cost of dealing with it by spewing it into the air or dumping it in our oceans and streams -- will force them to raise energy rates. This is a way to blackmail small businesses into defending the status quo and joining their efforts to kill any legislation that promotes efforts to reduce pollution or invest in sustainable energy. But the dirty energy companies are simply fighting to be the last of the dinosaurs, forestalling the inevitable day when they join the fossils that created their fortunes.
The green economy isn't some untested theory or pie-in-the-sky fantasy -- it's already here, and it's kicking butt. So here are some links that show why reducing pollution and embracing sustainable energy and green technology will create jobs and give our economy the boost it needs.
If you think the green economy won't create jobs, you might want to tell those dirty hippies at the multinational bank HSBC, who found this in a 2009 report:
Global revenues from climate-related businesses such as energy efficiency rose by 75 percent in 2008 to $530 billion and could exceed $2 trillion by 2020, HSBC Global Research estimated on Friday.

In the 2006 Stern Review on the economics of climate change, climate-related revenues were forecast to climb to $500 billion by 2050.

"We can see that this seemingly huge figure has already been surpassed well ahead of time as more and more businesses adapt their business model," said Joaquim de Lima, global head of quant research for equities at HSBC.
You also might want to tell the Chinese. A January New York Times article found that China's decision to become the leader in producing solar panels, wind turbines and other renewable energy technologies is paying off:
Renewable energy industries [in China] are adding jobs rapidly, reaching 1.12 million in 2008 and climbing by 100,000 a year, according to the government-backed Chinese Renewable Energy Industries Association.
The Pew Charitable Trusts released a report finding that, despite "a lack of sustained government support", America's clean energy economy grew two and a half times faster than overall jobs from 1998 to 2007.
Pew found that jobs in the clean energy economy grew at a national rate of 9.1 percent, while traditional jobs grew by only 3.7 percent between 1998 and 2007. There was a similar pattern at the state level, where job growth in the clean energy economy outperformed overall job growth in 38 states and the District of Columbia during the same period.

A group of economists at Economics for Equity & Environment released a study this week that found that reducing emissions, becoming energy independent through clean energy and embracing the green economy would generate net job growth. The study goes on to debunk many of the myths that say reducing emissions and investing in the green economy would hurt the larger economy. A study by the Union of Concerned Scientists came to the same conclusions about the green economy generating job growth, as did a recent study conducted by UC Berkeley that examined the effects that implementing the Global Warming Solutions Act (AB 32) would have on California's economy.
But the clean, green gravy train is leaving the station, and if America isn't careful, we could miss it. Michael Northrop tells us that "the clean energy gold rush" has already begun. However, due to a lack of policies to provide a stable marketplace for green tech investment, we're letting that $2 trillion slip through our fingers:
Even with growing unemployment, America seems incapable of recognizing a golden opportunity. With no goal or effective policy framework, not only are we shipping oil dollars to the Middle East, we are watching our solar, wind, and other renewable energy dollars begin flowing to Asia. -snip-

Without the economic security of guaranteed purchase contracts, companies will keep relocating overseas. Evergreen Solar, an up-and-coming solar manufacturer in Massachusetts, recently disclosed all of its manufacturing will be based in China.

So don't let yourself or anyone else be fooled by the dirty energy industry's lies. They want our heads in the tar sands because relying on fossil fuels makes them money, regardless of what it does to the environment, your health or anything else. And they're not the only ones. As Thomas Friedman wrote in a NYTimes op-ed this week:
Indeed, I suspect China is quietly laughing at us right now. And Iran, Russia, Venezuela and the whole OPEC gang are high-fiving each other. Nothing better serves their interests than to see Americans becoming confused about climate change, and, therefore, less inclined to move toward clean-tech and, therefore, more certain to remain addicted to oil.
Support HuffPost
The Stakes Have Never Been Higher
Related
Popular in the Community