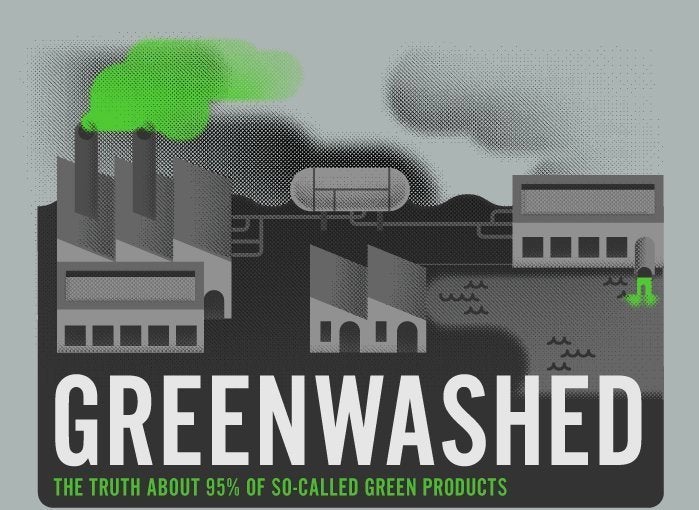 Sometimes a headline grabs your attention and holds it for some time because its implications are instantly clear. That's what happened when I saw "Consumers Don't Trust Green Product Claims, Survey Says," in a recent Environmental Leader newsletter. For all those brands and organizations wanting a piece of the complex, multi-segment, multi-racial, multi-cultural, sometimes-bilingual U.S. Latino market, the findings in this survey have some profound implications.
As a Latina mother, consumer, author, speaker and marketer focused on green economy innovation and entrepreneurship, I was simultaneously elated and discouraged, yet curious and inspired. Here's why.
Elated: "Eight in ten Americans don't believe companies are addressing all of their environmental impacts, and only 44 percent trust companies' green claims." Good! I'm happy to hear greenwashing isn't working and that consumers want corporations making the stuff they buy to ACTUALLY address their environmental impacts instead of simply throwing a "green" image on a product and expecting it to sell. Before a company dares to slap a "green" image or label on something, they should absolutely be certain their supply chain, their operational sites, their resource consumption, their energy consumption, etc., are actively practicing reduce, reuse, recycle (and let's not forget "rot" through on-site composting of organics). Live it before you market it.
Discouraged: Studies like this remind us that there's still a LONG way to go until the vast majority of consumers make their consumption decisions as if the planet matters.
Curious: Take these findings and overlay them over the $1.3 trillion purchasing power of the American Latino consumer community. This is a highly skeptical community, generally speaking, but one with deep cultural connections to the earth, to creative reuse and to conservation. Do you see the potential train wreck for brands and organizations wanting a piece of the huge and growing Latino pie? We tend to not believe what is marketed to us anyway. We tend to mistrust until trust is earned -- call it a cultural thing. But try to greenwash us -- you will lose our trust forever.
I have interviewed many highly educated, environmentally conscious Latinos in my work. One of them is an engineer who spent his childhood in a California migrant camp. Humberto's community and family taught him to conserve scarce resources, to creatively reuse, to give objects a second and third life whenever possible. Today, although quite successful after a long professional career in Silicon Valley, he practices a level of conservation we should all aspire to do; it's in his blood.
Humberto Rincon said it point blank,
Today's environmental movement is a commercial one. Things that are true conservation are not really new. It's what I have done my whole life. I have this small garden at my home. I reuse lumber. Today people see you reusing things and label you a miser. But I just will not throw things away that can serve another purpose. I stay focused on waste reduction and minimizing our carbon footprint.
Now do you see the train wreck? There are a lot of Latino consumers such as Humberto (I include myself) who grew up practicing the true "green" -- conservation, reduction, reusing. Do you think we're going to believe a green marketing claim just because there's a picture of a mountain or a tree on your package or website? Not a chance.
These observations point to the rapidly increasing need for genuine, culturally-relevant, AUTHENTIC marketing by sustainable brands to ensure their green marketing messages are connecting and not feeding the skepticism. Take into account the demographic changes afoot. Imagine the year 2030 when one of every four Americans is of Latino descent. Imagine what the sales numbers might look like for a so-called eco-friendly product counting on increasing revenue from the expanding Latino market, but imagine that the product is barely green or not at all and the truth is discovered. Train wreck indeed, which brings me to inspired.
Inspired: "...as many as 77 percent would be willing to boycott if misled." I immediately recalled the national uproar (and petition-signing) that occurred when millions of America mommies learned that baby bottles being marketed and sold as "BPA-free plastic" were actually found to contain BPA. Page 5 of the report shows that "If consumers feel an environmental claim is misleading, they will..." Two choices were offered to respondents: "Stop buying the product (77%)," and "Continue buying the product (23%)." I'm suggesting that if a survey like this was done to survey Latino consumers, a third option should be added, "Stop buying the product, log onto Twitter and tell 3,000 comadres about the lie."
Businesses that want to be believed by consumers should study the practices and messaging of truly authentic deep green business founded by entrepreneurs with life-long environmental values.
Example: Chicago's sustainable packaging leader, Salazar Packaging, is celebrating its fifth year in operation. It sources from recycled materials and high post consumer waste (PCW) content. One hundred percent PCW assures customers the packaging was made of previously used materials, no new materials -- truly, deeply, green products. They remind the packaging industry of the R of "REUSE." They innovate ingenious solutions to slash resource usage by making boxes reusable (they invented the fully reversible corrugated cardboard box). After 20 years in the wasteful packaging industry, veterans Dennis and Lenora Salazar decided they could do better, bringing only "authentically green" products to market, creating the Global Guard brand to distinguish this line from all others, then very importantly, influencing their competitors to adopt these practices and use the brand to build consumer trust. They also blog about organizations they discover to be greenwashing, providing a public service to us all.
My advice to sustainable brands (and those that want to be perceived as such) as you address the complex, skeptical Latino market: study the green economy entrepreneurs and innovators who are Latinos. Emulate their practices. They will teach you many critically important lessons you can adopt immediately to address these highly skeptical, yet highly attractive, growing market segments.

Related
Popular in the Community