Voters who cast ballots in the midterm elections overwhelmingly support giving unemployed Americans green jobs and charging companies pollution fees for greenhouse gases, a new poll found.
In a nationwide YouGov survey, 38 percent of respondents said they "strongly" support giving any unemployed American who wants one a job "building energy-efficient infrastructure." Forty-six percent said they strongly support levying pollution fees on "companies that emit high levels of greenhouse gases."
Add in the people who said they "somewhat" back such policies, and the support levels surge to 66 percent for both ideas. Subtract those who somewhat or strongly oppose the policies, and the net support for a polluter fee came to 48 percent, and the net support for such green jobs came to 54 percent.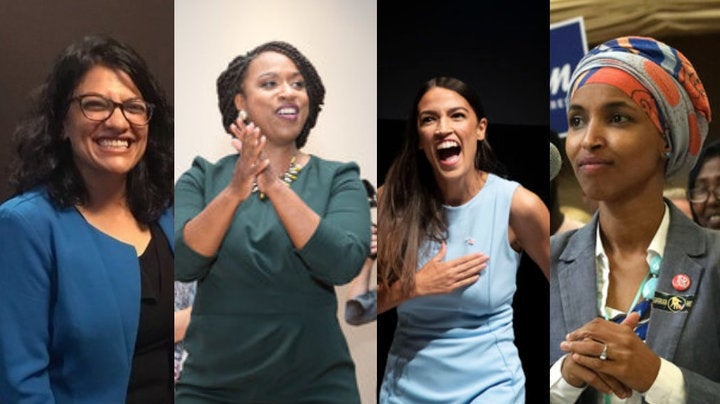 The survey of 3,215 people who said they'd voted in the midterms, conducted between Oct. 27 and Nov. 7, found that 22 percent neither supported nor opposed the green jobs idea or didn't know. That figure was 16 percent for the polluter fees.
Democrats were more likely to back both ideas. Seventy-five strongly supported a polluter fee and 56 percent favored the green jobs proposal ― numbers that jump to 90 percent and 83 percent, respectively, when those who somewhat support the policies are added.
Just 15 percent of Republicans strongly supported a polluter fee and 18 percent felt similarly about green jobs. But much larger percentages somewhat backed the ideas. In total, 40 percent of Republicans expressed at least some support for a polluter fee and 48 percent at least somewhat endorsed the green jobs policy.
"It's encouraging that 40 percent of Republicans would support and only 36 percent would oppose a polluter fee," said former Rep. Bob Inglis (R-S.C.), now the executive director of RepublicEn, a group that urges Republicans to support a carbon tax.
As for the jobs plan, Inglis said, "Given that we are at or near full employment, the green jobs concept seems a bit distant from our current reality."
"As 2020 rolls around, the dearth of top presidential contenders talking about climate change is increasingly worrying."
The survey was commissioned by Data for Progress, a left-leaning think tank that shared the findings with HuffPost.
"As 2020 rolls around, the dearth of top presidential contenders talking about climate change is increasingly worrying," said Sean McElwee, the co-founder of Data for Progress. "It's a popular issue that resonates with an increasingly young electorate and I'm fucking baffled as to why no one is proposing anything more aggressive than making corporations disclose climate risks."
The survey results were released on Tuesday, the same day that grassroots demonstrators stormed House Minority Leader Nancy Pelosi's office demanding that Democrats adopt the "Green New Deal" ― a sweeping federal spending plan to drastically shrink carbon emissions, guarantee jobs constructing infrastructure for renewable energy and retrofit buildings to be more energy-efficient ― when they assume the majority in the House next year. The results also came out as the deadliest wildfire in modern California history rages in what once was the state's rainy season.
One climate scientist said the Green New Deal represents "the sort of bold and audacious thinking" that might actually offer hope of keeping global temperatures from rising no more than 2.3 degrees Fahrenheit above pre-industrial levels, beyond which much of the world's major cities could become uninhabitable.
But so far the Green New Deal is only backed by a small contingent of newly elected Democratic climate hawks.
On Tuesday morning, Alexandria Ocasio-Cortez, the representative-elect from New York's 14th District, joined nearly 200 protesters, 51 of whom were arrested when they staged a sit-in at Pelosi's office. A day earlier, she unveiled a resolution calling on the Democratic congressional leadership to champion the Green New Deal and to refuse donations from the fossil fuel industry.
"We live this every day, this existential fear of what the future holds," said Varshini Prakash, founder of Sunrise Movement, the grassroots climate justice group that organized the protest. "Meanwhile, Democratic establishment politicians have taken hundreds of thousands of dollars in fossil fuel campaign contributions and have completely failed to actually back a program at the full scope and scale of the crisis."
Ocasio-Cortez is among the five or so incoming House members who will form a new wing of the Democratic Party calling for a Green New Deal. The others include Minnesota's Ilhan Omar, Michigan's Rashida Tlaib, Massachusetts' Ayanna Pressley and New York's Antonio Delgado.
The Green New Deal has yet to gain serious supporters in the Senate, where the Democrats' top climate hawks have proposed moderate policies to cut greenhouse gas emissions, such as a carbon tax that actually lowers corporations' taxes and a 100 percent renewable energy bill that lacks a clear economic roadmap for achieving its goal.
Despite the congressional foot-dragging, Katharine Hayhoe, a climate scientist at Texas Tech University, said the new survey findings are "not surprising at all."
"We've seen public opinion trending in this direction for years now," she said. "So why don't we see more action? Because when it comes time to vote, these issues are at the bottom of people's priority lists."
Popular in the Community