'Green News Report' is six minutes of independent green news, politics, analysis and snarky comment - heard on many fine radio stations around the country. For additional info on stories we covered today, plus today's 'Green News Extra', please click right here to listen!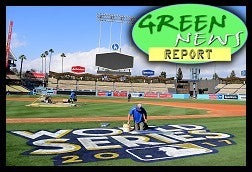 IN TODAY'S RADIO REPORT: New report finds pollution kills more people every year than war, disaster or hunger; US Senate to vote on disaster relief for hurricane victims; EPA censoring climate science and government scientists; PLUS: It's the hottest World Series in professional baseball history --- literally... All that and more in today's Green News Report!
IN 'GREEN NEWS EXTRA' (see links below): Puerto Rico considers privatization for island's generation; Whitefish: Small Montana firm lands Puerto Rico's biggest contract to get the power back on; EPA to repeal emissions standards for large trucks; Video: War on the EPA; EPA shifts on toxic chemicals after installation of chemical industry executive; Ex-FERC commissioners slam DOE Perry's bid to subsidize coal; NH senators question EPA over findings on toxic NH landfill; Congress moves to gut Antiquities Act protecting America's treasures; Oil terminal backers pour money into Washington State race; What you should know about GOP move to drill in ANWR; Flying insects vanish from nature preserves... PLUS: As dams burst, Trump seeks to gut new, key dam safety rules... and much, MUCH more! ...
Huffington Post's platform doesn't allow you to listen our newest report on this site, so please click here to check out our latest thrilling episode!
REAL LIFE. REAL NEWS. REAL VOICES.
Help us tell more of the stories that matter from voices that too often remain unheard.
This post was published on the now-closed HuffPost Contributor platform. Contributors control their own work and posted freely to our site. If you need to flag this entry as abusive,
send us an email
.