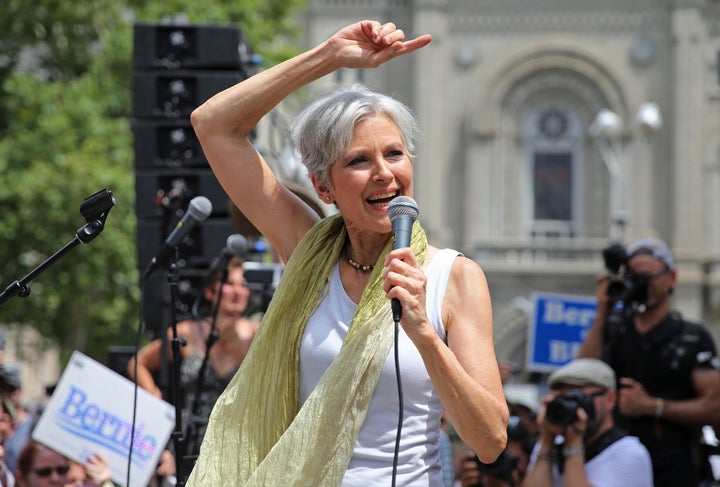 HOUSTON ― The Green Party officially nominated Massachusetts physician and progressive activist Jill Stein as its presidential candidate on Saturday, also selecting human rights activist Ajamu Baraka as her running mate.
"We are what democracy looks like and we are what political revolution looks like," Stein said accepting her party's nomination. Stein also served as the party's standard-bearer in 2012, when she received .9 percent of the national popular vote.
The radically progressive ticket faces a near-impossible climb electorally, as the Green Party only currently appears on ballots in 21 states and territories, though that number may grow as ballot registration deadlines are reached over the next month. However, the party has already been excluded from the ballot in Indiana, North Carolina and Oklahoma.
Green Party officials hope that historically high disapproval ratings of the two major parties' candidates, buoyed by disillusioned supporters of Sen. Bernie Sanders' (I-Vt.) presidential campaign, will give the party its highest turnout yet.
However, party officials and activists readily admit they don't expect to win in November. In a questionnaire submitted to the party by Stein, the candidate wrote that she hoped to "Multiply the Green Party vote totals several-fold over 2012" and "Establish the Green Party as the preeminent progressive opposition party to the bipartisan establishment in Washington."
Recent polling suggests Stein is poised to fare better in 2016 than in her first run and she is averaging roughly 4 percent in polls. However, her numbers have trailed the other major third-party candidate, Libertarian Party nominee Gary Johnson, who has averaged around 8 percent. Perhaps more notable for Green activists, a recent survey from McClatchy finds Stein pulling more support from voters under 30 than GOP nominee Donald Trump, coming in third with 16 percent.
"I want to recognize the people coming out of the Bernie Sanders campaign who helped launched a revolutionary political movement," Stein told the assembled delegates on Saturday morning during remarks by the party's presidential candidates. "[T]here will be no stopping you and no stopping us until we have achieved that change that we have all put on the platform together."
"On the day that Bernie Sanders endorsed Hillary Clinton, the floodgates opened on our campaign."
"On the day that Bernie Sanders endorsed Hillary Clinton, the floodgates opened on our campaign," Stein said in her acceptance speech.
"Now that they got Bernie Sanders out of the way, they're going to focus on us!" Iowa delegate Wendy Barth contended.
Officials with the Stein campaign and Green Party spent far more of the convention appealing to Democrats disillusioned by Hillary Clinton's campaign than Republican disillusioned by Donald Trump's, a not very surprising development given the party's liberal platform.
Convention speakers directly criticized Clinton far more often than Trump, attacking the Democratic nominee for her support of the 2003 invasion of Iraq and ties to Wall Street.
"We are hungry for a woman president," said one delegate during the party's roll call vote, "but not a war-hungry corporate criminal."
Other speakers at the convention made more pointed appeals to wayward Sanders supporters. "The leader of your revolution has sold you out to a corporate shill warmonger," one Green presidential candidate, Kent Philip Mesplay, told the crowd Saturday morning.
YahNe Ndgo, a progressive activist and former Sanders supporter, accused the Vermont senator of "sheepdogging for Hillary and the Democrats in 2016."
"We cannot be beholden to Bernie Sanders," Ndgo told the convention.
In addition to selecting the party's presidential ticket, the Green delegates also codified the party's platform, which includes planks on dramatically ramping up efforts to combat global warming, ending mass incarceration and reducing domestic and foreign surveillance. It also features platform items that fall well to the left of the Democratic Party, including calling for reparations for descendants of slaves and condemning Israel's occupation of Palestinian territory.
The Green Party has not been without its share of controversy this election cycle. Stein has come under fire recently for comments that affirmed the science of vaccinations but echoed language used by anti-vaccine activists, as The Huffington Post's Anna Almendrala noted earlier this month.
"Like any medication, [vaccines] also should be — what shall we say? — approved by a regulatory board that people can trust," Stein told the Washington Post in July.
Looking ahead, party officials say one of Stein's best hopes to gain traction will be to appear in the presidential debates this fall. A lawsuit brought by the Stein and Johnson campaigns against the Commission on Presidential Debates, the body that sets the number of debates and the rules governing them, was thrown out by a federal judge on Friday. Currently, the commission requires candidates to receive at least an average of 15 percent in five nationwide polls in order to participate.
Before You Go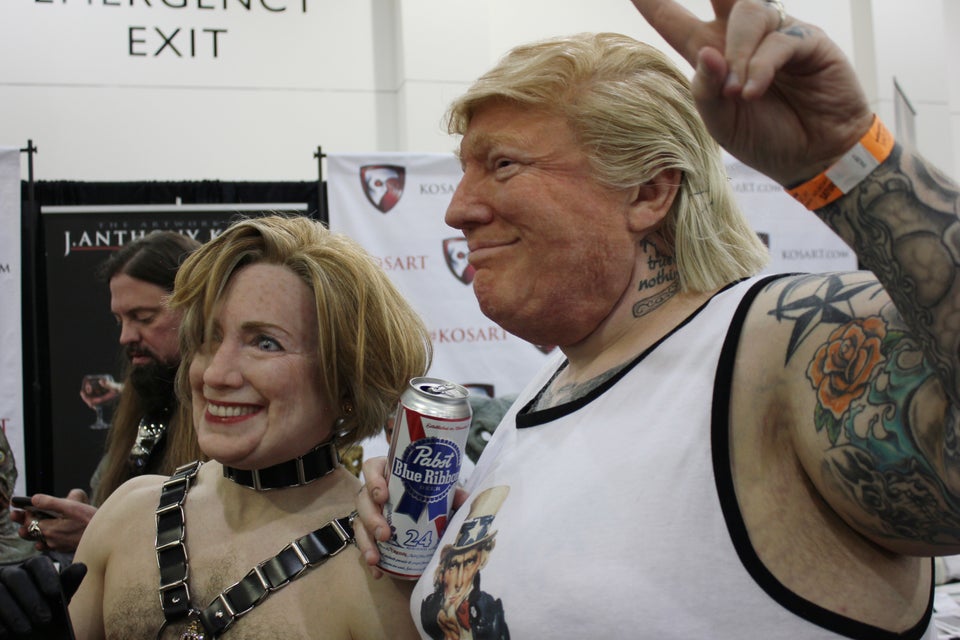 Creepy Hillary, Bernie and Trump Masks
Popular in the Community