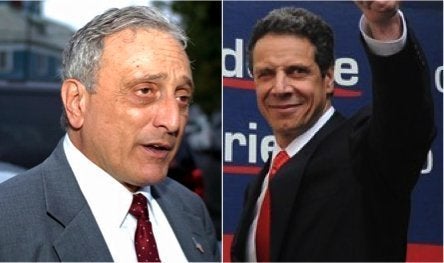 Green Party vs. Tea Party at Hofstra Gubernatorial Debate
On Monday, October 18, Howard Hawkins, the Green Party candidate for governor of New York, will face-off in a debate against two candidates vying for Tea Party support, Republican Carl Paladino and Democrat Andrew Cuomo. While Hawkins and the Greens have argued for a Green New Deal to end the economic crisis, unemployment, and environmental decay, Paladino and Cuomo are shouting about who is the real "Italian-American," who could do a better job cutting taxes for the affluent and vital social services for everyone else, whose extra marital affairs were more destructive to their families, and whether a man who made a fortune milking the state for millions of dollars in sweet-heart real estate deals (Paladino) or a man who has been a political insider since childhood (Cuomo), could best clean up corruption in Albany.
The Hofstra debate is sponsored by News 12 Networks, Newsday, and Hofstra University. It will air live on October 18 at 7 PM on News 12 Long Island, Westchester, Hudson Valley, The Bronx and Brooklyn and Time Warner Cable's NY1 and YNN.
Carl Paladino makes no bones about his attempt to stir up and manipulate populist unrest in New York State. His slogan is "I'm mad as hell." Paladino claims to be "a builder, not a career politician." He believes "New York State is in a death spiral" and the villain is "public employee unions." He is also pretty angry at gays and lesbians for claiming to be normal human beings. While Paldino claims to be an outsider, he is the former Chief Executive Officer of Ellicott Development Company, a real estate development company he founded in 1973. The company buys properties, builds stores, and leases them to national retail outlets such as Rite-Aid and government agencies. He was a registered Democrat until 2005. The New York Daily News called Paladino a "welfare king" (September 21, 2010). Paldino he collects more than $5 million a year in rent from various state agencies, making him the state's biggest landlord in western New York. As of last year, he had raked in almost $1.5 million in state tax breaks while spending just $1.1 million on fixing up Buffalo properties. In Buffalo, Paladino lobbied city officials to include his downtown properties in Buffalo's economic zone, which earned him $12 million.
Meanwhile, while Andrew Cuomo claims there is "no place in New York for Tea Party politics," he has accepted over $50,000 from David Koch, the Tea Party's biggest funder and political angel. Koch, whose $12.5 billion fortune makes him one of the richest man in New York, is the founder of the conservative advocacy group Americans for Prosperity which prides itself on training tea party activists. According to his website, Cuomo shares Carl Paladino's belief that one of the biggest problem facing New York is its employees. He wants to get "our State's fiscal house in order by immediately . . . freezing salaries of state public employees." However most of the state's unions are endorsing Cuomo as the lesser of two evils.
Hawkins and the Greens appear to be the only alternative to anti-union Tea Party budget-cutters Cuomo and Paladino. In their Green New Deal, proposal, the Green Party demands a living wage for all working families, cradle-to-grave Medicare, publicly owned and controlled banks to manage state pension money, housing subsidies and stronger rent control, and invest in environmentally friendly development. These include a ban on "hydrofracking" for natural gas and the construction of new "carbon-free" mass transit. Their full platform is available online at http://gpnys.com and http://www.howiehawkins.org.

Besides Hawkins (Green), Cuomo (Democrat), and Paladino (Republican), four minor party candidates have been invited to participate, although no one seems to know why. The Mouseketeers include New York City Councilman Charles Barron, who is running on his own Freedom Party line, Kristin Davis, candidate of the legalize marijuana and prostitution Anti-Prohibition Party, Warren Redlich, another rich guy who does not want to pay taxes is the Libertarian candidate, and Jimmy McMillan continues his long term protest again high rents in New York City.
Barron, who plays on gadfly role on the New York City Council, views his campaign as a protest because no Blacks were nominated for statewide office by the Democrats or Republicans, although the Green candidates for both New York State Senate seats are African America. So far, Barron has neither a campaign nor a website. McMillan at least has a great anti-rent rap on his website, although he offers little else. Meanwhile, Kristin Davis is the only candidate for Governor of New York to have served time at Riker's Island. According to here website,
"When I got out of jail I was broke, the government confiscated all of my money, I was unemployable because of the stigma prostitution has for women in the business but not men, and I was appalled after seeing both the criminal justice and corrections system up close."
Redlich is a lawyer who claims to be an entrepreneur who created a web directory of traffic courts. None of the four Mouseketeers has a clear idea why they should be Governor, but on the other hand, that did not stop Jesse Ventura in Minnesota or Arnold Schwarzenegger in California from getting elected.