It may be time for Fenway Park to relinquish its claim to the notorious "green monster."
The real monster, it seems, has headed south to Brazil for some quality time at the pool, lending the water at the Rio Olympics aquatics center an emerald green hue.
On Thursday, Olympics officials backtracked from their explanation Wednesday that a "proliferation of algae" had likely caused the greening of the diving pool. Now they're pinning the change on a chemical imbalance.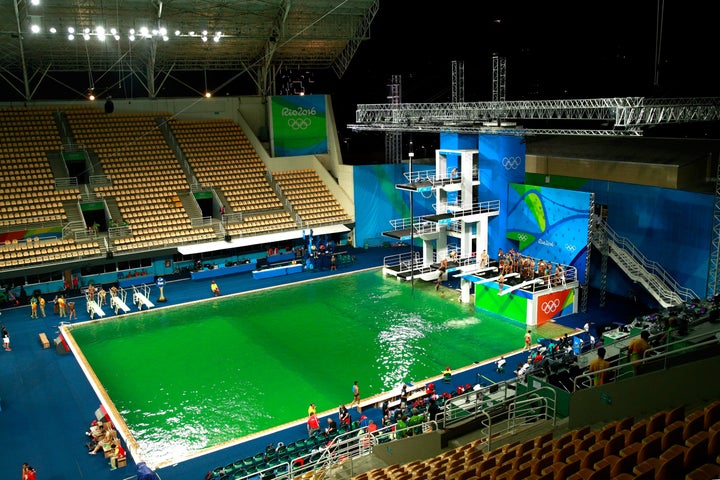 "There was a sudden decrease in the alkalinity of the diving pool for us, and that's the main reason the color has been changed," Rio 2016 spokesman Mario Andrada said at a press conference Thursday.
As he did the previous day ― before a second pool also turned green ― Andrada pledged that officials have corrected the problem and said the pool should return to its normal blue color shortly.
As Los Angeles Times reporter Nathan Fenno tweeted, the pools are already showing signs of improvement:
FINA, the international governing body that oversees aquatic sports, issued a statement supporting Olympic officials' diagnosis of the problem, saying "the water tanks ran out of some of the chemicals used in the water treatment process."
The water never posed a threat to athletes' health, the organization said.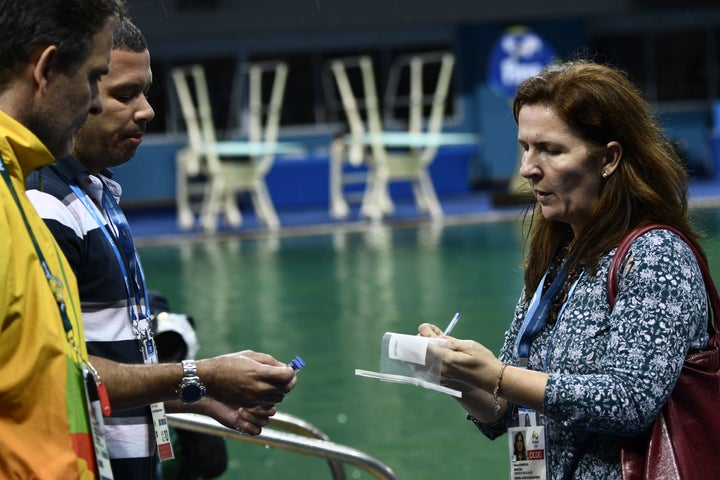 A chemical imbalance could certainly cause minerals and metals to become visible in the pool, especially if it's exacerbated by a high pH, said Nate Hernandez, a director at VivoAquatics, a company that specializes in managing large-scale aquatic installations.
He cautioned that just because the pool's color has returned to a more suitable color doesn't mean the root of the problem is fixed. "It's likely that there is a problem with the entire system of the pool, as given the probable treatment, they should have seen an improvement in the color by now," Hernandez said.
"To be honest, they should have been able to make a visible impact in 12 hours, and it's been 48 plus. At this point, it seems likely that the entire pool system is compromised," he added.
Athletes might not have been affected by the green water, but bringing the pool back to blue may not exactly be painless, Hernandez said.
"The bigger issue here is that, in the process of 'shocking' [adding a huge quantity of sanitizer], they have most likely used a tremendous amount of sanitizer and acids, which is having an obvious effect on the athletes," he explained. "Hence, many complaining of their eyes burning."
Yet Hernandez threw cold water on the theory that athletes changed the pool from blue to green by adding "yellow," so to speak.
"In terms of pee, it's impossible to say ― but it would have to be a lot," he said. "Much more than the athletes would be producing."
For more Olympics coverage:
Calling all HuffPost superfans!
Sign up for membership to become a founding member and help shape HuffPost's next chapter
BEFORE YOU GO
PHOTO GALLERY
Best Photos From The Rio Olympics