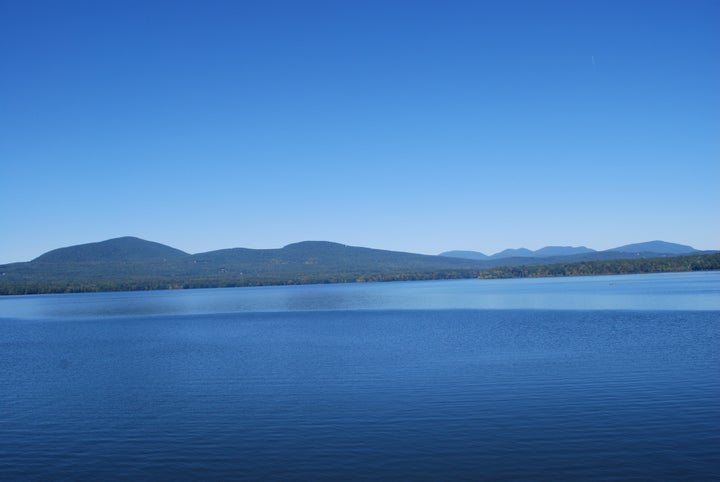 Lots of interrelated news happening on Thursday. Let's run down some of the highlights:
The folks at Forest Trends, an international coalition of conservation organizations, researchers and the forest products industry, released an update on Thursday to their ambitious 2008 analysis of global funding -- now topping roughly $8 billion -- for the protection of natural watersheds.
"Eighty percent of the world is now facing significant threats to water security," said Michael Jenkins, the president and chief executive of Forest Trends, in a statement accompanying the release of the new report. "We are witnessing the early stages of a global response that could transform the way we value and manage the world's watersheds."
Why is all this important? Take a look at New York City in the aftermath of Hurricane Sandy. The metropolitan area saw millions of people lose power, thousands of homes and businesses destroyed, and yet through it all, NYC residents enjoyed clean drinking water. That silver lining to the post-storm chaos, the authors of Thursday's report suggest, can be attributed to decisions made by city leaders in the early 1990's, when the upstate Catskill-Delaware watershed, which provides 90 percent of the city's drinking water, was under threat from nearby overdevelopment and agricultural and livestock runoff.
In most metropolitan areas, the solution to providing clean drinking water at scale has been industrial filtration systems -- and New York City leaders initially contemplated this for the deteriorating Cat-Del system, located to the west of the Hudson River and more than 100 miles north of the city. But then they had an inspiration: why not use a fraction of the billions is would cost to build and maintain a filtration system to prevent the naturally clean drinking water in the Cat-Del watershed from becoming contaminated in the first place?
By buying up and protecting acreage and working with local farmers to develop mutually beneficial pollution abatement programs on their farms, the city avoided the exorbitant and ongoing costs of a filtration plant, and today residents enjoy some of the nation's highest quality drinking water from the Cat-Del watershed, unfiltered and safe -- even when the power goes out.
The Forest Trends report sketches the flow of a generic watershed payment system like so:
This sort of solution, of course, isn't always feasible. "Creating an investment in watershed services program often includes a vast array of stakeholders, evaluation of a watershed, and other program costs," said Katherine Hamilton, director of Ecosystem Marketplace, a research arm of Forest Trends, and a co-author of the new study. "There are certainly many examples where governments or companies have decided not to utilize this model," she said. "For example, the city of Portland recently considered a storm water trading program and decided it was not the best fit for the city's goals and budget."
Still, the Forest Trends report identifies as much as $8.17 billion spent globally on 205 programs pursuing a common notion: it is often far less expensive to ensure the protection of natural lands and resources, and thereby prevent natural water supplies from becoming contaminated in the first place, than it is to pay to clean up that water after it's been spoiled. China is now leading the pack on this front, developing zoning programs and other holistic, ecosystem approaches into its most recent Five Year Plan.
Meanwhile, in other news ...
• Speaking of watershed protection, three major environmental groups -- the Natural Resources Defense Council, Oil Change International and 350.org -- will hold a press conference at the National Press Club this morning to "present damning new research about the Keystone XL pipeline and the development of tar sands." Among other things, the new study, the groups say, will show that "moving ahead with the pipeline would not only cause reckless expansion of the tar sands industry, but also will cause significantly more carbon emissions than anyone has reported."
As it happens, one of the other key concerns surrounding the pipeline is the fact that, should it ever spring a leak, it could threaten the Ogallala Aquifer in Nebraska -- a significant source or irrigation and drinking water for the American heartland.
I reached out to a representative of TransCanada, the company behind the Keystone XL project, for comment on the potential environmental and climate impacts of the pipeline. So far, no response.
• The announced departure of Ken Salazar has generated a good deal of commentary on his record as head of the Department of Interior and chief overseer of the nation's public lands. The resulting picture is, at best, mixed. "As interior secretary, Salazar had a complicated relationship with environmentalists," The Guardian writes. "As the executor of Obama's all-encompassing energy strategy, Salazar angered activists by approving coal and oil projects on public lands in the west, and allowing Shell to being drilling in Arctic waters."
But as I write today in a review of the environmental and climate challenges facing Obama over the coming term, it is a hallmark of this administration to be an equal-opportunity irritant. Case in point: The following comment, sent by email, from Rep. Rob Bishop, the Utah Republican and chairman of the Public Lands and Environmental Regulation Subcommittee, who castigates Salazar -- and the Obama administration writ large -- for not doing enough to facilitate oil and gas development on public lands.
Secretary Salazar was not a friend to my home state of Utah or other public lands states for that matter. Under his watch, the Department of Interior sought to impose historic new limits on access and multiple use of our nation's resources and worked aggressively to hinder certain types of domestic energy production. While Secretary Salazar does bear some of the blame for the Administration's particularly abysmal first four years, it is not entirely his fault. The fact that certain forms of energy were prioritized and favored and new land designations catered to certain types of users can be blamed on the fact that this Administration is beholden to radical special interest groups. My hope is that the next Department of Interior Secretary is a fellow westerner. It is equally important that whoever assumes the helm of the Interior recognizes the importance of multiple use and access and is willing to stand up to special interest groups looking to the Administration to impose restrictive new policies through executive fiat.
Most presidential administrations quickly learn that they can't please everyone. But the real question is, can they please anyone?
• Flowers in the eastern United States are blooming, on average, a month earlier in response to a warming planet, according to new research. The analysis "may help predict effects on important agricultural crops, which depend on flowering to produce fruit."
• And finally, your occasional but always worthwhile bit of enviro-video Zen. Today, a humorous look at how the British government might put an end to casual climate change skepticism:
Calling all HuffPost superfans!
Sign up for membership to become a founding member and help shape HuffPost's next chapter