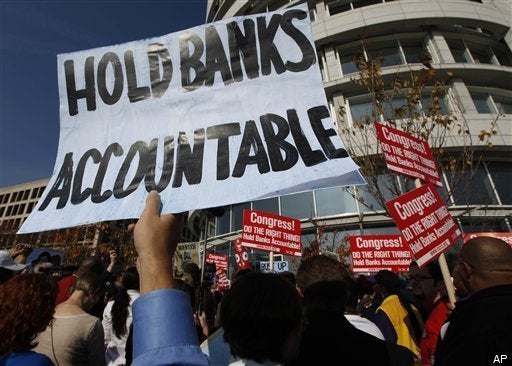 Co-authored by Scott Edwards, Director of Advocacy for the Waterkeeper Alliance
As the unemployment rate remains at an eye popping 9.7 percent (not accounting for those working under the table, underemployed, or working two part-time jobs), one of the biggest banks in the country, JPMorgan Chase, announced huge profits this week for the first quarter (up 55% from a year ago). NPR put it aptly this morning: "For the bankers of Wall Street the party seems to be on again."

While millions of people are struggling with everyday expenses, this week's quarterly earnings suggest that big banks are doing better than ever. In fact, at the end of last year it was revealed that the three largest banks to avail themselves of the Troubled Asset Relief Program (TARP) -- Goldman Sachs Group Inc., Morgan Stanley and JPMorgan Chase & Co. -- handed out nearly 30 billion dollars in bonuses in 2009. That was up 60 percent from 2008 and more than the previous high of $26.8 billion in 2007.

Apparently, as the rest of the country counts their pennies and tightens their belts, bankers are filling their pockets with the kind of money most people only dream of.
During the foreclosure and financial crises of last year, it became frighteningly clear that the nation's largest banks have an outsized role in the survival not only of our economy but also of our families and our futures.
It has also become clear that big banks have an outsized (and underexposed) role in the health of our environment and our climate. While taxpayers were bailing banks out of the financial crisis, banks have been busy funding the climate crisis.

Big Banks and King Coal in Bed Together
It is not often that we think about the impact that banks have on our environment and climate, but it is very real. In fact, big banks are key sources of financing for the fossil fuel industries, which are fueling the climate crisis as well as a myriad of human health problems caused by air pollution from the burning of coal and oil. Collectively, JPMorgan Chase, Bank of America and Citi underwrote almost $70 billion for the coal, oil and gas industries last year alone. Globally, banks poured $381 billion into the fossil fuel industry.
One of the most egregious examples is JPMorgan Chase's financing of coal mining, a leading cause of global warming emissions as well as a risk to public health and safety. JPMorgan is the lead U.S. financier of companies that engage in mountaintop removal coal mining, including the coal producer Massey Energy that owns the Upper Big Branch mine where 29 miners died tragically last week.

Essentially, big banks have been the ATMs of dirty energy, enabling devastating practices that compromise our climate, our environment and our health. While the country commits to a clean energy future, the nation's leading banks are using our money to keep us mired in a dirty energy past by funding infrastructure, like coal mines and coal-fired power plants, which will be in place for decades to come.
Banks and financial institutions, with trillions in market capitalization, could be key players in combating the impacts of climate change and supporting the investments necessary to move the world toward clean energy and a healthier planet.
But banks don't have to support our environment and our health out of the goodness of their hearts; they should to do it because it's good business.

The Securities and Exchange Commission (SEC) recently made it clear that climate change is a real business risk for investors . As a result, they are requiring that insurers publicly disclose climate risks to regulators and shareholders starting in May 2010. For banks, like shareholders and investors, climate change is going to become an ever-riskier business. If banks don't start thinking about the long-term impacts of bankrolling fossil fuels, they will be playing a very real role in foreclosing on our future much the way they have been foreclosing on our homes.
As customers, we have more options than big banks would like us to believe.

If your bank continues to make risky investments that are harmful to the nation's health and our long-term economic stability, there are credit unions and local banks that won't. By virtue of their smaller size, and, for some, their values, credit unions and local banks have much smaller carbon footprints and are far less likely to lend to big oil and coal giants. In addition, these banks tend to invest in their local economies, putting the money we put into them back into our communities. Banks like New Resources in San Francisco where Rainforest Action Network banks and Shore Bank in Chicago have climate policies that help to guide more environmentally conscious lending.
If we expand the account base for community banks, they gain greater lending power and stability while we send a very strong message to big banks that have become far too arrogant about their role in society.
If you choose not to move you money, you can use your role as a customer in a big bank to demand change. You can write your bank and ask that they publicly integrate climate risks into their core business and set targets to reduce global warming emissions in their lending portfolios. You can also demand that they take a visible stand and stop using your money to fund things like mountaintop removal coal mining.
In the 21st Century, we should all have the option to put our money in banks that reflect our values with their actions -- not just their advertising. Either your money can help a friend buy their dream house, or it can help pay for dirty energy practices like blowing the tops off mountains in Appalachia. Which sounds more like the American Dream?
Related
Popular in the Community