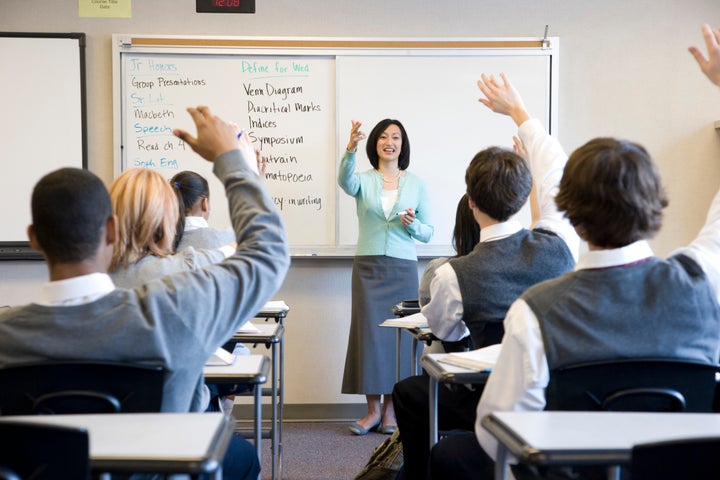 In just a few weeks in Denver, a conference that's leading an important national movement will take place. This movement has mostly so far flown under the radar; the Green Schools National Conference on February 27-29 will change that.
This event, where I will have the privilege of delivering a keynote speech, will bring together 1,500-2,000 K-12 school administrators, facility managers, educators, high school students, community organizers and business leaders who all share one passion: how to transform K-12 schools, programs, lunches, buildings, curriculum, energy needs, equipment, etc. to teach our children that environmental sustainability, renewable energy and innovation are paramount.
What's different this year, the second annual event, is that we'll be joined by none other than President Obama's Secretary of Education, Mr. Arne Duncan. The U.S. Department of Education announced last fall the Green Ribbon Schools Program, in a clear sign of the importance of this movement. The convergence of educational advocacy, environmental sustainability, innovation and entrepreneurship is a fabulous intersection. If you are a parent, teacher (or a future parent or teacher,) you may want to peek in on what's happening at this event in Denver next month. The changes will be transformational indeed where they happen. The case studies of the first schools to achieve Green Ribbon status, to become examples of excellence for others, will be worth emulating for economic, nutritional and environmental reasons, for starters.
Conference Producer Bretta Beveridge had this to say about why this conference now: "Until recently, those advocating the 'greening' of our schools were individual educators who had yet to find each other, let alone a collective voice. This event will show that the green school effort has become a national movement. We have arrived."
Think of the 15,000 plus school districts in this nation and the fact that in many cities, school districts are the largest land owners/operators. Think about the positive impact that running even a fraction of these districts (and their many buildings) on renewable energy can have on the surrounding environment and, very importantly, on a school's operating budget. Instead of paying from that budget to power the school, they can keep the money in the budget when project financing is done right. This is how Luis Rojas and Evergreen Energy Solutions do it for school district clients in southern California. You can read more about this innovation in this article titled "Harnessing the Sun's Power."
It's a fantastic time to be thinking about these types of solutions. The status quo is broken in many, many places in our national K-12 system; thank goodness there is leadership emerging to focus on this aspect and that it's on a national scale. As a mother of three, I care deeply about this transformation for all it can teach our children about how to think of solutions going forward, solutions that will touch all areas of their current and future lives. As the author of case studies that showcase the educational and professional journeys of today's environmental entrepreneurs, I am excited to bring these learning tools to this national audience. I look forward to inspiring educators and students alike to emulate the successful, proven paths of today's green economy innovators.
Is your school a model of environmentally responsible practices? Is it the opposite of a model? Do you have an after-school creative recycling/reuse club? Is your parent community heavily involved in bringing sustainability to the school? Is there opposition to change? Do your district's leaders know where to go to get the best information and best practices?
Related
Popular in the Community