Rahm Emmanuel, President Obama's chief-of-staff, famously noted that "you never want a serious crisis to go to waste." The dangers are falling back into old patterns and repeating the mistakes that brought the crisis on in the first place, or destroying everything simply because it was associated with the past, without regard for past successes or future possibilities.
Iceland appears to be wasting its crisis in the first way--tweaking the system in unimportant ways, but generally bumbling along as if nothing happened. The polls in Iceland indicate that the parliament that will be elected Saturday will bear a strong resemblance to the parliament that oversaw the greatest financial collapse of a First World country in modern times. No major institutional changes appear likely, though we may join the European Union at some point.
However, a new generation of entrepreneurs is rising that may lead us, eventually, to a new order, one divorced from the old elite and all the corruption that they thrived on.
Serial entrepreneur Einar Sigvaldason, CEO of the people matching and recommendations website Tellmetwin, is one of them. Tellmetwin.com, which connects users through personality tests and ratings of likes and dislikes, was recently selected as a winner by the prestigious Red Herring 100 Europe, which awards the top 100 private technology companies in the EMEA (Europe, Middle East and Africa) region. Einar, an MBA graduate of Berkeley who speaks five languages and volunteers for the Red Cross, is optimistic about the future of his company - and that of his country.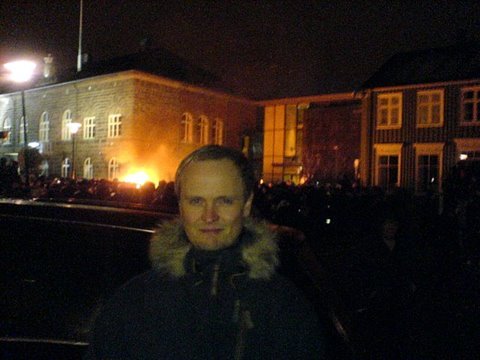 Einar's office is two minutes walk from Alþingi, the Icelandic Parliament in downtown Reykjavík. "As I walked to my car, I found myself in the middle of the only revolution Iceland has ever had, crowds of peaceful, ordinary people had gathered. The atmosphere was very special that day; there was a sense of phenomenal energy that I've never experienced before, and you knew something would give..." Photo credit: ESigv.
He says that since the collapse Iceland has experienced a boom in entrepreneurial activity. "Incubators are piling up, new companies are being founded, and every week there is a selection of events on innovation and entrepreneurship in Reykjavik. It wasn't like this before. I have been a part of one called Hugmyndaráðuneytið (Ministry of Ideas) where around 100 people gather weekly to educate and listen to each other. We want to form a future vision for Iceland to become a self-sustainable innovation hub that attracts both workers and venture financing from abroad."
Einar believes the economic downturn has in some ways been a blessing in disguise. "The insanity, the greed and the fascist-like silencing and corruption has had to make way for a more fertile thinking. If we think about it, the life us Westerners have been living in the last decade hasn't been that appealing. It didn't really produce a feeling of joy or content but rather one of lack, wanting and restlessness. I believe the current form of capitalism with its relentless quest for larger profit increase next quarter, has fallen, just as communism did twenty years ago. Not to say I want communism back, but our current values desperately need to be reconsidered."
Iceland, he says, should use this crisis as an opportunity to change things for the better. "All major traumas are succeeded with an opportunity to drastically change the old ways of doing things. This year and perhaps the next will be such an opportunity, then it will be less obvious and maybe only appear again that strongly after the next major recession twenty years from now. Given the major global crash of the ideology of big corporations and big banks and their interwoven cross related financial systems, mergers and takeovers, this opportunity has to be somewhere on the lines of innovation, new venture creation and small and medium sized companies. Let's do as Goggle did and activate the "long tail" (the masses). I think we here in Iceland have the right spirit and the right infrastructure to claim some form of a worldwide leadership in this respect, for example in the areas of green energy and clean technology. And we must do it now; if we don't do it in the next 18 months or so, someone else will."
Before all of this can happen, Einar says, Iceland needs a drastic change in thought. "It is extremely important that we re-write our constitution. That work should start after the election of parliament this April - we should be allowed to elect an independent body of people with only the best of intention for the whole - and no politicians - politics as they have been practiced in Iceland are to a great extent to blame for the mess we're in."
Tellmetwin.com headquarters are located in the heart of old downtown Reykjavik, and Einar and his colleagues watched from their office windows as the so-called Pot and Pan Revolution unfolded and protesters surrounded the Stjórnarráð offices of the PM, the Federal Bank and the Parliament. Like other successful Icelandic companies, such as Marel and CCP, the company has branches abroad, but hopes to keep its headquarters in Iceland. "As long as the environment for innovation keeps improving, we'll stay here, but if we get better support elsewhere, we´re ready to move."
The interim government--which appears likely to continue after the elections--has been doing its share to support new ideas and businesses. The Minister of Industry has stepped in to support innovation in the form of government funds that now cater to more types of companies than before. The government also changed the unemployment rules for start-ups so that now a company like TellmeTwin can hire someone who is unemployed and the government continues to pay their benefits (but to the company, 150.000 kr) for up to a year.
Another notable and well received supporter of new ideas and businesses is singer Björk Guðmundsdóttir. Her initiative on innovation last fall resulted in a VC startup fund focused on sustainability and social and environmental responsibility.
A common refrain from the old guard in Iceland during this election campaign has been that the current left-center coalition is unfit to govern because it doesn't understand how business is done. I suspect that it understands all too well how the business practices of the old libertarian-conservative government and its cronies directly led to the current situation.
There is a danger, to be sure, in overregulating--and thereby destroying--the new businesses that are springing up in Iceland, but the government seems to be avoiding that fallacy, as well. The IMF and the disgruntled creditors of Iceland's failed banks may yet impose measures that will force these companies to leave Iceland for greener pastures, but, perhaps because we have little left to lose, our best minds see an open field of opportunity.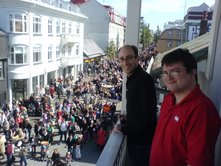 TellmeTwin staffers Benjamin Sternthal and Stephen Christian watch from the company offices as Icelanders march in happer times to welcome their handball team who took home an Olympic silver medal last August. Photo credit: ESigv.
REAL LIFE. REAL NEWS. REAL VOICES.
Help us tell more of the stories that matter from voices that too often remain unheard.