"When it comes to being green, we're not jumping on the bandwagon. We helped build the bandwagon." Alfonso Maciel Sr., Founder A. Maciel Printing
Growing up in Guadalajara watching his parents run several small businesses, Alfonso Maciel assumed that all married couples became entrepreneurs. His wife-to-be Monica assumed the same thing as she observed her parents run a successful event planning enterprise. When they met and married years later in San Francisco, the inevitable happened; the city's original green printer A. Maciel Printing was born in 1984. This month, as they hand over their business and their loyal clientele to their college-educated children to retire and return to Mexico, all Americans can learn a ton from their example of small business innovation, succession planning, commitment to family, environmental entrepreneurship and how to beat the odds.
The Maciel story is steeped in ingenuity and innovation, and based on a deep commitment to environment and family since day one. Choosing to innovate in the 1980's, in an industry not known for its environmentally friendly practices, Alfonso and Monica went to great lengths to differentiate their business. Why? Not only because it was the smart way to be distinctive in a crowded market, but most importantly to be sure their business would never damage the health of their children. When you know your kids will grow up surrounded by machinery and materials in a printing shop, you must make very specific choices. Serving the Bay Area's most environmentally-conscious businesses and non-profit organizations for decades, Alfonso reminds us that it wasn't easy to help create the green bandwagon.
"We looked intently for technology and processes to set us on that path," he reflects. "Compared to today's options, back then it was slim pickings. Today's choices included soy inks, recycled paper, etc. Back then doing it this way, what we now call 'green printing' was quite the innovation." Today, this business is so far ahead of the green business curve that they operate completely on wind-generated power, use 100% recycled paper, soy inks and deliver all products via Toyota Prius. And they're proud to share that they are a 100 percent union shop too.
"I've always found myself on the other side of the mainstream, a contrarian," Alfonso admits. "You have to bite the bullet when choosing to do things differently; you must invest the resources into the effort."
Just before Christmas, I visited A. Maciel Printing in a San Francisco industrial sector, not far from the Mission district where historically the city's immigrants have first arrived. The children who grew up in the shop watching their parents work together to serve the community, now college graduates, have become executive management.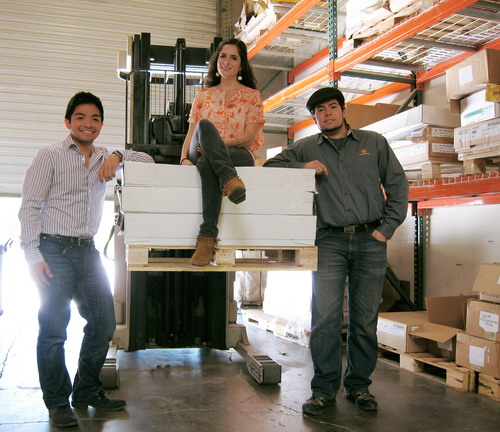 Alejandra, who as a 10 year-old creative entrepreneur painted and sold cascarones (confetti-filled eggs) while dressed up like Frida Kahlo de Rivera outside the printing shop, is the company's VP of Marketing and Communications. Her older brother, Alfonso Jr., is now the CEO and VP of Production. His father credits him for leading the transition to digital printing and for implementing many new technologies and innovative processes. Keeping it all together as the accountant and co-founder is mom, Monica Maciel.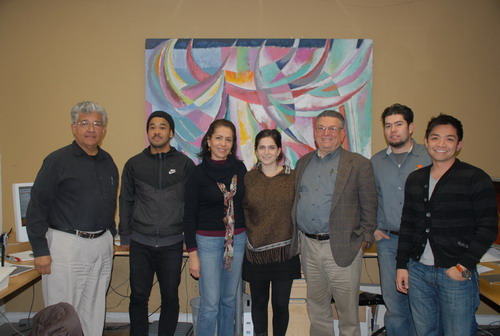 Alongside the rest of the Maciel staff, the children are quickly attacking their executive roles with gusto and bringing in new business. Alejandra recently ran a postcard contest to showcase the artwork and photography of San Francisco's lively artistic community; within a few weeks of starting the Facebook page she had nearly 400 fans, and several new clients.
"I want A. Maciel printing to be the go-to shop for artists and musicians in the Bay Area, and nationally," Alejandra declares.
The A. Maciel story is so rich with lessons for aspiring entrepreneurs and innovators that I'll write an entire chapter about this family, (now enjoying its third generation of familial entrepreneurship,) in the next volume of Latinnovating. For now, I want to share this nugget of knowledge, the tip of the iceberg of lessons for those who wonder what it takes to start a successful, innovative green business that will defy huge odds and survive into the second generation. When I asked Alfonso Senior to highlight one piece of advice he has given his kids as he leaves the business in their very capable hands, he shared this wisdom.
"We have customers in the NW part of the City [note: their shop is in the southeast]," the founder reminds them. "To get here, those customers have to literally pass dozens of other printers. Why do they do business with us? They come here because we always offer more than everyone else. Never forget that."
If you've ever heard the phrase "differentiate or die," this is what it means. It also defines what is meant by value.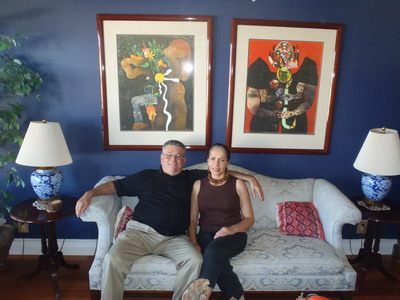 I salute you Monica and Alfono Sr. -- for achieving the American entrepreneurship dream, sustaining it for decades, and for so gracefully handing it off to your amazing children. I look forward to watching how their creativity and tenacity will do your legacy proud!
Are you running a family business that is environmentally friendly and innovative? Are you wondering if your children will take it over someday and how? Are you considering becoming an environmental entrepreneur to leave a business for your family? What's stopping you from taking that first step?