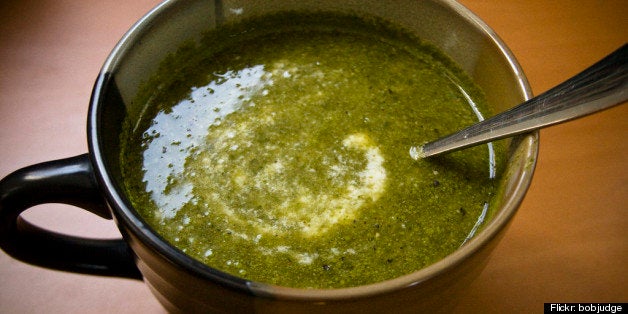 I have always been a peculiar eater. By peculiar, I don't mean picky. I am generally happy eating anything that's placed in front of me and then some. By peculiar, I mean that for as long as I can remember I've preferred an apple or a few hunks of cheese over cake or ice cream for dessert. As a teenager, I forewent chips and candy for olives and pickles. I liked onions more than most people, even as a kid. Every parents' dream right? Well, probably, but when you have a mother who loves chocolate as much as mine does, it became evident pretty early that our tastes were different.
I credit both my parents with instilling within me my love of food. Both excellent cooks in their own specialized areas, I have no childhood horror stories of being forced to eat anything. All of our meals, from the time I can remember, were objectively awesome. But there were a few that stuck out in my mind so much that I am still very attached to them today. The smell of these meals scrambled my brain. Upon returning home from school, if there was a brisket or corned beef in the oven, I couldn't concentrate on my homework until I'd eaten it. When my mother made Tunisian Eggplant, I used to stand, basically salivating on things, next to the stove until it was done. And just the thought of smelling green soup simmering on the stove makes me feel like lying down until someone brings me a bowl, either hot off the stove or icy cold from the fridge.
Herein lies the magic of Sue Orchant's green soup. This kind-of-vichyssoise-but-not-really was the result of my mother's fortitude and legendary foresight in combining two soup recipes from neighboring pages in one of her then most-used cookbooks, Fruits of the Earth: A Harvest of Recipes from the Land of Israel. This book was procured -- of course -- from my Grandma Glenda, who was the Director of Education of our synagogue at the time. GUYS. This is some deeply-rooted Jewish nerd stuff we're talking about here, so you know this soup is good.
When I asked my mother if she remembered the book she said she did, told me the names of the two recipes she'd combined to make this other-worldly stuff and then included, "Oh, and I think added a little half and half too. Because, of course I did, what don't I add half and half to?" No seriously, this is is where I came from.
Although I have this recipe in my possession and have made it multiple times (you all know what's coming), it still doesn't taste exactly the way it does when she makes it. Which is, I suspect, because she's adding more half and half and buttermilk than she will admit. As the soup cooks, it sends up a verdant smell unlike anything else I cook in my kitchen, heady with chicken stock and leeks, but with a twist that I can only guess must be the slowly simmering cucumber. Sometimes when I swirl the buttermilk into the soup in one of the final steps before I get to pour it into my face, I understand how my mom probably feels about the moments before she gets to eat a chocolate pot de creme. It reminds me that even though we are pretty different people, our hearts and stomachs are basically the same.
This soup is perfect for the weather we're having now, where it's late spring one day and early summer the next, because it is equally as good warm as it is cold. You'll find exactly the way you like it best, but my favorite way is chilled, with a dollop of sour cream or crème fraîche, a few snipped chives and a cold beer.
4 cups peeled, diced cucumber
2 potatoes, peeled and sliced
1 bunch of scallions, sliced
2 leeks, thoroughly cleaned and sliced
1 bunch of fresh spinach washed & chopped
3 cups chicken broth (I usually use homemade stock, vegetable will totally work too)
juice of 1/2 lemon
1 cup half and half
1/2 quart buttermilk
salt & pepper to taste
2 tablespoons butter
Heat butter in a heavy-bottomed stockpot over medium heat.
Sauté scallions and leeks int the butter until soft.
Add cucumbers, chicken broth, spinach, potatoes, salt, lemon, pepper and bring to boil.
Reduce the heat, and simmer uncovered until potatoes are soft.
Transfer to blender or food processor in batches and puree (I use my immersion blender here with great success).
Pour into a large bowl and add buttermilk and half and half to taste. Chill. Can be eaten cold or warm.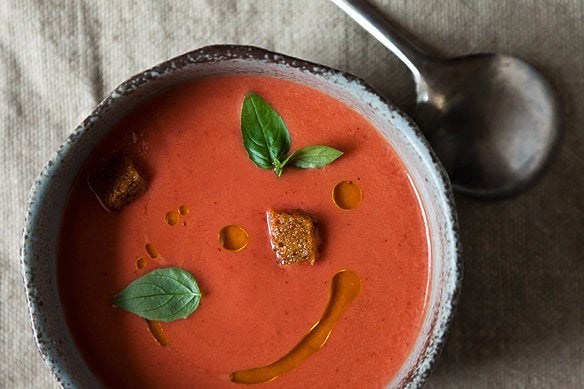 Cold Soup Recipes