WASHINGTON ― Green groups and scientists tried to make climate change a wedge issue for years, and voters threw the economy, jobs, immigration and national security back in their faces.
President Donald Trump may have just changed that.
On Thursday, Trump announced the U.S. will withdraw from the climate change agreement nearly 190 countries joined in Paris in 2015, making America one of only three nations to ignore the pact. The unprecedented agreement ― a pillar of former President Barack Obama's legacy ― between both rich and poor countries put the globe on a path to keep warming "well below" 2 degrees Celsius (3.6 degrees Fahrenheit) above pre-industrial levels.
But Trump's decision to take the U.S. out of the agreement, effectively retreating from the global conversation on how to combat climate change, may end up hurting Republicans politically. Democrats and environmental groups are already chomping at the bit.
"WE ARE NOT DETERRED, CLIMATE IS ON THE BALLOT IN 2020," read an email sent out by Sen. Brian Schatz (D-Hawaii) as Trump stood in the White House Rose Garden announcing his decision.
Trump had barely started his speech when Sen. Sheldon Whitehouse (D-R.I.) sent out his own statement, which included a rare plea.
"If you haven't joined an environmental group, join one. If your voice needs to be heard, get active," Whitehouse said. "If you are a big corporation with good climate policies that has shied away from engaging politically, it's time to engage. And if you're a university that teaches climate science, it's time to stand up for your scientists. Whoever you are, help end climate denial and take action."
But even with the ammunition that a Trump presidency has provided Democrats ― who are hoping to make inroads against the Republican majority in both chambers of Congress in 2018 and 2020 ― green groups and the Democratic Party will have to learn from prior mistakes. For one, the talking points on climate change and the Paris accord during an election cycle can't be about simply saving the planet or keeping streams clean. They have to make a strong connection between climate change and jobs; climate change and asthma; climate change and future generations.
Jamie Henn of the climate action group 350.org thinks they can do it. But he also acknowledged it will be a challenge to address the rift in the Democratic Party over how to turn out voters, prevent a repeat of 2016, and make a wedge issue out of a somewhat abstract problem like human activity contributing to the destruction of the planet.
"What was missing from Democrats in the last election was making this lofty rhetoric about a beautiful future feel like an economic plan that addresses people's concerns," Henn said.
350.org was critical in leading the climate movement's battles against Keystone XL, fracking in natural gas production, and the Dakota Access pipeline. The ability of environmental organizations like 350, Sierra Club and the League of Conservation Voters to make the "fossil fuel industry feel real to people," as Henn put it, somehow gets lost when those groups try to make the jump to climate change and the Paris climate agreement.
Henn said it doesn't help that the political arms of the Democratic Party, from the Democratic National Committee to the Democratic Congressional Campaign Committee, have struggled to develop strong messaging on the topic.
"Tom Perez is not out there touring renewable energy facilities and saying how this will help the Rust Belt," Henn said of the newly elected chair of the DNC. "There's a difference between adopting talking points and making it a fully fledged effort to have [climate change] as a cornerstone of campaigns."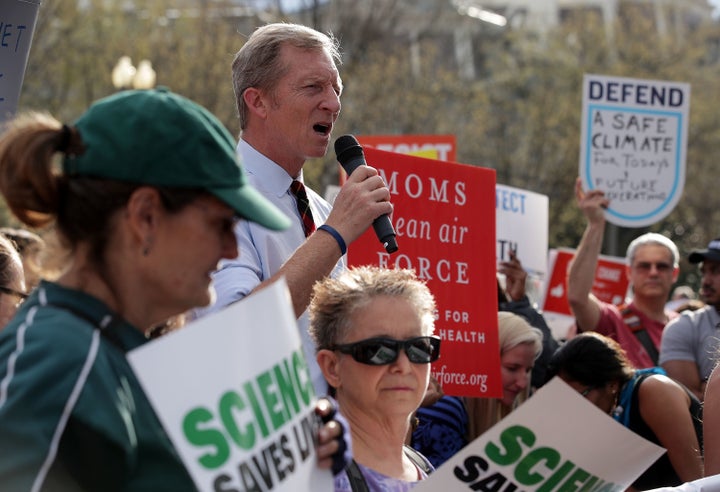 For 350 it's about making climate change tangible and "feel real" to voters. For billionaire environmentalist Tom Steyer, who founded NextGen Climate ahead of the 2014 midterms, it's about convincing voters ― especially young ones ― that their vote matters.
Since 2014, Steyer has thrown his money at congressional candidates who will aggressively champion climate change policies. He also funded numerous ads focused on clean energy and global warming during presidential debates in 2016, and ultimately backed the Democratic nominee Hillary Clinton.
Looking back, Steyer admitted that NextGen has had difficulty fulfilling its pledge to make climate change a deciding factor in races that last two election cycles.
"We just weren't big enough," Steyer told HuffPost.
And now things are different, according to Steyer. Because of Trump, voters have to worry about things they didn't think about before.
"We've never seen people this upset because they've never seen their rights and privileges attacked the way they're being attacked right now by their president," Steyer said.
Green groups may not have been able to convince voters before that they should care about climate change, but Steyer seems convinced that in 2018 and 2020, voters will know they can't stay home.
"We're seeing it in terms of civic engagement right now," Steyer said. "And I think we'll see it in terms of participation in elections because I think that people are understanding, 'Oh my gosh I never thought that XYZ would be under attack.' Can you imagine we have to march for the idea of science?"
But how do green groups and Democrats make the connection that Trump's decision to take the U.S. out of the Paris agreement means they should vote against their Republican senator or House member? The fact that midterm elections tend to be a referendum on any sitting president helps.
"You don't even have to make that connection," Steyer said. "[Republicans] have his back and they're one big group pushing all his policies."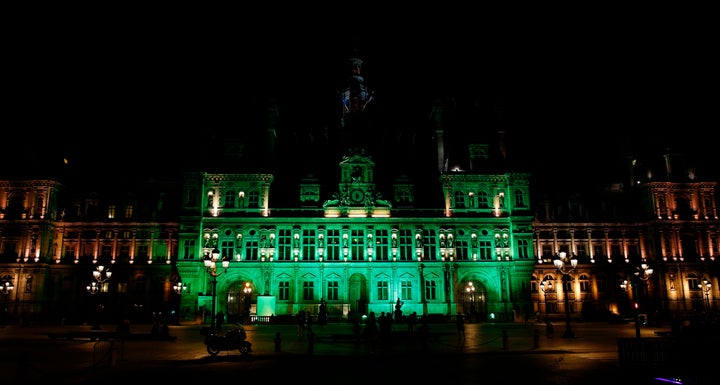 Tiernan Sittenfeld of the League of Conservation Voters ― which spent a record $45 million in 2016 ― pushed back against the idea that climate change doesn't play well with voters, and issued warnings to the GOP.
"Any Republican members of Congress who stand with Trump do so at their peril," she said, adding that the public understands Trump's decision to pull out of the climate change pact is "bad for public health, bad for the environment, bad for the U.S.'s standing in the world, and cedes the clean energy economy to China and others."
But in case voters have trouble making the connection, the DCCC started to make it for them on Thursday.
In an email blasted out just hours after Trump's announcement, the DCCC targeted Rep. Carlos Cuerbelo (R-Fla.), who's up for re-election in 2018. Curbelo is a supporter of policies aimed at fighting climate change, and he urged Trump to stay in the Paris agreement. Curbelo and 19 other House Republicans are members of a bipartisan Climate Solutions Caucus, but their small numbers make it nearly impossible to get any policy related to reducing greenhouse gas emissions or boosting renewable energy through the chamber.
"Trump's decision today is a big political problem" for the 20 Republicans in the Climate Solutions Caucus, one DCCC aide said. "They are now stuck between their party and their district."
And beyond that caucus, the DCCC is eyeing 16 other districts held by Republicans that Clinton won and where climate change will likely be of concern.
"Families in south Florida deserve more than the empty rhetoric they're getting from Carlos Curbelo," DCCC spokesperson Cole Leiter said in a statement. "They need a Representative who will protect coastal communities, local economies, and help create jobs in the American clean energy sector."
In the end, Trump's move to withdraw from the Paris accord may have given the environmentalists exactly what they needed to help Democrats regain power.
"This makes battle lines really clear," Henn said. Now it's up to the environmental community to "paint a more compelling picture and not stay at the slogan level and talk about winter and seals."
Popular in the Community