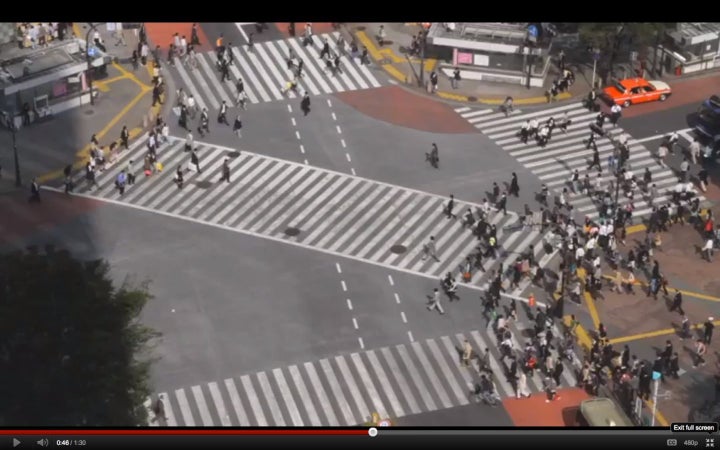 Interview and Photo Shoot With Artist, Alexis Laurent
I am currently leading a game/simulation called Urbanology in the BMW Guggenheim Lab.
It is an exercise in which you design your ideal city by giving your answers to a few urban problem scenarios. The Lab, itself lands me squarely in the domain of Art, The Arts & Policy as I have the chance to engage people on their ideas on wealth, poverty, art, architecture, sustainability, transportation -- everything, as it relates to life in the city. Here, I find a good occasion to take a few photos (embedded in this writing) and to talk to an artist whose work, by his direct intention, puts him in that space, too.
Alexis Laurent is a contemporary sculptor. His work invites (and counts on) viewers to be part of it to make it whole. In one of his earlier works, he invited visitors to be a flâneur, embodying Charles Baudelaire's classic wanderer, taking in the city with a heightened sense of curiosity -- taking the time to take the time!
Writes Art critic Barbara Pollack in the introduction to his catalog Senses (March 2011): "... Laurent offers a plan for greening the urban environment -- what he likes to call "green scars" -- replacing the scourge of shopping malls and traffic snarls that have come to represent the metropolis with sites for the contemplation of nature that would be perfectly suited as 21st century commons."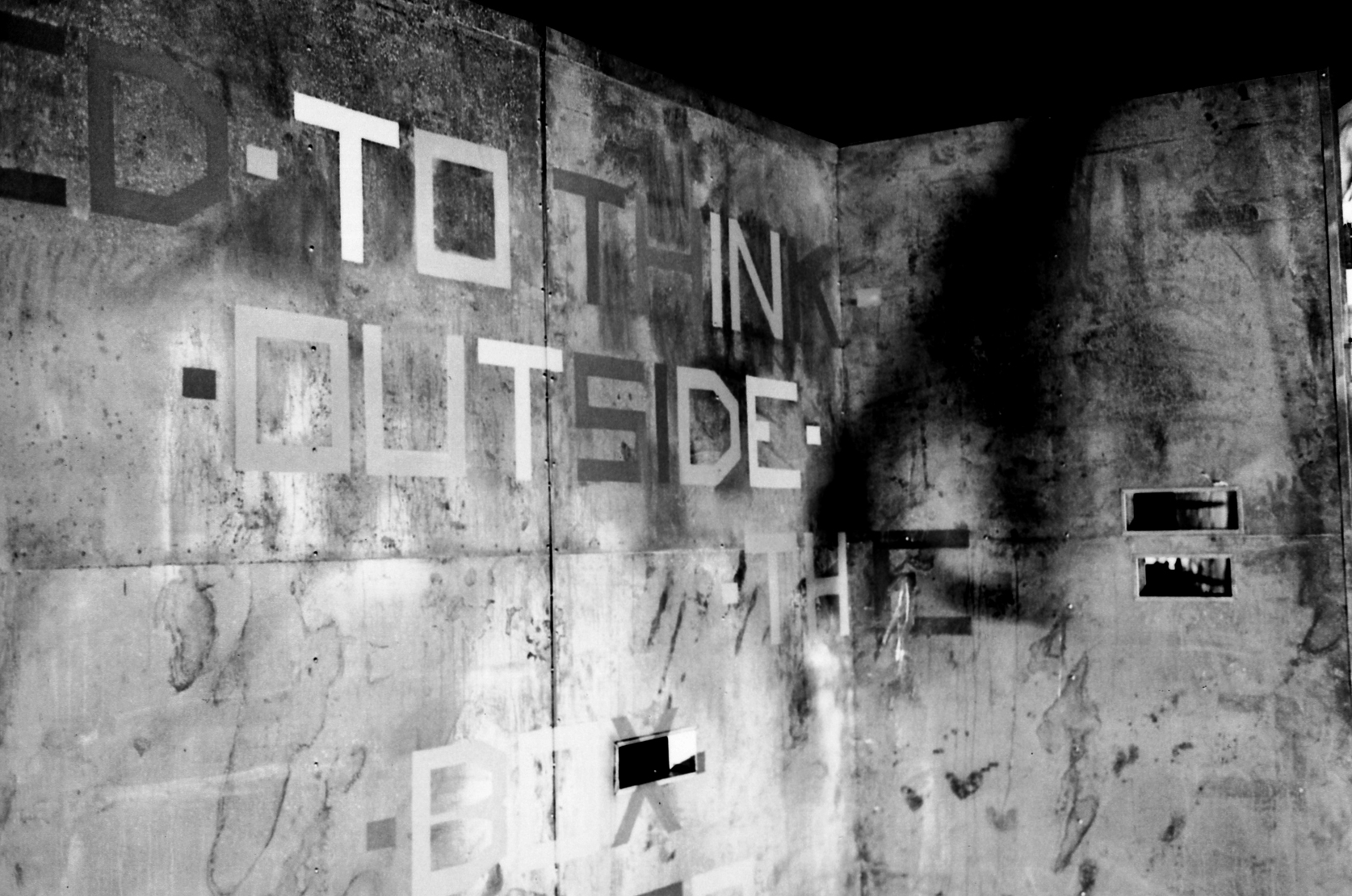 As with most artists, a single definition of his work doesn't fit, but there's one phrase Alex uses to describe himself that has me writing today: "Artist as Urbanist." I respect anyone who would attempt the three tricky problems this presents: (1) "Artist" assumes the classic challenge of achieving Art. (2) "Urbanist," today, is an amoeba of a term. The skeptic in me decries the vagueness of it, as it can refer to a cottage industry of folks with wireless mics and "cool" green ideas. There are few who are systemically addressing large- and small-scale problems attending an unprecedented migration now pacing us for 75 percent of the world's population to live in urban areas by 2050. Let's ask Alexis for his definition of "urbanist." (3) Now, the biggest issue: staying true to Art and Urbanism while bringing those two together for some specific purpose.
I ask these questions in the context of the one encompassing question I ask in this Art, The Arts & Policy series -- How does Art really make something else change -- whether officially or as defined in fact by changing the way we live?

Q: First, tell us about your art. We have no conversation without that, since any proposition using art assumes... art. How did you get started? Influences? Where are you now as an artist?
When I turned 34, I moved back to my native France with my wife and first child to take three years to paint. In many ways, this was a return to childhood. I was finally listening to the artistic calls and cravings I had entertained when I was young and then silenced as an adult. I was exploring, daring, creating, finding. I grew up in the South of France with parents who were jewelry designers. Nature and creativity were blended throughout my childhood in a way that seemed natural, inevitable. I watched my father build our house over the course of 20 years, a long process of love and fluid creativity. It was a pursuit of both pragmatism and passion, an effort that had enormous influence over the way I continue to think about architecture and art, daily living and nature. The experience was a stamp for life.
So much of my inspiration comes from the time I spent in my father's workshop. My love for metal comes from the time when my mother was doing enamel on silver jewelry. Back in San Francisco, I fell in love with a raw 13,000 sq ft warehouse that had been a sweatshop for 20 years gone bankrupt. I remodeled it into a studio filled with light. So much of my work is inspired by the energies inside this studio. I love site-specific installation for that reason: the starting point is the site. Like an architect, I want to engage in that dialogue with the uniqueness of a site. I really find that for public art to be successful you really need to have this dialogue as a prerequisite; otherwise, it feels superimposed.

Alexis Laurent in front of "Billboard" at ArtMrkt Hamptons
Q: Now, let's talk about this "urbanist." The word often evokes nice people with Ipads and nice bikes in gentrified neighborhoods trying to look down-to-earth while paying a high premium for healthy foods. (Rough enough?) Assuming there is a real and positive meaning to the word, how do you define "urbanist?" How do you confront the stereotype? How is your work situated (or not situated) in that context.
As you know I come from France. I now realize how critical the urbanist is in my thought process. When looking at the history of urbanization of Europe, I always get a sense that the passage of time was essential to making European cities a place of "togetherness," a place where 1+1 = 3. In many ways, it worked because it happened slowly, over centuries. For me, things get tricky and difficult now when entire neighborhoods are erected in no time and when urbanists fail to take into account the genius -- the magic -- of simple everyday life in a neighborhood. The reasons a city is a successful place where people want to literally share walls with each other is exactly because there is this impossible to recreate magic happening.
The world is going to have to deal with an unprecedented wave of urbanization at a speed never experienced before. This is a time where city planners will have to think outside the box more than ever. In my perfect world the urbanist SWAT team would be multi-disciplinary. And yes, dare I say, it would include artists. I am personally passionate about what I call "green scars." Take the case of the High Line in NYC: it went from being a no man's land from another era to being probably one of the most successful redesigns of an urban landscape of the last decade. It was a bold idea to preserve and repurpose the old. And guess what, most cities have layers upon layers of old industrial landscapes that can be repurposed instead of simply destroyed. This is a way to revisit the history that was created in those places. And the beauty of it is that it actually makes pure and simple business sense. As we know, the real estate market around the High Line is booming precisely because of the High Line.
At my very humble level, I would love to create more "living sculptures." These are planted sculptures. Again, in my ideal world one would like those sculptures to be part of the urban fabric. One could imagine local schools participating in the planting of them. It would be part of their curriculum. I want them to be provocative but welcoming, aimed to be sites for contemplation and quiet.
I want to encourage people to think about cities in a more humane way with the inevitable and relentless power of nature as part of them. I want to ask my viewers to pause and join me in taking a risk, daring to think of our spaces and ourselves in a new way. For me those "green scar" projects are all about creating more togetherness while also creating beautiful moments of solitude. Recently Ken Johnson of the New York Times wrote a great article, "Sculptural Surprises Grace the Streets". I really liked the end of it in which he says: "In short supply this year is a type of public art that engages with the world in some practically beneficial way." In many ways, this is what I would love to achieve with my living sculptures: "something engaging and beneficial to the world."
I am also encouraged to see some of the "influencers" of the art world take serious note of the topic Artist as Urbanist. Hans Ulrich Obrist, Co-Director of Serpentine Gallery in London commissioned Peter Zumthor to design its summer pavilion. It is called Hortus Conclusus (enclosed garden) and was co-designed by Piet Oudolf who also designed the High Line garden. Right around that time, Obrist also moderated a discussion at Art Basel on this very topic and the architecture firm Atelier Bow-Wow which participated in that discussion was also commissioned by the BMW Guggenheim lab to design their first mobile structure.
Pritzker prize-winning architect Jean Nouvel discovered Patrick Blanc, the inventor of green walls, over a decade ago. Well, just recently, he was asked by the French government to envision a New Paris for the 21st century. Among many other things, he 100 percent wants to invite green back into the city.
So, the topic is gaining serious traction and now it is all about action! Let's not forget that the Friends of High Line was started by just two neighbours at a public hearing trying to keep it from being destroyed!
Q: Please describe the piece, "Billboard," featured here. It seems like it fits in this Artist as Urbanist conversation.
The piece you saw in Bridgehampton, NY is part of my Billboard Series. It is a 25-foot long wall of Cor-Ten steel with over 1,000 succulents embedded in its miniature balconies. This work is totally meant to be in dialogue with the urban environment. This is my way of staying positive, my way of giving back, my way of celebrating beauty, whimsy, and joy. I intentionally chose plants that would be sustainable in New York where I showed the piece, limiting my selection to 10 species that would easily survive the winter in potted soil. I also focused on the color of the plants, avoiding hues of maroon that would blend in with the wall as it aged, choosing instead sage, grey and greens and a few flowering plants. The piece is a fantasy of a billboard by a highway. It is also meant to be interactive: There are seven windows that invite you to "peek" through to the other side. The piece is constantly evolving as people interact with it, turn around it, play with it. On the other side I wanted to write a slogan, after all this is a billboard! So I wrote across 25' of Cor-Ten steel sheets: "WE NEED TO THINK OUTSIDE THE BOX MORE THAN EVER"
People can then answer for themselves the why, how, and when. They complete the piece as many times as they confront the statement.
Q: What has been your experience with art causing fundamental change or reflection?
Shows that blew my mind in terms of scale and message -- I have to say that two of them come to mind right away and both were at Tate Modern's Turbine Hall. "The Weather Project" by Olafur Eliasson and Ai Weiwei's "Sunflower Seeds." I simply love the experiential feel of both projects and how they are fully alive only when people are part of the puzzle. Half of the experience truly comes in the form of interaction. Without it, it would fall flat. On a totally different not, the French artist JR who recently won the TED prize with his larger than life portraits of people in places like Israel and Palestine were game changers for me. There is beauty, punch, poetry, political charge yet those portraits are packed with hope... I could just go on and on... He is a fantastic artist ...
On a smaller scale, but equally mind-blowing was a wonderful Chillida retrospective that I saw at the Maeght Foundation this summer. I loved the fact that this amazing artist who worked hand in hand with Aimee Maeght and many other artists like Miro, Giacometti, Braque and the architect in making a place for the art was given his dues in a VERY personal way as if he was there helping curate the show. His soul was everywhere. And his smaller sculptures were for me (who tends to like large-scale projects) a wonderful reminder that you can deliver equal power with small installations. And that's me not even wanting to talk about his incredible sense of balance, volume and respect for materials.
Q: What's up next for you and what would be your ideal project right now?
For my part, pragmatically, I would like to have an impact in San Francisco -- where I live and work. I am trying to launch "Friends of the Embarcadero" very much aligned with the setup of "Friends of the High Line" to put public art in a major way on the Embarcadero -- the waterfront that stretches from the Golden Gate Bridge to the Bay Bridge -- during the America's Cup. We are just at the beginning of the process but we are assembling a strong team of art specialists, architects, influencers, politicians that are excited about the idea. I think it would be the perfect time to rebrand the Embarcadero and make it a wonderful and dynamic destination. But again it is all about action; nothing will happen without it. Look at the amount of effort it took for Christo's and Jean-Claude's "Gates" to see the light of day!
Longer term, I would love to be able to work in a team environment with urban planners, architects, landscape designers and redesign entire neighborhoods. This would be so exciting! At the same time I want to create smaller size sculptures/installations. It might be difficult to balance it out but I will try.
Thanks, again, Alexis, for joining me as l deal with an odd topic in Art, getting only close (I hope) to speaking the rightly unspeakable by talking of art in terms of what it does, not just what it is.
Like you said earlier, it is the first time in history that the world is more urban than rural. How do we make the urban world a livable place? If we don't crack the code of how to make cities livable, we're missing the point. So many cities have no center. There's no cohesion, no reason for them. I want to humanize cities. Maybe I won't have an impact. Maybe no one will. But it's a good fight.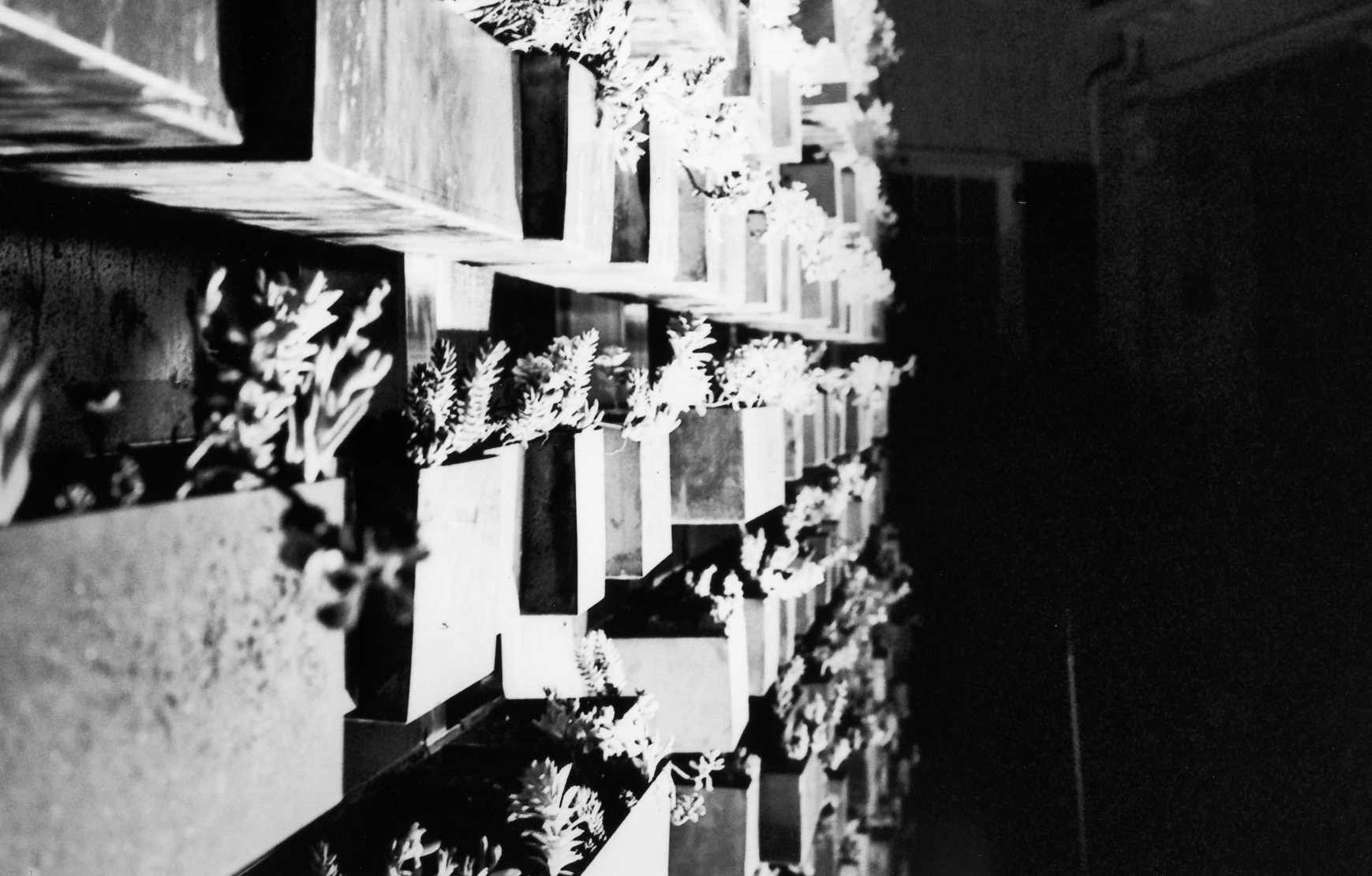 Detail. Side view of "Billboard"
REAL LIFE. REAL NEWS. REAL VOICES.
Help us tell more of the stories that matter from voices that too often remain unheard.