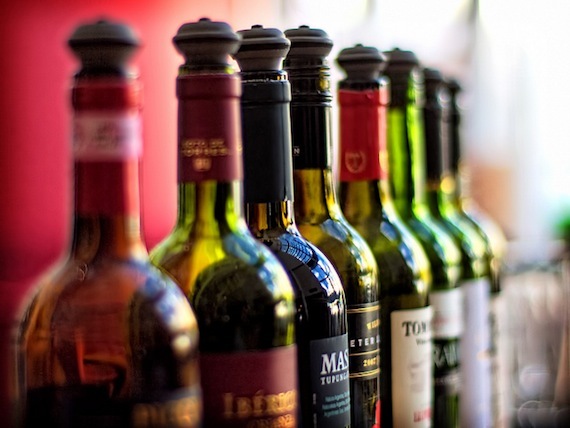 By Ashley Verhines
For some wine lovers, going green means sacrificing quality, according to a recent study conducted by UCLA researchers on eco-labeled wines.
Eco-labels (think USDA organic and Energy Star) are part of a growing surge of environmental policies aimed at disclosing information on sustainable practices. The ultimate goal of such disclosure is to better promote environmentally friendly behaviors of businesses and consumers alike.
Magali Delmas of UCLA's Anderson School of Management, who has been studying eco-labeling on wine since 1999, conducted the research alongside Neil Lessem, a doctoral student in the UCLA Economics Department who is now an associate at the Brattle Group. Both also worked with the UCLA Institute of the Environment and Sustainability on this research.
Third-party government agencies and non-governmental agencies conduct eco-certification of wine based on a number of varying criteria. These include growing grapes organically, avoiding the use of pesticides, herbicides, fungicides and sulphite preservatives, and utilizing renewable energy systems in the production process, amongst others. These same parties develop eco-labels, which can then be slapped on products to advertise businesses' dedication to the environment.
While eco-labeling has grown enormously to more than 400 programs since the '90s when a mere dozen existed, not all eco-labels are proven to be successful elements of business. Eco-labeling has often been cited for its prohibitively high costs and consumers are often unaware of their added value. What's more, some consumers are confused by different eco-labels, and may even associate them with negative product qualities.
In researching eco-label effects on wine purchasing, Delmas and Lessem ran an experiment in which participants made hypothetical purchases from a large selection of wines that varied in price-point, geographical region, and eco-labeling. They found a few things:
First, people tend to prefer eco-labels with clear and concise messages about their environmental attributes.
And second, eco-labeled wines are preferred at lower price points and from lower quality regions while conventional wines are preferred at higher price points and from higher quality regions.
In other words, people do derive some value -- a kind of warm glow, perhaps -- from purchasing environmentally friendly wine, but they simultaneously interpret it as a sign of poorer quality. Furthermore, according to their study, "respondents who are wealthier, better educated, spend more on wine and drink wine frequently are less likely to choose eco-labeled wines."
So where did our notion of the Berkeley-educated, Prius-driving, biodynamic-or-bust wine lover come from?
Well, she's probably out there somewhere, but eco-labels probably aren't swaying her, yet. So how can companies effectively market green practices to their eco-unconscious consumers without deterring them? Or should companies, and wineries more specifically, selectively market eco-certification based on price point? Or should companies save themselves the added cost and skip eco-certification altogether?
According to Delmas, only about a third of certified wineries actually choose to label their wines, which makes sense for businesses that seek out a double bottom line. For some other wineries that hold environmental values at the core of their production, eco-labels just seem unnecessary, particularly if they detract from perceptions of the value of the wine in the bottle.
Meanwhile on the consumers' end, the debate about whether organic wines taste better or worse remains hotly contested. If you swear by the sulfites used to preserve your favorite, non-organic wines though, you should be aware that only a small percentage of organic wines are actually susceptible to evolving over time.
But who knows, with nearly 70 percent of eco-certified wineries withholding eco-labeling, your favorite bottle might just be greener than you realize.
Photo courtesy of Alex Brown.
REAL LIFE. REAL NEWS. REAL VOICES.
Help us tell more of the stories that matter from voices that too often remain unheard.