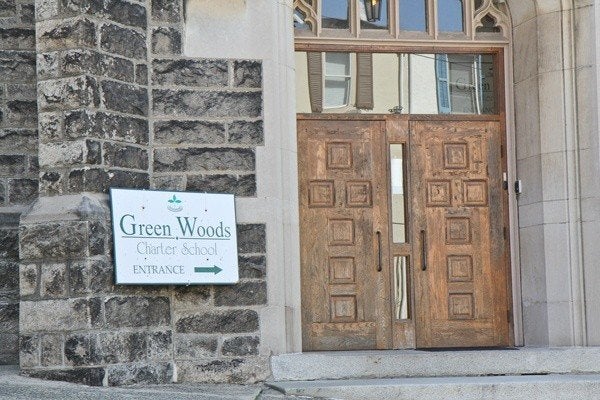 For years, parents have had to jump through astonishing hoops to apply to the popular Green Woods Charter School in Northwest Philadelphia.
Interested families couldn't find Green Woods' application online. They couldn't request a copy in the mail. In fact, they couldn't even pick up a copy at the school.
Instead, Green Woods made its application available only one day each year. Even then, the application was only given to families who attended the school's open house – which most recently has been held at a private golf club in the Philadelphia suburbs.
Green Woods CEO Jean Wallace declined to be interviewed. In an email, she lauded her school's "very transparent and very collaborative working relationship" with the District's Office of Charter Schools, which oversees Philadelphia charters.
Listen to Ben Herold's radio report above.
But this spring, that very office found that Green Woods and 17 other charters seeking renewal imposed "significant barriers to entry" on families. Some, like Green Woods, went to extraordinary lengths to limit access to applications. Others, like Eastern University Academy in East Falls, made onerous and sometimes illegal requests from applicants for everything from typed book reports to proof of U.S. citizenship.
The findings are detailed in previously unreleased district documents obtained by Pennsylvania's Education Law Center (ELC) under the state Right to Know law. At best, said ELC senior staff attorney Jennifer Lowman, the barriers found by the district violate the spirit of Pennsylvania's 1997 charter law, designed to give families more high-quality school options.
"Unfortunately, some of these extensive application requirements flip that choice on its head," Lowman said. "It becomes the school that chooses, not the family."
In recent months, the School Reform Commission has granted new five-year extensions to Green Woods, Eastern University Academy, and 10 other charters deemed to have "significant barriers to entry." But spokesman Fernando Gallard said that many of those renewals came with conditions.
The District also believes that charter schools' boards of trustees should "take immediate action" to remove identified barriers. Gallard also said the District plans to make public by late October a report summarizing the application and enrollment practices for each of the more than 80 city charter schools.
"This is groundbreaking work that has not been done before," Gallard said. "Our position is that these are public schools. They are making a significant difference in the lives of children. And we want to make sure that is open to everyone."
In Philadelphia, like many other cities, parental demand for charters has been enormous. Lowman, from the Education Law Center, says that charters should accommodate that demand by making their application processes as easy as possible. By law, said Lowman, charters should only ask applicants for four things: proof of a child's age and residence, immunization records, and a statement as to whether the child has been expelled or suspended for certain incidents on school grounds.
The four Philadelphia charters run by KIPP, she said, offer a good example for how the process is supposed to work.
"You fill out a very simple form, and you don't have to show up somewhere to get it. If you are accepted, you are enrolled," Lowman said.
This piece has been truncated. To read the rest of the story, visit Newsworks.
Related
Popular in the Community