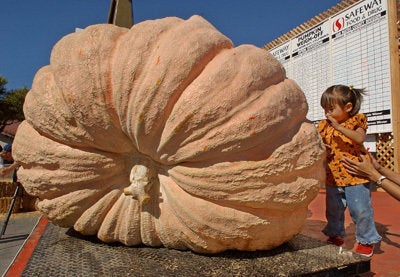 Unlike many holidays earlier in the year, which call for some sort of austerity or even sacrifice, Halloween is clearly a celebration of conspicuous consumption. Children and adults alike dress up in often extravagant costumes to wander their decoration-strewn neighborhoods, begging for candy.
But Halloween is rife with green possibility. All of the essential ingredients -- candy, costumes and decorations -- can be easily tricked out with more environmentally-friendly alternatives. Halloween of course finds it true origins in agricultural rhythms: it was originally a Celtic harvest festival during which livestock were slaughtered for the coming winter. What better reason to treat ourselves to a more earth-friendly rendition of this once wholesome holiday?
1. Pumpkin Seed Snack
This does not necessarily mean eschewing candy for nutrient-rich pumpkin soup, though that wouldn't hurt. Simply buying a locally grown pumpkin at your local farmer's market to carve, rather than the biggest and brightest one at the supermarket - or worse yet, a plastic number - is a great place to start. And once you've carved the beast, it's well worth the effort to pick over its guts for the pearly white seeds, which can be rinsed and roasted on an oiled baking sheet with a bit of salt for a snack.
2. Eco-decorations
Rather than decorate your house with orange balloons, gauzy faux spider webs, or the dreaded tangle of orange Christmas lights, why not simply replace your outdoor bulbs with orange compact fluorescent light bulbs. Our friends over at Treehugger suggest replacing inefficient bulbs throughout your house with these orange and ghoulish black bulbs.
3. Healthier treats
Local apples - covered in caramel or otherwise - are just the thing to offer friends who stop by. While you could of course dole out apples or raisins to the hopeful tricker-treaters who come to your door, parents tend to prefer sweets sealed in packages for the obvious - if unfortunate - safety reasons. Never fear, even if hi-fructose corn syrup and artificial additives make your skin crawl, there are plenty of organic treats that will win over the most die-hard candy corn fans. Carmela M. Federico of The Green Guide suggests a few favorites such as:
A) Chocolate. Several bite-sized options exist with kid appeal:
-Bug Bites: small organic squares from Endangered Species Chocolates, www.chocolatebar.com, in milk or dark chocolate. Each square contains one of 48 different endangered species trading cards, and 10% of profits go to animal and conservation causes.
-Rapunzel Lady Bug Truffles: Rapunzel, www.rapunzel.com, offers organic small ladybugs, complete with legs, that contain hazelnut truffles.

B) Hard Candies. The Candy Company, www.veganessentials.com, sells bags of organic Sour Fruits Hard Candies in cherry, lemon, pineapple, and orange.

C) Fruit Leather. Organic chewy fruit is available from Stretch Island, www.stretch-island.com, in Apple, Grape, Raspberry and Strawberry.
4. Reusable Candy Totes
Don't forget to give your trick-or-treating tots each a reusable bag to gather their loot in. A used shopping bag or even a pillow case will do the trick.
5. Homemade or Handmade Costumes
But what to wear to answer the door? Or, more importantly, to that Halloween party. A homemade costume requires a bit more creativity than a store-bought get-up, but re-purposing old clothes or equipment with a bit of panache is sure to win raves. Inventor's spot and Stretcher have lots of quick and nifty ideas. Planet Green offers a few sounds guidelines for do-it-yourself costumes:
A. Fake Hair. Instead of buying a wig for Halloween, consider incorporating a head wrap or hat into your outfit instead. A hat can go with most costume ideas, be creative! For instance, if you want to be a 'sexy cop' this year, you don't need a blond wig that stretches to your waist. Try piling up all of your hair in a hat that can act as a cop hat instead.

B. Bold Makeup. If you, or a female in your life, enjoy makeup on a regular basis, you shouldn't need to buy makeup that is Halloween specific. All you need is a regular stick of concealer and you can break it into chunks from there and dye them separately yourself-with natural ingredients at that! For instance, a chunk of concealer mashed with pomegranate juice will create a blood red.

C. The Outfit. Think twice before you buy a Halloween outfit. Could you make that jagged black witch skirt from a piece of fabric you already have around the house? Could you paint black stripes on white panty hose for that pirate outfit? Maybe you could paper mache your own monster mask?
You could of course just sit this one out at home in the dark in the name of energy conservation, so that kids will skip over your house. But that wouldn't be any fun. Halloween is really just an excuse to traipse about in the brisk night air - it's a celebration of the season. That, and it might not be worth the risk of having your mailbox egged and you trees twisted with toilet paper.
Related
Popular in the Community