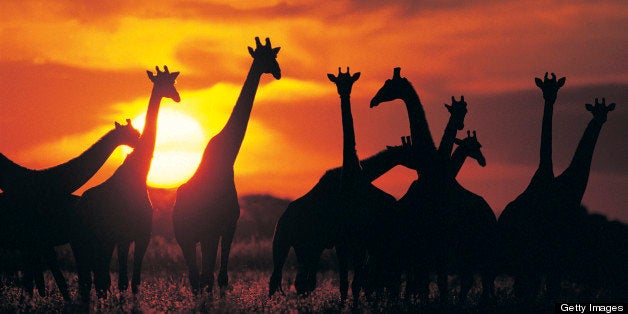 Got a passion for the environment? Put your money where your heart is and get away with your new spouse to a romantic destination where the preserving the natural surroundings is the top priority. Fortunately we live in an age where a green honeymoon can bring you back to nature without sacrificing the creature comforts of a modern resort. These four properties prove there's something enduringly romantic about the great outdoors:
Located smack-dab in the middle of a wildebeest migration path on the Serengeti, the Singita Grumeti reserve is about as far from civilization as possible. Yet the creature comforts of home remain: Its most back-to-basics experience, Singita Explore, marries fine wine and canvas tents, buffet breakfasts and African safaris. This exclusive mobile camp treads lightly over 340,000 private acres, with the dual goals of putting you in touch with the wilderness and making minimal impact on the environment. The camp, consisting of six tents and two mess halls, is almost completely solar-powered (there's one electrical outlet in the mess tent) and designed for minimal energy consumption. Attendants bring water to the camp site, where they fill up two 3,000-liter water tanks used as a bucket system to deliver water to the tents. Water for the showers is heated using a volcano pressure boiler, fueled by recycled green energy. The rugged, natural aesthetic extends to the canvas walls lining each tent, which are filled with furnishings of steel, leather, rubber and natural fabrics. Singita's stellar service has earned numerous awards and worldwide recognition, apparent from the moment your pre-ordered dietary choices are imported to your plate. It's proof that camping doesn't have to mean "roughing it."
For two weeks in January, Sundance Resort is teeming with moviegoers, actors and filmmakers. The rest of the year it's a quiet, back-country luxury hideout with sweeping views of the Wasatch Mountains. Year-round, the resort is buying up wind power at a rapid pace -- more than 2.7 million kilowatt-hours of wind-generated electricity each year, enough to offset 100 percent of its energy use. Sundance ditched Butch Cassidy to partner with Renewable Choice, whose renewable energy credits (RECs) are third-party certified by Green-e Energy. Ever since Robert Redford purchased the property in 1969, other various "green" practices have been enforced. Currently, we're fans of the organic soap, which is made on-site. The one-bedroom cottages are a warm respite from the winter cold, but you might want to splurge on one of Sundance's luxury mountain homes. These 2-, 3-, 4- or 7-bedroom cabins come with a full kitchen, deck, hot tub and game room, and a private butler, chef or nanny upon request.
The best ideas stand the test of time: The uniquely designed dome lodges at EcoCamp Patagonia are inspired by the Kaweskars, a group of nomadic Patagonian inhabitants who roamed the Torres del Paine region of Chile as early as the 15th century. Their circular huts were as easy to break down as to build up, and so are the semi-spherical structures currently dotting the Estancia Cerro Paine -- the only private property in Torres del Paine National Park. (The whole EcoCamp packed up and moved here in 2005.) The certified eco-friendly accommodations are as cozy as they are carbon-free. A wood-burning stove, hot shower and dining room with delicious food and wine blows away anything you experienced in summer camps as a kid. An ideal combination of adventure with a romantic getaway or honeymoon. Confidential tip: Plan ahead for a back-to-basics experience. Electricity is limited and only available to guests for charging camera batteries and laptops, not for using hairdryers. Solar energy is most efficient during the off-peak summer season.
The marriage of a resort and the untouched outback sets the stage for every wedding at Australia's Capella Lodge. Located on World Heritage-listed Lord Howe Island two hours from Sydney, an idyllic setting is guaranteed because no more than 400 people are allowed on the island at a time. Revegetation of two acres of land surrounding the lodge are ongoing, in which endemic species are planted to prevent erosion. Naturalist guides on site provide expert interpretive experiences for guests, building awareness of the natural environment. Solar glazing captures sunlight and stores natural heat, and there's no air conditioning in the nine suites -- made possible (and comfortable) by a subtropical climate. If you want to feel "at one" with your significant other and nature, this is the place. Rare birds, plants, geology and marine life are everywhere. Seventy-five percent of the island is preserved through a permanent park, including a rainforest and a pristine beach that's perfect for exchanging vows.
Popular in the Community