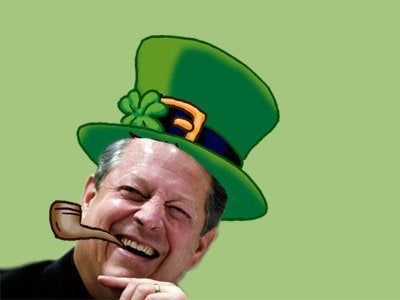 Well, St. Patrick's Day is upon us. Can you think of a better time to throw a green party? Nope! You can't. So here are some fun and easy ways to get started:
1. Drink local beer
It's probably available down the street from you -- and don't tell me there isn't local beer. Find something from your area with these handy maps from Beermapping.com, which will point you to breweries near you. Just deselect the other options like "beer bars," and "homebrew stores." I'll probably fill up a reusable 64-ounce growler of some Kelso brew, or maybe something from Sixpoint Craft Ales -- both breweries are about two miles from my apartment.
2. And don't throw anything away
Come on -- plastic cups, really? What are you, a freshman? Shell out for some pint glasses! Extra credit if your glasses used to be beer bottles. When I first moved to my new apartment, I asked party-goers to bring their own vessels. That didn't work, so go ahead and use this as an excuse to outfit yourself with some new party-ready glasses.
3. Vegan eatin': Vegan corned "beef" and cabbage
I've never tried this one, but I'll say this: I'm increasingly impressed with imitation meat meals. Especially vegan junk food (like Foodswings in Brooklyn). But if you want to reduce the impact of your St. Patrick's Day food -- or if you want to cater to your friends who don't eat meat, here's a recipe for Vegan corned "beef" and cabbage.
4. Have a clothing swap party
Recession BONUS: Dress in green and bring clothes you don't wear anymore to trade with friends. It's the cheapest, greenest wardrobe option around! Here is the cheesiest possible video explaining the rules of clothing swap parties.
5. Try greener lighting
...which is to say none! That's right -- party by moonlight. Or candlelight. Prove that you can do better than Earth Hour while partying.
6. Hungover the day after? Work from home
If you can work from home, do it! It'll cut down on carbon emissions and loud, awful phone ringers in your ears. Ouch.
Happy partying! And aren't you impressed that I kept myself from using "Erin Go Green?"
Popular in the Community